Chat with Dr. James Andrews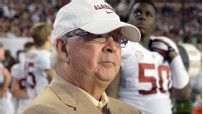 Andrews serves as the team doctor for, among others, the Rays, the Redskins, Auburn and Alabama.
Welcome to SportsNation! On Wednesday, we'll have world renowned surgeon Dr. James Andrews stopping by to chat about his new book "Any Given Monday: Sports Injuries and How to Prevent Them for Athletes, Parents, and Coaches."
In "Any Given Monday," Andrews uses his career of treating sports injuries, along with his work at the non-profit American Sports Medicine Institute, to educate parents and coaches of youth athletes on injury prevention and treatment.
Andrews, in an orthopaedic surgical career spanning more than 40 years, has been a pioneer in sports medicine. In addition to being the team doctor for several teams and schools, Andrews and his facility in Birmingham attracts athletes from all over the country in need of medical expertise.
Send your questions now and join Andrews Wednesday at 3 p.m. ET!
More Special Guests: More on Dr. Andrews | Previous chats | SportsNation
Buzzmaster
(2:55 PM)
Dr. Andrews will be here in a few minutes to take your questions!
Jeff (AL)
What made you decide that it was just as important to preach injury prevention as much as good injury treatment?
Dr. James Andrews
(2:58 PM)
No. 1, I have been amiss spending more time worrying about putting someone together than worrying about how to keep them from getting hurt. That's been the same way throughout sports medicine. Beginning in 2000, I have five exam rooms and all of a sudden they were filled with 13, 14, 15 year old athletes and that was new in the profession. It was a matter of clinical practice that brought it to my attention. Then through research, I found that there was an increase in youth injuries. You can't ignore that. I feel that we've been amiss in prevention. The time is right to get into prevention, especially in youth sports. They're the most vulnerable group. Everybody is serious on it at this point.
Zach (Miami)
Do you ever come across injuries that you've never seen before, or at this point have you pretty much seen it all?
Dr. James Andrews
(2:59 PM)
The amazing thing about medicine is there is always something you've never seen. That's why the name of the book is Any Given Monday, there's no telling what will show up in your office on Monday morning. We had a case come in on Monday that we operated on that I had never seen before. We operated yesterday. I was telling the fellas when we were doing the surgery that was the first time I had ever seen that. That's the challenge in medicine, especially sports medicine.
Greg (DC)
We keep hearing about athletes coming back much quicker from injuries than recovery times in the past. Is it because we're talking about elite athletes or has something happened to advance the recovery process?
Dr. James Andrews
(3:01 PM)
The ones that you hear about are well conditioned, high level elite athletes. They have a higher recovery rate than the average weekend warrior. They have an advantage because of the facilities that they have. Their entire job is to recover as an athlete. The weekend warrior have a job, families and they can't spend the time in recovery. The higher level of athlete that you operate on, really the better chances you have of recovering. I've always said many times that if you operate on the right athlete, they make you look good as a physician.
Erik (FL)
There is a lot of information out there on injuries and medical knowledge is always changing, so how did you know that your book was exactly the way you wanted it to be and could say it was finished?
Dr. James Andrews
(3:02 PM)
Oh boy, a book like that, there is a timeline when you have to quit. I'm already thinking about things I wanted to add. By the time you get to print, there is some stuff that's outdated. But there is some philosophies in there that will stay the same.
David (LA)
With so many athletes becoming your patients, are you still able to be a sports fan or do you have to keep your fandom in check to be able to work on your patients?
Dr. James Andrews
(3:04 PM)
I'm a sports fan. I spend a lot of time on football games on the sidelines. I spend a lot of time watching Monday Night Football, and watching who I've operated on. You can't let your enthusiasm for being a fan overtake you taking care of an athlete. But yes, I'm a fan. I watch all kinds of sports. I try to keep up with everthing as best I can.
Matt (Chicago)
What is the worst injury that you have treated that you have seen an athlete come back from?
Dr. James Andrews
(3:05 PM)
Dislocated knee. I'm a shoulder, elbow and knee guy. The catastrophic injury to the spine is awful, but I don't work on those. A dislocated knee is a big injury that I treat that we've been successful with. That's a terrible injury for an athlete, where they tear multiple ligaments.
Tammy (Atlanta)
What's the biggest thing that parents, coaches, young athletes can learn about injury prevention?
Dr. James Andrews
(3:06 PM)
About year round sports and fatigue. Avoiding fatigue is important. That's where injuries mount up. Seasonal fatigure or year round fatigue. That's the No. 1 risk factor in all of sports. That's when people get hurt. That's particularly important in youth baseball.
Joe (KC)
What's it like to have to deliver bad news to an athlete regarding an injury? Do you always try to put a positive spin on it or do you just tell it straight?
Dr. James Andrews
(3:07 PM)
You have to be straight up and realistic but there's always a way to think positive. You have to tell them the hard facts, but you tell them you'll do everything you can to get them back healthy. You have to be realistic with them. You can never give them negative spin. That's the kiss of death.
Kelly (NYC)
When did you realize that you had become the doctor to the sports stars?
Dr. James Andrews
(3:08 PM)
Some people say that, but I've never taken that for granted. The old saying, if you're still talking about what you did yesterday then you've never lived. I don't think that.
Larry (DC)
What's the worst injury you've ever suffered? Do you play any sports?
Dr. James Andrews
(3:09 PM)
Seven years ago, I had a major heart attack from not getting enough rest and sleep. That woke me up and made me realize I better take better care of myself. For the first time in my life I realized I wasn't bullet proof. It took a major awakening to realize that. I was very fortunate that I survived.
Matthew (AZ)
What age range do you think will get the biggest benefit from your new book?
Dr. James Andrews
(3:09 PM)
Young athletes. Anywhere from 10-12 all the way through to high school.
Dr. James Andrews
(3:09 PM)
I'm hoping that we can get the attention not only from parents than grandparents, who can sometimes have a better understanding than even parents.
David (LA)
Which sport do you think has the best athletes?
Dr. James Andrews
(3:10 PM)
That's not a fair question. Some people say baseball. You can't really answer that question. Athletes at the elite level have their own hill to climb and hill to conquer. I don't think there is a correct answer to that question. Competing in any sport is a challenge. Baseball has to have a real all around type athlete.
Dr. James Andrews
(3:11 PM)
There are only two sports where people come in all sizes and shapes - golf and baseball.
Ben (Maryland)
What is the hardest part about your job?
Dr. James Andrews
(3:12 PM)
The biggest thing about success is not being successful, but maintaining success and trying to keep your accomplishments in perspective. That's probably harder than getting successful to begin with.
Dr. James Andrews
(3:13 PM)
The pressure continues to mount and mount and mount.
Dr. James Andrews
(3:13 PM)
But if you can't stand the heat, get out of the kitchen.
Dr. James Andrews
(3:15 PM)
It's real important to understand injury prevention. It will take everyone's participation. The sports medicine doctors can't do it all themselves. It will take everyone to get involved. We've got to keep these kids on the playing field and out of the operating room. It's real important to keep them out there and reaching their maximum potential.
Dr. James Andrews
(3:27 PM)
You asked some great questions.
Buzzmaster
(3:27 PM)
Thanks for chatting Dr. Andrews!