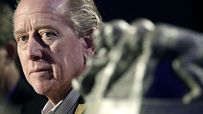 Manning has two sons in the NFL: Peyton (Broncos) and Eli (Giants).
Welcome to SportsNation! On Wednesday, former NFL quarterback and Ole Miss great Archie Manning stops by to chat about Super Bowl XLVII.
Manning played 13 seasons in the NFL, 10 with the New Orleans Saints. Despite playing on only one Saints team to finish over .500, Manning still threw for over 20,000 yards in his career and 125 TDs. He was the second overall pick in the 1971 draft coming out of Mississippi and was inducted into the College Football Hall of Fame in 1989.
Leading into the Super Bowl, Manning is working with Papa John's to help all football fans win a free pizza. Any fan that correctly picks the outcome of the Super Bowl coin toss wins.
Send your questions now and join Manning Wednesday at 12:10 p.m. ET!
More Special Guests: Previous chats | SportsNation
Buzzmaster
(12:01 PM)
Archie Manning will be here to take your questions in about 10 minutes!
Buzzmaster
(12:07 PM)
Archie is here!
Paul (Boston)
How excited are you to have your old team and city hosting the Super Bowl this year?
Archie Manning
(12:08 PM)
Very excited. It's been 11 years. I'm sure Paul you remember the last time we hosted one, a young QB took the Patriots to an upset of the Rams. We've been through a lot since then, namely Hurricane Katrina. We probably missed a game in the rotation. This is a huge part of New Orleans recovery to have the big name. Everyone in New Orleans is ready and excited.
Jeff (DC)
Archie, will you pick one side of the coin and have one of your sons pick the other, so you'll be guaranteed of getting a free pizza?
Archie Manning
(12:09 PM)
Well, I've got three sons...that's a good idea. I think we will do that, we'll all pick. I'm a heads guy though, I haven't checked with them yet. I know Eli's a captain on the Giants and they called tails and lost the flip. But Papa John's gave away millions of pizzas.
Kris (NJ)
How often are you able to get back to Ole Miss?
Archie Manning
(12:10 PM)
Probably 6-8 times per year. Still have a condo there and love to get back. I was there last weekend to visit Eli and his family.
Steve (LA)
Did you ever think about whether you would call heads or tails if you had gotten to the Super Bowl?
Archie Manning
(12:11 PM)
I wasn't close enough to the Super Bowl to even think about that. I was a captain for a few years with the Saints and I was pretty much a heads guy.
Ryan (San Diego)
How many pizzas does Papa John's plan on giving away?
Archie Manning
(12:11 PM)
I think much like last year, it could be in the millions.
Archie Manning
(12:11 PM)
Vote early.
Evan (Seattle)
I'm sure you still get lots of questions about your boys, but how often do you pinch yourself to see if this whole journey is real?
Archie Manning
(12:12 PM)
Good question. Olivia and I have been married 42 years last Monday and we honestly do pinch ourselves often, because it wasn't a plan. We didn't try to raise QBs we just tried to raise kids. We've truly been blessed.
Kevin (GA)
Which team do you give the edge to in the Super Bowl, SF or BAL?
Archie Manning
(12:13 PM)
I haven't gotten that far yet. I have thought all along that San Francisco was the most talented team in the NFL this year. But now, we've got the Ravens who seem to be the hot team, hitting their stride, just at the right time. Two pretty good coaches too.
Archie Manning
(12:13 PM)
I'll be surprised if it doesn't go down to the lsat 2-3 minutes of the game.
Danny C (NY)
Did Peyton surpass your expectations this year or did you fully expect him to come back and have the year that he had?
Archie Manning
(12:14 PM)
No, in being honest, I would have to say he surpassed it. We were just hoping that he'd be healthy and would play 16 games.
Archie Manning
(12:14 PM)
We really had no idea how it would go with a new team and a new city and after the four surgeries.
David (Dallas)
With the three boys, how often are you all able to get together as a big family?
Archie Manning
(12:15 PM)
Not enough. Usually just 2-3-4 times per year. Not even that many with wives and grandchildren. I'm really looking forward to next week in New Orleans where sons, wives and grandchildren will all be at our house.
Erik (NYC)
How often are you able to talk to your sons during the season?
Archie Manning
(12:16 PM)
Probably about twice per week. Usually within 24 hours of the game and then maybe one more time before the next week's game. They have a lot on their plate and I don't like to smother them.
Archie Manning
(12:16 PM)
But they are good about calling home, espcially to check on their mother.
stephen (philly)
Whats your favorite sports besides football
Archie Manning
(12:16 PM)
Golf.
Archie Manning
(12:17 PM)
I like to play and I really enjoy watching golf in person or on TV.
Matt (VA)
Ole Miss looks to be getting a good recruiting class this year. Two three years down the line do you think they'll be able to compete with the big boys of the SEC?
Archie Manning
(12:18 PM)
I would certainly hope so. We have gotten off of the bottom and hopefully we'll make strides in the next few years. It's a very tough conference. But we do have an excellent new coach who is doing some really good things.
Bri (San Francisco)
We know Peyton's got a great Papa John's gig... What's your involvement with Papa John's this year?
Archie Manning
(12:18 PM)
I have known the Papa John's people. This year I am the spokesman for the Papa John's Super Bowl XLVII coin toss.
Archie Manning
(12:19 PM)
Go to PapaJohns.com and click heads or tails and try to win a free large Papa John's pizza.
Deven (Buffalo, NY)
How proud are you of your boys being Super Bowl Champions?
Archie Manning
(12:19 PM)
We're extremely proud. They've given us a lot of joy. We truly feel blessed.
Willow (Southside)
Do you ever get coaching offers?
Archie Manning
(12:20 PM)
I decided not to persue coaching. Even though the people in coaching are some of my best friends and people I admire the most.
stephen (philly)
Did you influence Eli To go to Ole miss
Archie Manning
(12:21 PM)
Obviously, I was excited when he said he wanted to go. But I was actually concerned. I was afraid the Ole Miss family would expect Eli to do the same thing that Peyton did at Tennessee. But he made a good decision and it worked out well.
Archie Manning
(12:21 PM)
Go to PapaJohns.com or on Facebook and click heads or tails to win a free large pizza from Papa John's.