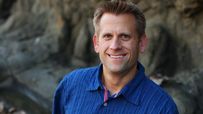 Welcome to SportsNation! On Friday, Sport Science host John Brenkus stops by to chat about his Emmy Award-winning TV show and its project to name the Greatest Athlete of All-Time.
The 16 spots on the G.O.A.T. bracket have been filled out through fan voting. Starting on Feb. 17's morning SportsCenter, Sport Science will begin analyzing each matchup using their advanced metrics. The first matchup is Michael Jordan vs. Tiger Woods.
Send your questions now and join Brenkus Friday at 3 p.m. ET!
More Sport Science: Chats | Index | Videos | Blog | @Sport_Science
Buzzmaster
(2:58 PM)
John will be here at the top of the hour to take your questions!
Buzzmaster
(3:00 PM)
John's here!
John Brenkus
(3:18 PM)
What's up?! Super excited about the Greatest Athlete of All-Time!
Tom (Dallas)
Which of the 8 matchups in the bracket is the most interesting to you?
John Brenkus
(3:19 PM)
I would say the matchup that's going to be the closest, to me, is: Willie Mays v. Jackie Robinson
Jeff (Chicago)
How do you think the bracket would change if you didn't limit it to just one athlete per sport?
John Brenkus
(3:19 PM)
Great question. That's what you'll find out in the one-hour special that we'll air in March. We will reveal how the top 10 would stack up if there was no audience voting at all.
Jason (DC)
Does the metric weigh everything equally? For instance an athlete that has good speed and power but doesn't have great hand-eye coordination, are speed, power and coordination all equal?
John Brenkus
(3:22 PM)
The different categories are evenly weighted. Remember, we're comparing athletes to their own contemporaries, as well as to all other athletes who have played their sport in history. It's a complex ranking metric that allows us to compare different athletes in different sports.
Tom lever (Denver,CO)
Of the 16 finalists, how many were really ranked #1 by your team in their respective sport? In other words, how well did the voters do?
John Brenkus
(3:23 PM)
By and large, the voters did a great job. In our one hour special you'll find out how the results would be different if we didn't have a vote at all.
Alex (Anaheim)
How do you compare guys like Jim Thorpe to modern athletes?
John Brenkus
(3:23 PM)
The beauty of our metric is we're comparing the athletes to their own contemporaries as well as those in the history of their own sport. This allows athletes from the past to still compete with the modern day athletes.
Nick (corona) [via mobile]
What extactly is the definition of an athlete?
John Brenkus
(3:24 PM)
That's a great question. There is great debate to what "being an athlete" even means. There was extensive debate and I think we came up with a metric that will satisfy everyone.
Kevin (ATL)
How did you go about deciding the groups for each sport on the bracket?
John Brenkus
(3:25 PM)
We debated and debated and debated and debated ....
Mike (Long Island)
John I'm wondering how you would assess single-sport specialists (Wayne Gretzky, Joe Montana, etc.) against true multi-sport talents (Jim Brown, Bo Jackson, etc.). For me, it's hard to imagine selecting anyone other than Jim Brown because he was the only one to truly excel in three sports (football, lacrosse and track). The only other one to come close, IMHO, is Jackie Robinson, who was a star in baseball, football and track.
John Brenkus
(3:27 PM)
We absolutely account for multiple sports. Being able to play multiple sports at a high level is an advantage. However, guys like Gretzky and Federer are so dominant in their sport that they rightfully deserve to be in the mix. Remember, we're looking at all aspects of being an athlete and being able to do more than one sport is only one part of our consideration.
RJ (SF)
Were there any non "stars" considered? I remember hearing a story once about how for example Ainge was considered a better "athlete" than Jordan because he probably could have succeeded in something like lacrosse or boxing or ping pong even though not as good at basketball.
John Brenkus
(3:28 PM)
We really did consider everyone, not just stars. But the reason why athletes become stars is because they are, quite frankly, better than their contemporaries.
Dale (Castro Valley, CA)
Since no women made the top 16, how about a separate women's bracket - top 8 female athletes of all-time?
John Brenkus
(3:29 PM)
We did have women in the mix, but none of them made it through to the final 16. This was a co-ed competition.
Mike (Long Island)
John, isn't audience voting very skewed since people under the age of 50 or so never really saw Jim Brown or anyone before 1965 actually play? And, since younger people are the ones who are going to be voting online, aren't you getting only a portion of the potential voting public (people below the age of 60).
John Brenkus
(3:30 PM)
You would think that the older athletes would not have garnered as much audience support at the newer athletes, but that simply wasn't always the case. Tony Hawk beats Shaun White. Jim Brown beat Adrian Peterson and the other candidates. In soccer, Pele beat everybody. Being a legend helped in gaining audience support.
John Brenkus
(3:31 PM)
You'll see through our metric where they actually rank.
Chris (NYC)
how much of the show will be about explaining your metric?
John Brenkus
(3:31 PM)
As always, we won't bog down the audience with too much science. We will continue to be both entertaining and educational, however.
Kevin D [via mobile]
Having trouble finding the link, so I hope you've included Kelly Slater on this list. He's been the best surfer for the past 20 years! Name one other athlete who has competed at the top level in their sport for that long.
John Brenkus
(3:33 PM)
You're right. He has been at the top of the surfing food chain for literally two decades. Unfortunately, he was in a very competitive bracket. In our durability category he's off the charts...
Frank (Virginia)
will you show the guys that were at the top of each category?
John Brenkus
(3:34 PM)
Yes, that will be revealed in our one hour special.
Ben Katz (Montclair, NJ)
So Brenkus, who do you think is the greatest athlete ever personally?I think it is Jerry Rice
John Brenkus
(3:36 PM)
I think that although I agree with Randy that statistics aren't the only thing that matters, Jerry Rice is far more than just statistics. He is undeniably the greatest receiver to ever play the game, not just because of his mindblowing statistics. In terms of being a pure athlete, I think that's an easier argument for Randy to take up.
Mike (Long Island)
How viable is it to use a yardstick that says, "If you took this guy out of his dominant sport and put him in another one, how good would he be in that other sport?"
John Brenkus
(3:38 PM)
It's not useful to hypothetically ask how good an athlete would be in another sport that he didn't play. That's why playing another sport at a high level (college, pros, Olympics) certainly provides you with an advantage over others. But being a specialist and having a mindblowing resume helps quite a bit as well.
John Brenkus
(3:39 PM)
Thanks so much for all of your support. Tune into SportsCenter starting Feb. 17 as we start to find out who is the greatest athlete of all time.