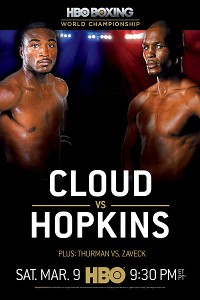 Welcome to SportsNation! On Thursday, we're going inside the boxing ring when Tavoris Cloud stops by to chat about his light heavyweight title defense this weekend.
Cloud (24-0, 19 KO) takes on Bernard Hopkins (52-6-2, 32 KO) for Cloud's IBF light heavyweight belt. The Barclays Center in Brooklyn, N.Y. will host the fight Saturday at 9:30 p.m. ET/PT on HBO's World Championship Boxing.
Cloud, @TavorisCloud, is making the fifth defense of his belt, since winning the championship in 2009. Just one out of Cloud's first 19 fights ended with a decision, but four of his last five wins have come via the decision.
Send your questions now and join Cloud Thursday at 12:30 p.m. ET!
More Fight Week Chats: Don King, Fri. 11a ET | Other guest chats | SportsNation
Buzzmaster
(12:29 PM)
Tavoris is here!
BJ (Minnesota)
How do you feel coming into the fight, you seem pretty relaxed
Tavoris Cloud
(12:31 PM)
I am relaxed. I'm just taking everything nice and easy. I'm just saving all of my energy so I can explode when I step into the ring. I'm not stretching myself, just taking it nice and easy.
Eddie (Amarillo TX)
Will you be the first man to stop Hopkins?
Tavoris Cloud
(12:31 PM)
It will definitely be won by throwing punches. I have to get in there and fight my fight and control my fight. Make Bernard Hopkins look like the 48 year old man that he is.
DR Cirelli (College Park)
In Bernard's advancing age, he has become well known for pulling out every trick in the book. How will you manage that craftiness that many fighters have not been able to handle?
Tavoris Cloud
(12:32 PM)
I'm not trying to manage his craftiness. I'm not concerned with what he's going to do. I want to make him do what I want. It's all about him adjusting to me. That's the whole thing.
Quik (Florida)
Do you feel betting Hopkins convincingly will get you respect in the light heavyweight division
Tavoris Cloud
(12:33 PM)
Probably not, but it will still be a good name on the resume.
coach t (atl )
after you send bernard into retirement . with bute and pascal fighting ..unification with chad dawson is next right ?
Tavoris Cloud
(12:33 PM)
I would love to. I've been calling Chad Dawson out for a long time. I would love to do a unification.
David (NYC)
what did you work on the most?
Tavoris Cloud
(12:34 PM)
I was training a lot because I was up in California. When you're training for a fight, you're working harder than you have before. I made sure that my state of mind was protected. I didn't listen to too much. It was all about believing in myself and just going in there and doing what I had to do.
Matt (TALLAHASSEE)
Are you going to growl in B-Hop's face like a Fighting Tiger at the start of the fight? I haven't seen you do that in awhile, and I miss it!
Tavoris Cloud
(12:35 PM)
Yes. Yes I am.
alex (utah)
T-Cloud , was Campillo a night off you had or was there something we dont know going into the fight?
Tavoris Cloud
(12:35 PM)
It was a series of things. A series of things, including an off night.
Joydeep (Philippines)
What were you thinking about the way Hopkins was behaving at the final presser?
Tavoris Cloud
(12:36 PM)
I thought Hopkins was trying to play mind games with the mask. I didn't know he had one on his face until he stood up and I saw it. I couldn't see his face because of the hoodie. He looked like mermaid man from Spongebob. Whatever he was trying to do that day, it backfired.
ROn (Minnesota)
Will you keep the fro going?
Tavoris Cloud
(12:37 PM)
No, I already cut the fro off. I had the fro because it was real cold in Big Bear. It was snowing up there in the mountains. With the snow in New York, I should have kept it but I was cleaning up for the cameras.
David (California)
Have you done anything differently in training this time around
Tavoris Cloud
(12:38 PM)
Yes I did. Yes I did. We trained totally different. I can't really tell you what I did in training, but I did a lot of things different. One was that I ran in 7,000 feet of altitude. I was farther away from home than I've ever been. I've been real relaxed.
Dam (FL)
Will you go to the body like usual
Tavoris Cloud
(12:38 PM)
Most definitely. Most definitely. Several, several body punches. I'm trying to give him an organ transplant.
Gerardo (AZ)
Tavoris, do you have any interest in fighting at cruisierweight sometime soon, or are seeking to accomplish more in Light heavy? Thanks!
Tavoris Cloud
(12:40 PM)
No, as long as I can make 175. If I can make 175 I'll stay here. I've been making 175 since I was 15 years old. This is my division. I'll keep raising hell.
Kim (Tx)
Have you prepared to deal with a lot of movement from hopkins, one punch and holding, etc?
Tavoris Cloud
(12:40 PM)
Yes. My sparring partner did a lot of movement. I prepared for that.
Jim (ny)
Did you spar with Golovkin or any other big names while in Big Bear?
Tavoris Cloud
(12:41 PM)
We did some sparring with some guys. But I had a lot of sparring left. I did a full month for Pascal. A two month camp for another fight and neither one of those fights happened. But I had all of the sparring built up. I had over 200 rounds of sparring built up. I have rounds to spare.
Joe (Chicago, IL)
Assuming Dawson won't make a fight with you again, would you consider a rematch with Campillo or not enough money in a fight with him?
Tavoris Cloud
(12:42 PM)
I would consider a rematch with him. But it would have to be worth it. It would have to be worth it. Next time I fight that guy, he wouldn't be allowed to sneak up as a replacement or anything like that. But he's a good fighter and deserves a rematch.
Matt (TALLAHASSEE)
My whole family loves following you, but my only complaint is only 8 fights in the last five years? In a nutshell, why do you think you haven't been in the ring more often since winning the title? Thanks.
Tavoris Cloud
(12:42 PM)
I would rather fight more. Most definitely. At least three times a year.
Greg (DC)
now that you're the champ, are guys ducking you?
Tavoris Cloud
(12:43 PM)
Well, the other champs are, I think. The guys that are still coming up....it's a little bit of both. Some are ducking me and some aren't.
Gerardo (AZ)
Tavoris, first fight for you in New York as a pro! And you're doing it in the home of the Nets. Do you have a favorite NBA team?
Tavoris Cloud
(12:44 PM)
It's good to fight in Brooklyn. New York is a big, big fight city, fight state. I feel good fighting Bernard Hopkins here. My favorite teams are the Knicks and the Miami Heat.
coach t (atl )
the russian sergey kovlev has been calling for your belt ..is that a fight you would take ? you have nothing to gain but killing a young lion..
Tavoris Cloud
(12:46 PM)
Yes. Most definitely. We just have to make it work. Make these fights worth fighting, make it entertaining. It's glad to have fighters like that in the division.
James (OH)
Since BHop isnt your idol, do you have any favorite fighters currently?
Tavoris Cloud
(12:47 PM)
I like that guy Russell. And I like Adrien Broner. I love Tavoris Cloud. I just love to see young hungry fighters get in there and showcase talent.
Tavoris Cloud
(12:47 PM)
Tune into HBO, March 9, Tavoris Cloud-Bernard Hopkins. It's going to be a great fight.