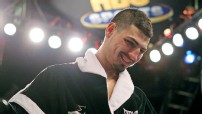 Welcome to SportsNation! On Monday, we're going inside the boxing ring when Donovan George stops by to chat about his upcoming appearance on ESPN's Friday Night Fights (ESPN2, 9 p.m. ET).
George (24-3-1, 21 KO) takes on David Lopez (41-13, 23 KO) live from the UIC Pavilion in Chicago, George's hometown. George last fought Feb. 1, when he scored a first-round KO of James Cook, also at the Pavilion.
George, @DonDaBombGeorge, will be making his first appearance as a middleweight, after having fought at super middleweight.
Send your questions now and join George Monday at 12:45 p.m. ET!
More Special Guests: Previous chats | SportsNation
Buzzmaster
(12:46 PM)
Donovan is here!
Chris (Denver)
What's it like knowing that your fighting on national television?
Donovan George
(12:47 PM)
It's really a nerve wracking experience. When I started, I wasn't really sure where my career was going to go. Everything started to take off and headlining a card in my hometown is exciting. I'll be nervous that night, but once the bell goes, I'll be fine.
Alan (Seattle)
How hard will it be to get to weight for the fight?
Donovan George
(12:48 PM)
It's been a grueling training camp. I haven't been 160 since I Was 15 or 16. It's been difficult. I've been dieting. I haven't had anything delicious in a long time. I will make it.
Steve (LA)
What's the most important part of your training camp?
Donovan George
(12:49 PM)
My team and I went to Detroit. It was such an eye opening experience. A lot of great fighters came in and out. It was a great environment and to be learning again. If you stay in the same environment, the learning stops and that's when you lose fights. You always have to be learning.
Greg (DC)
What's the food you can't wait to eat once this fight is over?
Donovan George
(12:50 PM)
I'm going on about a week straight of McDonalds. I love chicken McNuggets. I'll go about a week straight with breakfast lunch and dinner.
Derrick (Dallas)
Does fighting in your hometown add any extra pressure?
Donovan George
(12:51 PM)
Yeah, it does. A lot of people think it's great you're fighting in your hometown and your fans don't have to travel. But half the people want you to win and half to lose. There are a lot of naysayers out there. There are people that don't want me to do well because they're jealous or whatever, but I just have to go out there and get a KO and it will all be good.
Paul (Chicago)
how do you like fighting at the Pavilion?
Donovan George
(12:52 PM)
It's a great environment. It's downtown and an easy commute. It's a big venue, so sometimes they don't open the top floor. Sometimes it doesn't appear to be sold out, because even if there is 5,000 people there, it might not look sold out. But it's a good venue and they really cater to the people.
Evan (Baltimore)
is there any difference in your approach when fighting on a Friday versus a Saturday?
Donovan George
(12:53 PM)
I actually prefer to fight on Friday. Once that week starts, I figure it's one less day you have before the weigh in and I can eat. Now I only have a few more days before I weigh in and can eat like normal.
David (Miami)
Are there any added distractions fighting in your hometown?
Donovan George
(12:54 PM)
Oh yeah. Everybody is your best friend now. When you're fighting on the main event. But I put them all to my team. Everybody wants to be your best friend and how you played with each other in preschool. My real friends, they know, they buy their tickets. These fake friends, they want the free tickets.
Greg (Florida)
How long did you prepare for this fight?
Donovan George
(12:54 PM)
I've been training non stop. I just fought about 5 weeks ago. I haven't stopped for the last five months now. I took a couple of days off and got right back to work.
Willie (San Francisco)
What's the part about training camp that you enjoy the least?
Donovan George
(12:55 PM)
Probably my diet. It stinks. Everything that you could imagine that is good, you can't have. Even fruit, you can't have it after about 4 because it has a lot of sugar. I enjoy running, I enjoy the work, but it's the food part that stinks.
Jason (Detroit)
what was it like having such a quick turnaround since your last fight?
Donovan George
(12:56 PM)
It's probably the best thing for me. If you look at the history of the old great fighters, they would have a fight and then fight two to three weeks later. Can you imagine how good some of these great fighters would be if they fought more often? Now it's hard to see them fight even once per year.
Peter (Boston)
how much better do you feel at middleweight versus super middleweight?
Donovan George
(12:57 PM)
I think I definitely will. My whole career at super I was a smaller guy. I was fighting monsters. I would ask my managers how I get to fight some of these guys. But now I might be the shorter man, but I will be the stronger man. I could be close to 180 on fight night and I'll be good and strong.
Jeff (TX)
With the quick turnaround, were you able to get any down time between fights, or did you continue to train?
Donovan George
(12:58 PM)
I gave myself a few days to relax. Took my fiance to dinner. But other than that, I was right back in the gym. I didn't need much time off, because my fight didn't last very long. If it was a tough fight and I took some punishment I would have needed a couple of weeks off, but I was able to return quickly.
Chris Fiegler (Latham,NY)
What is your Favorite Sports Facillity that you have Fought at?
Donovan George
(12:59 PM)
Probably Madison Square Garden was my favorite. It was cool with the press conferences. We saw the tourist places in New York. I still haven't fought in a huge card in Vegas. I would still like to do that. But hands down, it has to be MSG is my favorite.
Chris (DC)
What's next?
Donovan George
(1:00 PM)
Gee, I hope they throw me right back in. I'm not looking past Friday. But if I get past him without any major injuries, I want to get right back in. I want to put my time in and keep fighting.
Donovan George
(1:01 PM)
I appreciate you taking the time out of your day to chat. I promise you on Friday night that you will not be disappointed. I will close my eyes and swing for the fences. Thank you for your support.