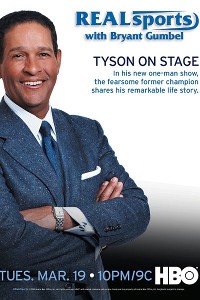 Welcome to SportsNation! On Tuesday, former heavyweight champion Mike Tyson stops by to chat about his post-boxing career, his new one-man stage show and his appearance on HBO's Real Sports with Bryant Gumbel (Tuesday, 10 p.m. ET).
In "Undisputed Truth," directed by Spike Lee, Tyson, @MikeTyson, tells the story of his rise and fall, both in the ring and out, in his own words. The show's 10-week tour kicked off in February and will hit more than 36 cities.
Tyson rose to the heights of fame and fortune, becoming at 20 years old in 1986, the the youngest heavyweight champion in boxing history. But by 2003, he was declaring bankruptcy, despite $300 million in career earnings.
Send your questions now and join Tyson Tuesday at 1:30 p.m. ET!
More Special Guests: Previous chats | SportsNation
Buzzmaster
(1:31 PM)
We've got Mike!
Greg (DC)
Was it hard at all going through the process of making this one man show?
Mike Tyson
(1:34 PM)
Yeah, it was very tough, because I've never done it before. I've done it before in doing a Q&A with the fans.
Ryan (san diego)
were you surprised at all that HBO wanted you to be on their Real Sports show? how was it working with them?
Mike Tyson
(1:35 PM)
I had a good time. It was fun. I read his book, so I was familiar with who he was. I had a good time doing it. It's just like my show, up close personal and emotional.
Peter (Boston)
You seem more at peace lately...is that true? Is it just due to getting older?
Mike Tyson
(1:36 PM)
Age has a lot to do with it. Whatever time I have left, I want it to be as easy as possible. I know that's not possible, but it's a dream for me.
Timmy (CA)
are you surprised that even after your boxing career ended years ago that you still have a huge number of fans?
Mike Tyson
(1:36 PM)
I'm very grateful. That's what I'm trying to convey. I'm very grateful for the people that didn't give up on me. I'm doing my best to live the best I can. It's healthy and so much more enjoyable.
Derrick (LA)
did you ever think that you'd be touring the country and people paying to see you not in the boxing ring, but on a stage?
Mike Tyson
(1:37 PM)
Not in a million years. I'm so grateful that I have a story to tell. All of my journeys that I have to tell. I have some things to share with the public.
Nick (corona) [via mobile]
In your prime, do you think you could beat any of today's top heavyweights?
Mike Tyson
(1:38 PM)
I don't know. My ego would always say I would beat any man on my best day. But the reality is the boxers get better as time goes on. They are more durable. They're stronger. They take more vitamins. I am happy with my time and now it's their turn.
Marc Iveson (UK)
Hello Mr Tyson! Want to say a big thank you for everything you've done in and outside of the ring. Along with Bruce Lee you are my hero and a true inspiration. Why do you think you have such a bond and connection with us over here in the UK?
Mike Tyson
(1:39 PM)
It's not just in London, but it's an English thing. They get me for some reason, the people over there. They just understand. They understand Mike. They'll see me and they'll talk to me. They'll say the stuff they do to you in America it just isn't right.
Mike Tyson
(1:39 PM)
They have a lot of freedom, a lot of spiritual freedom.
Lil Mac (Brooklyn)
Did you ever actually play your video game on Nintendo?
Mike Tyson
(1:39 PM)
I sucked on it. Glass Joe beat me all of the time. He beat me last week in Chicago!
Jeff (CA)
Are you surprised at all at how much people enjoy your appearances in the Hangover movies?
Mike Tyson
(1:41 PM)
I would do every Hangover that I can. That's just helped changed my whole persona and how I'm going to do things in life. Such a major impact in my career. People are fans of mine that weren't even born during my career. "Mommy, Mommy, that's Mike Tyson, the actor from The Hangover!" What? That's crazy. Some other athletes who go into acting, they keep ahold of that old stigma they had, but it's such a great complement that someone from another generation knows me as something than his father did.
Michael (Chicago)
were you trying to get into acting or did the people with The Hangover reach out and have to convince you to be in the movie?
Mike Tyson
(1:42 PM)
I was just looking for something. I didn't know what I was trying to do. It was the darkest moment of my times. I thought I was going to get a free meal and make some money. I know that these guys did Old School. Once I heard that, I thought that was the best comedy, until The Hangover.
David (St. Louis)
Do you find being on stage cathartic? Is it emotional?
Mike Tyson
(1:43 PM)
When I'm on stage, it's too emotional for me, I perceive it as an actor portraying Mike Tyson's life.
James M. (Torrington, CT)
Mike, often the second half of your career is forgotten. Even you yourself stated that you career was "over in 1990". However, you had a lot of accomplishments during your late career. You came back from a long layoff to win a title. You often fought against men much much larger then you in championship fights. What would you say is your favorite memory from your late career?
Mike Tyson
(1:44 PM)
Going overseas and fighting. I started going overseas and fighting at the end of my career. I was so happy to be over there in Manchester and Scotland and Ireland. There were some wonderful people over there.
Mike Tyson
(1:44 PM)
Those are my fans over there. It's like a second home, when you think about it. That's really interesting too.
Mike Tyson
(1:44 PM)
They're like Americans, but they're totally different.
Kiana (AZ)
How would you feel if the media were to make a film about our life and boxing career?
Mike Tyson
(1:46 PM)
I think I would do that in a different way. I would probably do a boxing movie about my boxing life or my personal life first. There are so many dimensions. I would love for people to understand my relationship with Cus. My writer has been doing research on Cus. He said he pretty much saw Cus as a Roman gladiator. That was his mentality. How is that? That stems into the way that I conducted myself in the ring. He didn't play at all. He did not play. He took himself very seriously.
Mike Tyson
(1:47 PM)
You can tell when I was fighting, I took myself so seriously. I laugh at some of my interviews as a 20 year old.
Shane (Statesboro GA)
Is the heavyweight division ever going to recover or are we just stuck with memories of how big it used to be?
Mike Tyson
(1:49 PM)
Absolutely. Once you get the guy that comes around with the desire, you'll be interested. That's what happened to me. I never thought about myself as a prize fighter. I was a coward. The fact that you have to fight a guy, a professional fighter. That's a pretty nervewracking situation. Cux was very serious. You were disciplined. If I didn't meet Cus I couldn't have fought like that. It was Cus that gave me the confidence. That's why I became Iron Mike Tyson. I would have been minced meat without him.
Mike Tyson
(1:49 PM)
No way I could have ever been a successful fighter without Cus. No one could penetrate my soul like that.
Mike Tyson
(1:50 PM)
I'm just very grateful and very appreciative of all my fans. I won't take you for granted, regardless of my moodiness. People knowing what I've been through and stayed with me. Thank you everyone. Don't ever think that I'll take you for granted. Thank you.