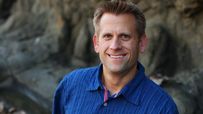 Welcome to SportsNation! On Thursday, Sport Science host John Brenkus stops by to chat about his Emmy Award-winning TV show and its project that named Bo Jackson the Greatest Athlete of All-Time.
Sport Science uncovers sports' biggest myths and mysteries by utilizing cutting-edge technology to measure momentum, friction and the laws of gravity. In addition to his role as host of Sport Science, Brenkus, a Univeristy of Virginia graduate, is also the director and creative director of all BASE Productions programs.
Send your questions now and join Brenkus Thursday at 3:30 p.m. ET!
More Sport Science: Chats | Index | Videos | Blog | @Sport_Science
Buzzmaster
(3:35 PM)
Hang on folks. John is getting ready to head to the airport for a flight. We're going to chat with him as he's en route to the airport, so we're just waiting for him to get his stuff together!
Buzzmaster
(3:57 PM)
John's here!
Tyler (ATL)
Were you surprised that Bo Jackson, who didn't have a long pro athletic career won the G.O.A.T.?
John Brenkus
(3:59 PM)
Durability was one of the catgories that we used in the metric. Even though Bo ranked among the lowest of any of the athletes, he still came out on top, which is what was so amazing about his athleticism.
Brian (Miami)
Jim Brown and Bo are kind of the same athlete. what separates them?
John Brenkus
(4:00 PM)
They are similar athletes, but Bo's speed, strength, etc. combination is what really separates him from everyone else, including Brown. And the fact that he was the only athlete to ever be an all-star in both MLB and the NFL is pretty mind blowing. Something I feel we probably never see again.
Jeff (LA)
Were you surprised at all how involved fans got in both the voting and debate parts of the GOAT project?
John Brenkus
(4:01 PM)
Not at all. It's a question as old as sport itself. I think our process and metric provided a lot of fuel for discussion and ultimately produced interesting and compelling results.
Will (San Francisco)
were there any characteristics of the greatest athletes that was common in being a deciding factor in who was better?
John Brenkus
(4:03 PM)
We had so many categories in the metric there wasn't one that trumped everything else consistently.
Peter (Boston)
would you ever consider doing a G.O.A.T. bracket with no limit on athletes from a particular sport?
John Brenkus
(4:04 PM)
In the one-hour special, we ranked athletes without considering their sport or the popular vote, meaning we had more players from one sport.
Greg (DC)
Now that some time has passed since the GOAT ended, anything you would have changed to the process?
John Brenkus
(4:04 PM)
No. I think the one-hour special answers a lot of questions like how would the athletes have ranked if there were no popular vote.
Larry (Phoenix)
Since these athletes were all so closed matched, how small were the differences between them?
John Brenkus
(4:05 PM)
When you consider as many categories as we do, little differences can add up.
Kevin (NYC)
Will you have any segments coming up for the Masters? If so, what are you working on?
John Brenkus
(4:06 PM)
Yes. Just got back from analyzing Bubba's miracle shot. Gonna be awesome.
Jeff (DC)
What kindof response did you get from the GOAT project?
John Brenkus
(4:06 PM)
Very, very favorable.
Devin (TX)
what do you have planned for this year's draft?
John Brenkus
(4:07 PM)
A bigger and better combine. We're looking at more players than ever.
Erik (Chicago)
Are you and the SS team working on any new technologies in the lab to help analyze athletes?
John Brenkus
(4:07 PM)
Yes.
Clay (West Monroe, LA)
Do you have any more news about next book project?
John Brenkus
(4:07 PM)
Still working on it. Stay tuned.
Alex (NY)
What was Javale McGee like?
John Brenkus
(4:08 PM)
He's pretty special. The double dunk that he did, I think, is one of the best dunks ever done in that contest. I don't think many guys could do that.
Willie (LA)
Do you and your team think of an experiment to do and then find an athlete to help demonstrate or do you come up with a test with an athlete in mind and then try to schedule the test around when the athlete might be available?
John Brenkus
(4:09 PM)
Both.
James (LA)
Is there any scientific explanation that backs up an athlete getting a ?second wind? mid activity? Or is that more of a mental issue than a physical?
John Brenkus
(4:09 PM)
It's both. Being "exhausted" can be a state of mind, but it can also be physical.
Jeff (TX)
will we see you in a triathlon again any time soon?
John Brenkus
(4:11 PM)
I'm training for some endurance events this year. Right now, I'm focused on a mountain bike race. Also, I have Iron Man Lake Tahoe on the card as of right now. Please send me positive energy that I'm able to train without getting hurt.
Chris (NYC)
Any segments for the MLB season?
John Brenkus
(4:12 PM)
We will be doing lots of baseball this season.
John Brenkus
(4:12 PM)
Stay tuned for more great Sport Science segments. Thanks for your support!