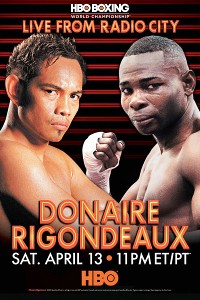 Welcome to SportsNation! On Thursday, we're going inside the boxing ring when Nonito Donaire stops by to chat about his junior featherweight title fight this weekend.
Donaire (31-1, 20 KO) takes on Guillermo Rigondeaux (11-0, 8 KO) and puts up his WBO junior featherweight belt against Rigondeaux's WBA belt in a unification bout. Radio City Music Hall in New York City will host Saturday's fight that airs at 11 p.m. ET/PT on HBO's World Championship Boxing.
Donaire, @filipinoflash, brings his 12-year, 30-fight win streak into the ring. He has not lost since the second fight of his professional career, way back in March 2001 and currently sits No. 5 on ESPN's Pound-for-Pound rankings. Rigondeaux, 32, a Cuban defector, two-time Olympic champion and considered one of the best amateurs, is rising quickly through the ranks.
Send your questions now and join Donaire Thursday at 1 p.m. ET!
More Special Guests: Previous chats | SportsNation
Buzzmaster
(12:55 PM)
Nonito Donaire will be here at the top of the hour to take your questions!
Buzzmaster
(1:12 PM)
OK, everybody. Here's Nonito!
owen khupe (africa,botswana)
what round do you think you will knock this guy out?
Nonito Donaire
(1:20 PM)
Hard one man. I don't like making predictions. I mean I'm going to press the action as much as I can and if he decides to run and not engage it may take me a bit longer. But he's been talking a lot so I'm hoping he came to fight. I'd say under 7?
Pepito (Cuba)
Is there a rematch clause in case you lose to Guillermo?
Nonito Donaire
(1:21 PM)
No. I don't put it out there that "in case..." I only put out there what I want manifested and I'm confident in this fight.
Sam (Washington, D.C.)
Nonito. What do you think is the biggest difference between you as an amateur and you as a professional?
Nonito Donaire
(1:23 PM)
As an amateur, I was still real scared at competitions. Not so much as losing but as in seeing that look of sadness if I failed in those I loved. Letting people down. As a pro, I felt like that sacredness diminished because you couldn't let it be there. You had to come out guns slinging, almost like a gladiator ring...but smart.
Franco (New York City 11417)
Hello Champ! Nonito, how are your hands and wrists for this fight?
Nonito Donaire
(1:24 PM)
Hands are perfect! That stuff with Vazquez with it bleeding and all was such a freak accident and it really just needed time to heal. I believe I did that and that's why we haven't had any more problems.
Omar Macias (Kansas)
You are known for you quick knockouts and aggressive style. Will you be making any adjustments considering Rigondeaux's defense, and counter punching abilities?
Nonito Donaire
(1:25 PM)
I've considered how Rigo defends and how he counters in the aspect of how I attack but at the same time I'm not catering my game to his. I did that before in other fights thinking "I'll wait until he throw this" and sometimes it never comes. I'm gonna have him fight my game. I mean, he's been begging for this fight so I hope he comes to fight.
Ron (Tucson) [via mobile]
Nonito. How long before the move to 126?
Nonito Donaire
(1:27 PM)
I really think this might be my last at 122. It's getting a lot harder for me to make the weight. But I'll have to talk with my manager Cameron Dunkin if they have any other plans.
Mario (Houston, TX)
Nonito, do you believe this will be your biggest challenge so far in your career? Do you anticipate that you will have to chase Rigondeaux for the majority of the fight and if so how do you adjust to that effectively?
Nonito Donaire
(1:29 PM)
I think each of my last opponents have presented me with challenges. Is he the biggest challenge? I don't know. I know Montiel was a challenge, Nishioka was a challenge. I'm excited to see what he'll bring because I often wonder what would have happened if I went to the Olympics but then again that game is completely different. I think once he feels my power he'll definitely run. He won't trade with me. I'll have to walk him down if it comes to that and I'm prepared to stalk him all night if he refuses to come out.
Cain (Tempe, Az)
Nonito, will you look to slug it out or will you be more technical in your approach?
Nonito Donaire
(1:30 PM)
I'd love to slug it out but it takes two. I know if we went punch for punch, he'd back off. He won't trade with me. So I gotta come in this with more of a technical plan first and see if he's really willing to fight.
Melody (Florida)
What's your favorite part of training for a fight?
Nonito Donaire
(1:31 PM)
LMAO! When training is over! I put my body through so much, push it through so many ceilings that when I'm done I just collapse. Then I can't eat what I crave because I'm cutting weight. Later that day the soreness comes in and I gotta get ART done. Really, training is harder than the fight.
Justin (Seattle by way of Jersey)
What music inspires you while training?
Nonito Donaire
(1:32 PM)
Depends on my mood. Sometimes in country, sometimes MJ, sometimes Journey....we like to have fun at the gym and not make it so serious because too serious can get mentally draining. But during sparring and running, no music. That's when I meditate and focus.
Chris (NYC)
Firstly, congrats to you and Rachel! Rigo cant match you for speed or power, but certainly can for craft. How do you get inside and make an exciting fight?
Nonito Donaire
(1:35 PM)
Thanks! One thing I know if I know how to box effectively too if need be and I know that if I outbox him he'll get frustrated. Once he starts throwing I'll throw bomb right at him. If I see an opening I'll go for it.
hectorconga (NYC)
Nonito, I'm a huge fan...did you do anything extra or out of the ordinary in training for this fight?
Nonito Donaire
(1:36 PM)
Thanks bro. I actually changed my diet. Not because I wanted to. LOL. My wife decided to stay behind in Vegas for this camp to prepare the nursery so I stayed with a real good friend of mine and he'd only cook the healthy stuff. I mean like quinoa and chicken breast and salmon. And he cooked it in a Ninja which makes it even more healthy. Most of the stuff was surprisingly good but that thing is that my body really took in all that healthy stuff and made me grow more muscle.
Chris (DC)
I see you laying Rigo out flat on his back after hooking over his jab. What meal will you celebrate with? What's the one thing you miss eating in training?
Nonito Donaire
(1:37 PM)
STEAK, Lechon Kawali, RICE, fries. It's funny because whenever you can't eat it, it gets even more tempting and flavorful when you actually get to savor it!!
Justin (Seattle by way of Jersey)
How has sparring been going and how have you prepared for a counter punching southpaw?
Nonito Donaire
(1:37 PM)
I had GREAT sparring partners in Bruno Escalante, Victor Passias and Eric Deleon. These guys are some mean southpaws that will do great the more they fight. They pushed me every time I was in that ring.
Moe (Virginia)
Are you not worried that Rigondaux might cause you a lot of problems if he manages to take your power punches in the early rounds?
Nonito Donaire
(1:46 PM)
I wouldn't say I'm worried because his chin has yet to be tested. He had several questionable moments in his last fights and the only way to find out is to throw bombs. Of course, we are ready with another plan if he decides to take them. We are ready for whatever he brings to the ring.
hectorconga (NYC)
Nonito,You and Rigo had an intense stare down...is there any genuine animosity between the two of you or is it strictly professional?
Nonito Donaire
(1:47 PM)
I can't say I haven't been irritated with talk he talks but that's what he does. Talk. I mean he talked and talked and talked before. What really got me was when one of his teammates decided to confront my cousin's girlfriend in Houston. That was not cool in my book because he doesn't say anything to me and does so to a woman just because she's wearing Team Donaire. That pissed me off and that's why I called his hotel room. I've calmed from that though and am ready for the fight. It got me excited because he talked so much and then when it came to the stare down he had to have his coach telling him not to turn away while my coach let me do me. It's just him and me in that ring come Saturday.
Marc (Brooklyn, NY)
Hey Nonito! Rigondeaux is going to be a tough challenge this upcoming Saturday. What sort of problems do you think he can pose for you and what approaches have you made in training to address them?
Nonito Donaire
(1:48 PM)
I think he could make this a very boring fight by not engaging, by running. I've experienced that already though, here, at MSG and I've learned what I gotta do. If I have to press the action all 12 rounds I'm ready for that. I conditioned myself for that.
D (DC)
How do you think Manny vs Floyd would have went?
Nonito Donaire
(1:49 PM)
I think if Manny is focused and trained like he use to before he would give Floyd problems. Don't get me wrong, Floyd is talented, but ask anyone who has fought Manny, he's a different animal. The speed, power and angles may prove too much. He can try to outbox him but I think the amount of punches Manny throws in seconds is hard to defend against.
Sun Devil (Los Angeles)
With the arrival of your baby in June (congrats), how many more times will you fight this year?
Nonito Donaire
(1:52 PM)
I'd like to get in 2 more if possible but I know I'm not going to sacrifice missing time out with my son. I know a lot of boxers miss out on key milestones with their family but I've made it a point not to. So I'd like to put in 2 more fights and then try 4 fights again next year.
Cesar (P)
Nonito, If he starts to run would you taunt him in the ring to make him bring it?
Nonito Donaire
(1:52 PM)
LOL. You know, I don't know. =) I'm a different person in that ring and I would say now that I would just walk him down but who knows how much he'll run.
Joydeep (Philippines)
Out of all the footage you've seen of rigondeaux, which of his fights stands out the most to you?
Nonito Donaire
(1:53 PM)
I've only watched clips so I can't say for sure which one stands out. I've looked for his mistakes and flaws and if he's repeatedly done them. As much as he is fundamentally sound, everyone makes mistakes.
Nonito Donaire
(1:55 PM)
I want to thank ESPN for allowing me a place to interact with my fans and of course to my fans who sent in their questions. I tried my best to get through them all and if I didn't answer I'm sorry. I always try to interact with my fans on twitter and Facebook so you can try to reach me there if anything. =) Otherwise, thanks for the fun and hope to see some of you ringside at Radio City Music Hall on Saturday. God bless.