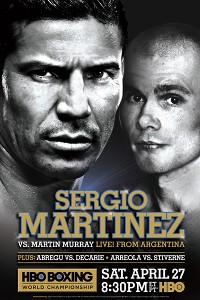 Welcome to SportsNation! On Wednesday, we're going inside the boxing ring when Chris Arreola stops by to chat about his WBC heavyweight eliminator fight this weekend.
Arreola (35-2, 30 KO) takes on Bermane Stiverne (22-1-1, 20 KO) as a part of the undercard of the Sergio Martinez-Martin Murray main event. Citizens Business Bank Arena in Ontario, Calif. will host the night of boxing, which airs Saturday at 8:30 p.m. ET/PT on HBO's World Championship Boxing.
Arreola, who hasn't fought since Feb. 2012, has won his last seven fights, including five via knockout. Arreola currently sits at No. 4 in ESPN.com's heavyweight rankings.
Send your questions now and join Arreola Wednesday at 2 p.m. ET!
More Special Guests: Previous chats | SportsNation
Buzzmaster
(2:02 PM)
We've got Chris!
David (San Diego)
How excited are you to fight in your home state of California?
Chris Arreola
(2:03 PM)
Man, I'm very excited. I'm more excited that it's my hometown. It's a 20 minute drive from my home. I'm excited to just be fighting in general. It's been more than a year. Finally the day is here. It can't be here any quicker.
Ryan (LA)
What's your least favorite part about training camp?
Chris Arreola
(2:03 PM)
Easily, the running. I hate running. It's so boring. So monotonous. Just that you have to do it is stupid, but you have to do it. It's the worst.
David (DC)
Have you done anything differently in training for this fight?
Chris Arreola
(2:04 PM)
Yeah, the main thing is I worked on a lot of lateral movement and using angles. I'm going to have to dance and move my way around his style. The main thing is giving him angles and keeping him guessing.
Larry (FL)
At heavyweight, you dno't have to worry about making weight, but how closely do you watch your weight? Is there an ideal weight you like to fight at?
Chris Arreola
(2:05 PM)
Yeah, my ideal weight is no higher than 245 and no lower than 239. But not only do I watch my weight during training, but as a "veteran" I watch my weight all the time. I don't want to go over 255. Even just between fights. I didn't watch my weight at times and I ballooned up to 295 before the Klitchsko fight. That was so stupid and emabarrassing.
Karl (Denver)
How have you kept yourself sharp during your long layoff?
Chris Arreola
(2:06 PM)
The main thing is to staying active. I still go to the gym. Even if I'm in the layoff, I go to the gym at least 3 times per week. The main thing is staying busy, active. As dumb as it sounds, taking a walk after you eat, playing basketball, going in the pool. The little things mean a lot.
Luis Pacheco (Germany)
I just wanna know what round you gonna knock this guy out?
Chris Arreola
(2:07 PM)
I'm looking at the 7-8 round. Don't get me wrong, he's a strong kid. He's a tough SOB, but I'm going to put the pressure on. I have to get out of there, I have to go eat some dinner and drink some beers.
Will (ATL)
How much tape do you watch of your opponents before getting in the ring with them? Did you watch a lot before this fight?
Chris Arreola
(2:08 PM)
Honestly, I didn't used to watch tapes of fighters. I thought it didn't matter, the same fight doesn't come twice. But there are still little things that they always do that stay constant. I watched at least 15 hours of boxing of his, easy. Even if I kept watching the same thing over and over. I just need one thing, one bad habit and that's all.
Kevin (VA)
how excited are you to get be in the eliminator fight, knowing if you win, you get a title shot?
Chris Arreola
(2:08 PM)
I'm very excited. If a title shot doesn't wake you up, nothing will. I'm excited not just for this title, but for the American fans, the Mexican fans that have been waiting for a legit guy to come in there and fight.
Jason (Las Vegas)
Chris - I'm a big fan, can't wait to see you back in action. I remember late in 2011 you said you wanted to remain active and that was key to keeping your weight down. How have your weight struggles been leading into this fight and do you plan to stay active in 2013?
Chris Arreola
(2:10 PM)
The main thing is my weight is an issue. It has been one and now I make sure I maintain it so when I get into camp it doesn't turn into fat camp and we can take care of the little things that's needed for boxing.
Ragin'Adrian (AZ)
Cris.. Just wanna give ya a big shout out from the Grand Canyon State of AZ. Any advice for when a guy straight rushes you with a head shot? What's the best tactical response to a bull rush?? Thanks bro and good luck this Saturday!
Chris Arreola
(2:10 PM)
The main thing when someone bull rushes you, you make a quick little move. You have to remain calm in the ring and use your legs to move properly. Use their force against them. That's my job.
BENNY Blanco (Da Bronx)
Do think you are ready to face Wlad if you win your next fight?
Chris Arreola
(2:11 PM)
Absolutely. I want Wladimir. I want Vitali. My goal is to be the undisputed champion. I know this is the eliminator to face Vitali, but then I want his brother.
Mike (fresno ca)
Nightmare how are you doing....two questions how did training go for this fight? And what did you think of canelo on Saturday?
Chris Arreola
(2:12 PM)
For this fight, the training has been going on for 2-3 months. I was supposed to fight him April 9, but I got sick. In total, probably 7 weeks of good hard training. As for Canelo, he's very strong. It looks like he took Trout out of his game plan. I thought Trout would outbox him, but Canelo has things we haven't seen from him.
Joydeep (Philippines)
How much have you improved since your fight with vitali klitschko?
Chris Arreola
(2:13 PM)
The main thing that's improved is what's between my ears, what's in my head. Before people would tell me that I was the best. I believed in my own hype, that I was King Ding-a-Ling. But now I know I have to fight. That's the biggest thing, between my ears.
Jeff (Boston)
WHat do you think you learned the most from the 2 deafeats in your career?
Chris Arreola
(2:14 PM)
Train. I gotta stay in the gym. I have to train. I can't let myself balloon. I did it again with Tomas. I got up to 280. That's not professional. That's not showing that I love boxing. I got my eyes opened to a lot of things.
Mike (Washington)
Are you worried at all about being rusty in the ring, since you haven't fought since last year?
Chris Arreola
(2:15 PM)
There is a little worry about the ring rust, just a tad bit. But I think I got the ring rust out while I was sparring. A fight is a fight, you're still getting hit in sparring. I'm a little worried, but not that much.
Vicente (Louisville) [via mobile]
Chris, first of all let me wish you good luck on your upcoming fight. My question is; What are your thoughts on the open scoring system like we saw in the Alvarez-Trout fight?
Chris Arreola
(2:16 PM)
I really don't care too much for it. If you're boxing, you should know yourself if you're winning or losing. The trainers should know. The fans should know. The only that is good about the open scoring is you'll know if the judges are sucking or not. That's it.
Jason (Las Vegas)
Will you "dry out" to get to an ideal weight before a fight or are you currently carrying the weight you want to fight at?
Chris Arreola
(2:17 PM)
Right now, I'm walking around at the high 40s, 247, 248. I just have to train. Get my last couple of days in the gym and I'll be fine.
Marv,M (San Antonio)
Hi, Chris you fight with so much passion dude and that's rare for an American Heavyweight. i think you will indeed become the first Mexican heavyweight champion of the world! are you focus for this fight?
Chris Arreola
(2:18 PM)
The reason I fight with so much passion is because I am Mexican. We have a lot to prove in our fighting. Winning a title and being the first Mexican would be more than an honor. I'd be the Mexican Jack Johnson. When I die, people would still remember me. That's what I want to leave as a legacy.
Chris Arreola
(2:19 PM)
Thanks for all of the support. This Saturday, you'll watch some fireworks and I'll make sure to put this guy down on his rear.