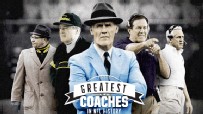 Welcome to SportsNation! On Wednesday, NFL analyst Herm Edwards stops by to chat about ESPN.com's "Greatest Coaches in NFL History" project.
Edwards joined ESPN in March 2009 as an NFL studio analyst, primarily appearing on NFL Live, SportsCenter, and ESPNEWS. Edwards also contributes to ESPN's NFL Draft coverage and offers analysis on ESPN Radio and other platforms throughout the year.
Edwards is among the panel of NFL experts who gave their input on who they felt were the greatest NFL coaches of all time. Who made their top 20? Check out ESPN.com from May 23 to June 11 as the countdown continues.
Herm named his top 20

and now it's SportsNation's turn to vote.
Send your questions now and join Edwards Wednesday at 11 a.m. ET!
More: Herm Edwards | NFL chats
Buzzmaster
(11:05 AM)
Herm is here!
Greg ( NYC)
Do you think Tom Coughlin is on this list of top 20 without the 2 Super Bowl wins?
Herm Edwards
(11:08 AM)
I still think he's there if he only has one. For this reason: I think people forget that he was the first coach of the Jaguars and he built that franchise. You go back historically and he had much success. What he's done, and I know him personally when he was an assistant coach, his style is that he's discipline. He can be rough around the edges. Like all coaches, he's learned to deal with the coaches of the generations. He's changed a little bit of his attitude and how he coaches players during his tenure. How you coach them 25 years ago is different than now. Not to say that players don't like disicpline. They want that. Players want to be coached. But Coughlin's understood that players have changed. They respond differently. They ask questions. 25 years ago, you told players what to do, how to do it, but now players ask why. It's not a question about authority, it's that they want to learn. He's adjusted his way of thinking, but not his philosophy. That's what's made him so successful.
Karl (Denver)
how do you think some of the best coaches from the early days of the NFL would do with today's players? Like Vince Lombardi, for instancE?
Herm Edwards
(11:09 AM)
I think Vince Lombardi is the standard bearer for all coaches. When you come into this league, whether it's not or 30 years ago, he set the foundation for coaching. He was very passionate, discipline. He was about precision. He coached his players hard but he loved them just as hard. You see all of the clips of him on the sideline, but if you go through the history of him and read his books, he was a very caring man which wasn't always seen, because we see little clips of him. He built men. He knew if he could build a good man, he would have good players. He could coach in any era.
Rich (PPB, NJ)
Hi Herm, Your one of the greatest players in NFL from 1977 to 1986 I got to see play, if you could play for someone else than Dick Vermeil, what 5 head coaches from your list of top 20 head coaches would you love to have played for?
Herm Edwards
(11:13 AM)
Obviously, Bud Grant would be one. He was way ahead of his time as far as how he treated players. He was disciplined. About really instilling that in his players. He was also about rest. I came into this league and he was still coaching. There were guys that I knew that played for him. You knew in the league there were two coaches in the league that you wanted to play for: Bud Grant and George Allen. If you look at those teams were they had a lot of old players. He knew that he had to rest them. When teams were going two padded practices and 6 preseason games. Bud Grant's teams were always the latest teams to report to training camp. The first few days players never put on pads. Back in my era, there was no free agency. When you got drafted, they owned your rights. The only way you left was to be traded or they released you. He was one. Marv Levy was another guy. His style, the thing that you appreciated was he could deal with personalities. And he had a lot of them! Bill Parcells would have been a guy too. I knew him. He was with the Giants staff early in my career. He was another guy that got the best out of his players. He defined roles. He was demanding, but fair. You liked that from a coach.
Herm Edwards
(11:15 AM)
Tom Landry. That was the man that I really became a Cowboy fan as a kid, watching him. His integrity, the way he went about his business. You wanted to play for a guy like that. My rookie season, when we played the Cowboys in Dallas. After the game, we weren't very good my first year, I remember getting on the elevator to leave the stadium and he got on with me. He told me that I was going to be a good player. That comment from him to me, was "Wow." Not the comment, but the fact that he knew who I was. Really? I became a Cowboy fan because of him. And he knew who I was. Are you kidding me? He had the best Fedora in football. Great coach. Great man.
Jeff ( KC)
Herm, how do you compare coaching in today's game to prior eras in history?
Herm Edwards
(11:18 AM)
I think coaching falls down to a couple of things. You have to have your own personality and that hasn't differed. You get into trouble that way. Most coaches will have a philosophy and a system. You have to have a system that's built around the players. I've been on both sides of it. If you're so stubborn or rigid and you believe your system comes before the players, it will be hard to have success. The good coaches can tweak the system -- the system, not the philosophy -- to what they can do. KYP -- Know Your Personnel. Once you know who your personnel is, you build your system. The ones who know success understand that. The ones that have long term success, generally, have good ownership. The ones that have won Super Bowls and are in the top 20, all have good QBs. Kind of interesting, isn't it? That position never changes. Eras change, but the position stays the same. If you have a QB that you can build a system around, you'll have a chance to win. That will never change! That's a constant. One thing we know about this league, we've changed defensively, 3-4, 4-3, spread offense, zone offense, power offense. All of that stuff sounds good, but when you have a good QB, it doesn't matter what you run.
Larry (Buffalo)
Does a coach like Bill Belichick get knocked down on this list because he's lost the last two super bowls he's been in?
Herm Edwards
(11:20 AM)
I don't think so. The good thing about Bill Belichick is he's still coaching. I would say before it's all over or when you redo this list 5 years from now, he'll probably go up. When you think about what he's done, 3 titles, it goes without saying. He's also a guy that's transcended in different ways. First it was with great defenses and running games. Now he's developed that offense where it's more of an offensive driven team. He's adapted to the rule changes and how the game's being played. That says something about him as a coach.
Herm Edwards
(11:23 AM)
This is a hard list. When you come up with a list like this, there are probably some guys that say there are some that should be in the top 10. I wouldn't disagree. All of them are worthy. People have a right to disagree. It's an exercise in what we know about the coaches that we ranked. When I was a kid growing up, the fun part for me, is that I watched them coach. Then having the ability to play agianst them. Some of them were still in the league when I coached them. You saw guys like Tom Landry, Bud Grant, great coaches like that. George Allen. Don Shula. Then you grow up and those guys are on the field against your. I would walk on the field and pinch myself. Wow! That's Chuck Noll! It's almost like you're dreaming. I've been blessed to play in a league with a bunch of great coaches and players. I spanned the 70s to the 2000s. You see a lot of great coaches and players. I've been fortunate enough to play against them and compete against them. It's a walk that you can never imagine how great it feels. The humility that you have when you meet these men because of their impact.
Kevin (Dallas)
Herm, I liked your list of top 20 coaches in NFL history. I noticed that a lot of the coaches are retired or from different eras. Is that because it's harder to judge a coaches full career until it's over or is it because the coaching today isn't as good?
Herm Edwards
(11:26 AM)
You have more information on the ones now than the ones that coaches in the 40s and 50s. A lot of these guys were coaching, like George Halas, Curly Lambeau, some people say, who? Most have heard of Lombardi. Halas coached for 40 years! Depending on when you grew up, you have heard of them, but you don't know them fully. TV has had a role, because we hear about these guys. Football, growing up, becomes a part of your history. Unless you study it or go back, you don't know about them. But they were the fathers of football. They were the stepping stones to other coaches to build on. You always need a foundation. Paul Brown, George Halas, Lambeau. Those founders of football have to go on the list. If you understand what they brought to the table, you say wow.
Jeffrey (Miami)
Is there a coach in the game today that already isn't on your list of some of the greats ever that you think could earn his way to the list?
Herm Edwards
(11:29 AM)
You have some young coaches. The Harbaugh brothers are on on an incredible run right now. Longevity has a lot to do with it. Sean Payton has a great chance if continues along his path. Mike Tomlin has a great organization. Andy Reid. If he can win a Super Bowl with the Chiefs. He's had some longevity in the game. Longevity is a big deal. Winning is two. The way you're able to do that is to have a QB. That helps you with longevity. If he stays healthy, he'll probably play 10 or more years. If you get to the playoffs, you'll win some games and eventually you'll get to the big one. Eventually you'll win it. Mike McCarthy has one Super Bowl with Aaron Rodgers. Can he win another one? If he does, he might get mentioned. If you have that kind of QB and that longevity, you have a chance to put up big numbers with wins. That's just a fact. History will show you that.
Herm Edwards
(11:30 AM)
We really appreciate the fans' input. The one thing that I've learned a lot, especially since I've been with ESPN, they're always passionate and knowledgeable. I've always known that. I appreciate their questions. I hope that I can give them a little inside information and help promote the game. When you've been in the game for so long and be in the game for 30 plus years, you're an ambassador for the game. It's all about competing at the highest level, but also understand that in every town there's a football team, those fans have an emotional investment to those teams. That's what makes this so great.