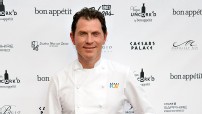 "Bobby Flay's Barbecue Addiction" is
available now on Amazon
.
Welcome to SportsNation! On Tuesday, chef, restaurateur and cook book author Bobby Flay will take questions about our favorite topic - food!
Flay, 48, has been cooking since the age of 17. He currently presides over four restaurants -- Mesa Grill, Bobby Flay Steak, Bar Americain and Bobby's Burger Place -- while still finding the time to appear on multiple Food Network shows including "Food Network Star" which is premiering its ninth season on Sunday, June 2 at 9 p.m. ET.
Responding to a recent diss by fellow celebrity chef Gordon Ramsay, Flay challenged Ramsay to a cook-off in Las Vegas, but Ramsay has not accepted the offer.
Send your questions now and join the chat on Tuesday at 1 p.m. ET!
More Special Guests: Previous chats | SportsNation
Buzzmaster
(12:59 PM)
Hello everyone! We're going to get started a little early with Bobby! Keep your questions coming and we'll start momentarily ...
Bobby Flay
(1:01 PM)
Hello everyone! I'm happy to be here and ready for your questions!
AJ (Orlando)
What do you think it was that attracted you to cooking in the first place?
Bobby Flay
(1:02 PM)
Initially I just needed a job and started working at a restaurant when I was 17 after dropping out of high school. I think it was the idea I could help create something that was gratification for others.
Thomas (Phoenix, AZ)
What is the biggest mistake that young chefs make?
Bobby Flay
(1:03 PM)
Probably putting too many bells and whistles on dishes. As you become more experienced, the idea of simplicity becomes a lot more attractive.
Greg P. (Detroit)
What are cooking groupies like? Do they ask you to autograph cans of food or anything weird like that?
Bobby Flay
(1:04 PM)
I've autographed lots of things, including cans of food. Anything from wooden spoons to aprons to body parts.
Michael Yang (Brooklyn)
How do you maintain the quality in all your restaurants when you can't be in two places at once? Do you ever worry about that?
Bobby Flay
(1:04 PM)
I worry about it every day. I'm constantly training people from within to move up the ladder so that all the restaurants have people that have been trained by me and understand my cooking philosophy.
James Cooley (Atlanta)
Do you ever actually wear the big poofy chef hat?
Bobby Flay
(1:05 PM)
Never!
Wesley Timmons (East Lansing)
When was the last time you ate something from a drive-thru?
Bobby Flay
(1:05 PM)
I think it was a Sonic in Texas, but only because my wife grew up eating burgers there.
Sean Bishop (Virginia)
How long would you last in Adam Richman's job?
Bobby Flay
(1:06 PM)
I don't have the capacity he has to eat for sure. I wouldn't last very long at all. Plus, it creates way too many minutes on the treadmill.
stuart (oklahoma)
How often do you read yelp & other online reviews? How much validity do you give those reviews?
Bobby Flay
(1:07 PM)
Not very often. Especially on the internet. If you follow everyone's comments, it will drive you crazy.
Al Modrian (Charlotte, NC)
Are you still into horse racing?
Bobby Flay
(1:08 PM)
More than ever. I breed a lot of horses in Kentucky, but right now I have about 5 horses in training for racing.
Jason (Orlando)
What do you think of the title "celebrity chef?"
Bobby Flay
(1:08 PM)
I don't like the word celebrity period. Its overly used.
Linda (Overland Park, KS)
I know you're not scared of Gordon Ramsay, but are there any chefs out there that would beat you in a cook-off?
Bobby Flay
(1:09 PM)
Sure! I do Iron Chef ... probably 50 or 60 times ... and I lose about 20 percent of the time.
Chris (Raleigh, NC)
Hi Bobby --- will there be any new seasons coming up of either Throwdown or 3 Days to Open? I enjoyed both of those shows.
Bobby Flay
(1:10 PM)
Throw Down is retired. I couldn't surprise anyone anymore after five years. Three Days To Open ... probably not because of the travel. But I have a new show called "Beat Bobby Flay" that I'm working on. It's the new versoin of Throw Down.
Keith H (Seattle)
I'm a many year fan. I was just wondering why you weren't included in the Iron Chef Tournament of Champions. Was there a conflict or are they saving you for the winner?
Bobby Flay
(1:11 PM)
Because I'm sort of the senior member of that team, they just wanted me to be a judge. The next time I'm definitely competing!
Joe Daley (Encino CA)
Is it still fun to eat out when you know most of the time you could cook a better meal at home?
Bobby Flay
(1:11 PM)
When I go to restaurants I never judge or criticize even in my head. I'm just happy someone else is doing the cooking.
Scott Young (Alabama)
What's your guilty pleasure food? Are you a health nut when it comes to what you eat?
Bobby Flay
(1:12 PM)
I'm not a health nut but I do think about what I'm eating more these days and how much and when I'm eating it. My guilty pleasure is ice cream of any flavor.
Joe (Brooklyn)
Any thoughts on getting the American public more into horseracing. It's such an underappreciated sport.
Bobby Flay
(1:13 PM)
I think it has the potential to be. We just need to get our act together as an industry.
David A. (STL)
Who has done more to promote cooking ... you or the Swedish Chef on The Muppets?
Bobby Flay
(1:13 PM)
That's too close to call.
Jackson Wills (South Beach)
Can anyone learn to be a master chef if they study hard enough, or are some people just born with an ability that can't be taught?
Bobby Flay
(1:14 PM)
I think you can definitely acrue the skills if you are passionate about it. You have to have the passion and determination to be a really good cook or chef.
Thomas (Phoenix, AZ)
When you were a young budding chef in your teens, did you ever buy one of those infomercial cooking devices? Ever thought of inventing one?
Bobby Flay
(1:14 PM)
NO!
Timothy Clark (Austin, TX)
What's a good dinner that a novice like me could try to cook to impress my girl with?
Bobby Flay
(1:16 PM)
Steak with chimichurri sauce.
Brett (South Jersey)
Is there an ingredient you refuse to cook with because you personally don't like the taste or smell?
Bobby Flay
(1:16 PM)
I don't love lentils. Too murky.
Miggy (Philly)
How did you lose so many "throwdowns?"" was the fix in?
Bobby Flay
(1:17 PM)
No comment!
Jake (Denver)
Does the internet, and the ability to find recipes and engage in discussions with people about a specific dish, make a place like culinary school less important?
Bobby Flay
(1:17 PM)
It's wonderful that you can use the internet to cook at home and learn about dishes. It's just nice to have that info at your fingertips. But you should still buy my books!
Tom Allen (Syracuse)
Who is the hardest type of party to cook for? Athletes? Celebs? Regular folk?
Bobby Flay
(1:18 PM)
My family is by far the hardest!
Deven (New York, NY)
Mr. Flay, do you like to cook Indian food? If so, what's your favorite dish?
Bobby Flay
(1:19 PM)
Occasionally. I love Indian curry.
Ed (Queens Village)
Favorite food to eat when watching sports?
Bobby Flay
(1:19 PM)
Margaritas!
Steve (NYC)
I live in a tiny apartment and am trying to cook more, what should I buy first, a cast iron pan or a dutch oven?
Bobby Flay
(1:20 PM)
Cast iron pan for sure.
mark (okemos mi)
what is the hardest part about judging the next food network star?
Bobby Flay
(1:20 PM)
The hardest part is debating with Giada and Alton.
Dan (Denver)
Bourbon or Scotch?
Bobby Flay
(1:21 PM)
Bourbon.
stuart (oklahoma)
Of your restaurants which one puts the biggest smile on your face?
Bobby Flay
(1:21 PM)
Mesa Grill just because it is the original.
Tommy (Ohio)
Favorite pizza topping?
Bobby Flay
(1:22 PM)
Green chilis.
Jake (Denver)
Who wins in a fight, you or Jeremy Piven?
Bobby Flay
(1:22 PM)
I think Ari knows the answer to that!
Ron Gilmore (Toronto, Ontario, Canada)
What's your favourite thing to eat and are any of your horses running in the Belmont stakes this weekend?
Bobby Flay
(1:23 PM)
Not this weekend.
Bill (Toronto)
Are you a Rangers, Islanders or Devils fan?
Bobby Flay
(1:23 PM)
Rangers.
Derrin (Plano, TX)
Do you think Gordon Ramsay is just envious, hating on your level of your success? And do you think he will accept your challenge or avoid you like Mayweather did Pacqaiio?
Bobby Flay
(1:24 PM)
He hasn't as of yet.
Dan (NYC)
mmmm green chilies on pizza are the best. what kind of peppers are green chilies, can you find them fresh in NYC?
Bobby Flay
(1:25 PM)
Most stores have jalapenos, serranos and poblanos.
Rob (San Antonio)
Gas or charcoal?
Bobby Flay
(1:25 PM)
Charcoal.
Enzo (CALI)
Being a chef , do you eat the same food constantly or do you prepare yourself something new everyday?
Bobby Flay
(1:26 PM)
Constantly trying to come up with something new. I'm always inspired by something I've just eaten or seen.
Jake (Denver)
What's a dish that has a reputation for being difficult to cook that most people could do well if they tried?
Bobby Flay
(1:27 PM)
Piaya.
Rob (San Antonio)
Is there anything I can do to enhance flavor suing a gas grill?
Bobby Flay
(1:27 PM)
Yeah, spice rubs and marinade are imperative for flavor.
Mike (Chicago)
I have always wondered: after a long day/night in a kitchen, is it common for elite chefs to just go home and make themselves a quick omelette?
Buzzmaster
(1:32 PM)
Hang tight folks! Mark Schlereth just crashed the green room and the chat! Did you know he has his own line of green chilis made in Colorado? www.stinkinggood.com Stink and Flay are talking chili!
Bobby Flay
(1:38 PM)
I usually cook every Sunday for my family. Cooking at home is where I love cooking the most.
Bill (NYC)
how many times have you cut yourself?
Bobby Flay
(1:39 PM)
About five times a year on average.
Bobby Flay
(1:39 PM)
Just from lack of concentration.
stuart (oklahoma)
When will Julie's Love run again? Looks like will get a good price next time out>
Bobby Flay
(1:39 PM)
Possibly in the Manahattan Belmont handicap in about four weeks.
Cody (Palmyra, PA)
Bobby, Big Fan. Need an answer on this one.... what is the easiest, but tastiest way to cook chicken. I am no chef, but am tired of eatin boring Chicken and rice. Help me spice things up a bit. Help me out Flay-Rider!
Bobby Flay
(1:42 PM)
Butterfly the chicken and bathe it in lots of fresh garlic, rosemary and red pepper flakes for two hours and then season it with salt and pepper and grill it.
Bobby Flay
(1:44 PM)
Thanks for all the questions! This was fun. Check out Bobby Flay Fit on foodnetwork.com and be sure to watch the new season of Food Network Star on June 2!