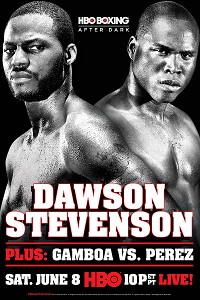 Welcome to SportsNation! On Wednesday, we're going inside the boxing ring when Chad Dawson stops by to chat about his light heavyweight title fight this weekend.
Dawson (31-2, 17 KO) takes on Adonis Stevenson (20-1, 17 KO) for Dawson's WBC light heavyweight belt. The Bell Centre in Montreal will host the fight Saturday at 10 p.m. ET/PT on HBO's Boxing After Dark.
Dawson is fighting for the first time in 2013, and the first time since losing for just the second time in his career last September. He dropped down in weight, to super middleweight, to take on Andre Ward. This will be Dawson's 10th time fighting for a light heavyweight title, having only lost one of those bouts.
Send your questions now and join Dawson Wednesday at 2 p.m. ET!
More Special Guests: Previous chats | SportsNation
Buzzmaster
(2:00 PM)
Chad is here!
Nick (corona) [via mobile]
Did learn anything from the Andre Ward fight that you will carry over to this fight?
Chad Dawson
(2:01 PM)
Not so much that I learned anything. But I did learn that 175 is where I belong, not in the 150s. The effects of making the weight after the weigh-in was big on my body. The big thing I learned was to stay where I'm at.
Charles findlay ohio [via mobile]
how's it going bad chad? after u beat up stevenson this saturday what fights do u want? any chance you get a unification bout with either nathan cleverly or beibut shumenov?
Chad Dawson
(2:02 PM)
After this weekend? Whatever my promoter and agent bring to the table. I'm back at 175 and I'm looking to take my career to the next level. I'm going to put on a show and be back in the talk of the pound for pound greats.
Clinton (Arkansas)
Did you ever play Mike Tyson's Punch Out when you were a kid? What got you into boxing?
Chad Dawson
(2:03 PM)
No, my path was already set for boxing. Mike Tyson's game was very popular at my house. Me and my five brothers would play it. I wish they would bring it back out.
Kherby (City of Angels)
Will you ever be campaigning at 168 in the future? Some really good fights to be made...
Chad Dawson
(2:03 PM)
I don't see myself going down or up any time soon. 175 is my weight class.
Charles findlay ohio [via mobile]
Bad chad everyone keeps saying how big a puncher stevenson is but you've got some pop as well do u think you can stop adonis he did get stopped before bye someone who is not considered a banger?
Chad Dawson
(2:04 PM)
Yeah, I think I'll have the opportunity to stop him. I'll have to stick to my gameplan. I don't think he's gone a full 12 rounds. I don't think he's gotten past 8. We want to get him into the late rounds and get him.
Charles findlay ohio [via mobile]
Hey bad chad with the fight just days away what are some of the final preparations you go through before a fight?
Chad Dawson
(2:05 PM)
Oh, just listening to my team. Doing whatever they want me to do. Rest. Keep the weight down. I weighed in last night at 175. So sticking to that and sticking to the gameplan. A lot, lot of rest and staying focused.
Silva (San Diego)
Hey Bad Chad, what do you feel needs to happen for you to become more of a household name, maybe reach the casual boxing fan on a broader scale? Is that even something you normally think about?
Chad Dawson
(2:06 PM)
Yeah, I just need to be myself. Be that Chad Dawson that beats the great champions in the division. I know I can do these things I know I can be great. That's what I plan on doing Saturday night.
alex (CA)
how do you feel fighting in light heavyweight a weight that you are comfortable fighting in and do you feel relaxed going in to this fight and when you win who would you like to fight next
Chad Dawson
(2:07 PM)
This is my third time around in Montreal. I'm very comfortable. I made some friends around here. The fans are great. The friends are great. It's a very good situation for me here. I'm very relaxed and ready to go to work.
Silva (San Diego)
Was the loss against Ward something you can use as a positive experience moving forward? If so, how?
Chad Dawson
(2:08 PM)
You always have to take the positive from a loss. With Pasqual, I started too late. I didn't get my rhythm until the 8-9 round. He had the lead on the scorecards. From that loss I learned about myself that I can take a guy out when I need to. With Ward, I learned that 158 is not my domain. 175 is where I'm going to be.
Chris (CBus)
Mad Chad, what is the first thing you do the day after the fight?
Chad Dawson
(2:09 PM)
I'll be very anxious to get back home with my kids. Be with my wife and family. Relax, soak it in and wait for your next task. Get back to work.
Douglas
when you're not fighting or training, how do you stay sharp?
Chad Dawson
(2:10 PM)
I try to stay in the gym 2 or 3 times a week. You can't let your muscles dissolve. You have to stay active. By the time another fight comes around, you're ready to go.
Hugo (Florida)
You can put punches together really well, like in the B-Hop fight. If you were you're own trainer or fan, would you give yourself the advice to use combos more?
Chad Dawson
(2:11 PM)
Yeah, that's the whole plan for this fight. That's me. Everybody knows I'm at my best when I'm throwing 8-10 punch combinations. That's what we're going in this fight. Throw punches in bunches. Hopefully one of those is one he doesn't see and it puts him out.
Kyle (VA)
do you go into a fight looking for the KO?
Chad Dawson
(2:12 PM)
I definitely don't go in looking for the KO. I let it come. In this fight, I think it will come. I've watched him and who's he's faced. He's got a padded record. He makes a lot of mistakes. He keeps his right hand down. I don't know if he wants to do that with a guy that has experience like me. We'll see Saturday night.
Hugo (Florida)
What is your biggest strength as a fighter, your ring IQ or your athletic gifts? Good luck man you definitely have the potential to smack this dude around.
Chad Dawson
(2:12 PM)
I would say my athletic gifts. I'm able to do a lot of things that a guy my size and height aren't able to do. So I would say my athletic gifts.
Kherby (City of Angels)
You mentioned the KO twice. What makes you so sure you can take him out? I think you see a major flaw in Adonis you're going to try and expose.
Chad Dawson
(2:13 PM)
Because I'm back to being myself. I had a great training camp. People say I can't punch, but people don't know that I am a puncher. I think he's banking on the fact that I'm not a big puncher. We'll find out Saturday night.
Charles findlay ohio [via mobile]
Anyway you and b-hop go a 3rd time you two are bye far the top guys in the division! if you cant unify with cleverly or shumenov. it seems like the only big fight for each of you. plus two belts would be on the line plus youre legacy! would u be interested if b-hop said lets do it again?
Chad Dawson
(2:14 PM)
No, not at all. He's done a lot of things in boxing. He's just won another title. I don't think he wants to get in the ring with me again. I would love the chance to do it again, because he said he didn't get to train properly for the rematch. I would love to do it again, but I don't think he's interested.
Chad Dawson
(2:15 PM)
Thank to all of you with the questions. Thank you for being interested in my career and for the support.