Chat with Andy North, Curtis Strange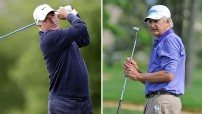 ESPN's live coverage of the U.S. Open airs June 13-14.
Welcome to SportsNation! On Friday, we'll be less than one week away from the start of the U.S. Open and two of our golf analysts, Andy North and Curtis Strange, stop by to chat.
North and Strange will both be at Merion Golf Club in Ardmore, Pa. starting June 13 (ESPN, 9 a.m. ET), providing commentary on-site from the tournament.
Between the pair, they own four U.S. Open titles, including Strange winning back-to-back in 1988-89, while North won in 1978 and 1985. North starts our chat at 2 p.m. ET, followed by Strange at 2:30 p.m.
Send your questions now and join the chat Friday at 2 p.m. ET!
More Special Guests: Previous chats | SportsNation
Buzzmaster
(1:57 PM)
Curtis is here!
john (kentucky)
who wins and what's the score?
Curtis Strange
(1:59 PM)
Both are more unknown this year than before, because of the shortness of the course, which will bring in more players that could win. And we haven't been to Merion since the explosion of the equipment and golf ball. I think the normal principles will be favored -- Tiger and the like. Some people think that double digits under par will be shot.
David (la)
what's the hardest part about the course?
Curtis Strange
(2:00 PM)
The finish. The last 5 holes. Four strong par 4s and a 250-yard par 3.
Will (Dallas)
When you look back on your career, what importance do you put on your back to back U.S. Open wins?
Curtis Strange
(2:01 PM)
It's the best part of my career. It's every kids goal to win their national championship. I can't think of anything else that's bigger.
David (DC)
how intersetting will it be to see Woods, McIlroy and Scott matched up for the first two rounds?
Curtis Strange
(2:03 PM)
It's a good pairing. It's certainly going to be on television. They'll be on all the time. All three have storylines coming in. Tiger, the winner of four of his last eight events, but played so poorly last week at Memorial. McIlroy still trying to find his game on a consistent level. And then Adam, the first major after winning The Masters. I'm anxious to see how Adam Scott does. I think Tiger and Rory will benefit from being a short golf course so they can lay up on many holes. Neither are great drivers of the golf ball.
Craig (NYC)
How many drivers do you expect out of Woods? 5, 6, and 18th?
Curtis Strange
(2:04 PM)
I haven't seen the course yet, so it's hard to answer. The two par-5s, 18 and possible a couple of other par-4s. But we have to wait to see how it's set up and how all of this rain that Philadelphia is receiving right now, how that will effect the fairways. The main thing is how Tiger chooses to play these holes.
Nemes (P-Town)
Is there still bad blood between Tiger and Stevie or all water under the bridge?
Curtis Strange
(2:05 PM)
Oh, I think it's water under the bridge. They're both adults and have moved on from that. I don't think it bothers any of them at all.
Curtis Strange
(2:05 PM)
In fact, you won't see me comment on it if they're on air.
Kevin (CT)
Are Rory's problems with his clubs or his head?
Curtis Strange
(2:06 PM)
With his swing. It's getting better, but now the ability to play under pressure with some confidence. We'll have to wait and see.
Dre (Philly)
Did my man Tiger lose interest at memorial or was it mechanical?
Curtis Strange
(2:08 PM)
I think everything that could have gone wrong went wrong. It snowballed. You can't help but lose a little interest when you're shooting bad scores. Your enthusiasm dwindles. You want to get the day over with. There's not an athlete that plays sports that goes through multiple days like that. I think it's amazing that he hasn't had more days like that. He's been so consistent over the years and what's impressive to me is that he has always tried so hard over the years.
Steve (sactown)
Will tiger be able to hit that stinger iron all day like last years US open?
Curtis Strange
(2:08 PM)
I think you'll see a lot of it. The reason the singer is so accurate is he cuts off his follow through, which means he stays down and through the shot longer and because of the lower trajectory, much more control and much more accuracy.
Curtis Strange
(2:09 PM)
I can hit stingers. They just don't go very far.
Craig (NYC)
Can these guys reach either of the two monster par 5's in two?
Curtis Strange
(2:10 PM)
Boy, you wouldn't think so, but nothing surprises me any more with some of these players. I just don't know right now. It seems unfathomable that we're even talking about it, hitting a golf ball that length.
Nemes (P-Town)
Do you guys agree with the anchoring ban?
Curtis Strange
(2:11 PM)
I do agree with the ban now. I didn't three months ago. The reason for my change is I don't want to see the kids of today being taught to anchor into the putter.
Curtis Strange
(2:12 PM)
My feeling is it should have been done 15-20 years ago, but whatever the case, it was a decision on if it was a stroke or not.
Evan (Detroit)
what kind of impact will the weather this weekend have on next weekend's tournament?
Curtis Strange
(2:13 PM)
The large storm right now will effect the course, and it looks like early in the week it's not going to have a chance to completely dry out because it's thunder storms every day. Typical June weather. I never believed that you could get dry, fast conditions in Philly in June. Fairways will play a little bit wider, because they'll be soft. And greens will play easier. Rough will play deeper and thicker. It's a game played outdoors and these players adapt quickly to anything.
Brint (Wichita)
Curtis, did you play in the US Open when it was last at Merion? If so, how did you do?
Curtis Strange
(2:14 PM)
I did play. I finished 17th. I was still young, 26. It was a short course back then, but it was a fun course. I really think the guys will enjoy playing it this week.
Kevin (CT)
Who would win an 18 hole match, you or Andy?
Curtis Strange
(2:15 PM)
Hahaha...Our games don't travel very well any more, so we try not to put them on stage very often.
Will (Greenville,NC)
How much of a factor does it really contribute for players such as, Tiger and Rory, to take a week off from play before a major?
Curtis Strange
(2:16 PM)
It all depends on your routine and how you prepare. I played before majors and I took weeks off before majors. It just depended on what I needed at the time.
Curtis Strange
(2:17 PM)
Now, Tiger takes every week off before a major, as did Nicklaus. They come in well rested and prepared.
Curtis Strange
(2:18 PM)
We all look forward to next week. Right now the venue, Merion, is the topic of conversation and who can play well there. But I really think no matter where they play, the top players will prevail in most cases, simply because they're the best players. Every U.S. Open Andy and I look forward to, it's a big part of our lives, past and present. It's an exciting week, I hope you all enjoy it. It should be a great finish.
Buzzmaster
(2:18 PM)
Thanks Curtis!
Buzzmaster
(2:18 PM)
Andy North will be here shortly!
Buzzmaster
(2:24 PM)
Andy's here!
Buzzmaster
(2:27 PM)
Oh, hang on a sec. Colin Cowherd stopped in to chat with Andy and Curtis.
Tom (nyc)
when can we expect to see Dr. North's appearance?
Andy North
(2:32 PM)
Wednesday. Dr. North will be all over it on Wednesday's preview show - 2-3 p.m. ET.
Jason (IL)
how good is the drainage at Merion? can it handle this water?
Andy North
(2:33 PM)
We don't know. I think the drainage is OK. There is a stream that runs through there. It's such a small area. When the people get in there, it will be a mess. You want the greens to stay firm.
Greg (DC)
what do you look forward to the most at the Open?
Andy North
(2:33 PM)
I think as a former champion, you have a lot of pride going back and seeing how they attack the golf course. We love it when it plays very difficult. It sounds like the rough will be deep this year, but it will be interesting to see if the softness gives birdie opportunities.
Steve (sactown)
What's the hardest hole at Merion?
Andy North
(2:34 PM)
There are 2 or 3 long par 3s and some long par 4s. Probably the 18th might be the most difficult. It's a hard hole, but the fact that it's the last makes it harder.
Timmy (TX)
How does Merion compare to previous open courses?
Andy North
(2:35 PM)
It's the shortest Open course we've had in a long time. The holes are either short or really long. There will be more scoring opportunities here.
Matt (Madison)
Andy, what are your thoughts on the Wisconsin Badger basketball team for 2013? Improvement over last year?
Andy North
(2:36 PM)
We're going to be very very young, but very athletic. I am sure we'll be picked 6 or 7th in the league and finish in the top 4 and go to the Sweet 16.
Neal (Miami)
Many golfers fight their whole careers to win a PGA Tour event, let alone a major...how do you view your U.S. Open wins?
Andy North
(2:36 PM)
I think I was fortunate that my mind set and personality fit the Open very well. I took pride in figuring out how to make a par. The Open is who makes the most pars.
MARI NYC [via mobile]
Im not a huge golf fan but i always wondered how much of a difference does the weather really make i mean if youre that good can you overcome it
Andy North
(2:37 PM)
Playing in rain is not a big deal. You're going to get wet. But it softens the golf course, making approach shots easier to get on the greens.
Craig (NYC)
Wedges will be used for approaches on up to 9 holes this week. Is controlling them the most important thing this week to win?
Andy North
(2:38 PM)
You have to put it in the fairway first. If you can put it in the fairway you'll have a lot of scoring opportunities. I would think it keeps a lot of people in the mix.
Mike (Haverford, PA)
As a member at Merion, I think these pros eat it alive and the winning number is 9-12 under, what do you think the winning score will be?
Andy North
(2:38 PM)
If it stays soft, I think it could be even lower than that 12-16 under par.
MB (MD)
What were your favorite US Open to watch and play in?
Andy North
(2:39 PM)
I love the golf courses that were typical midwest in nature. Big oak trees, big rough. Wingfoot. Oakmont, Medina, Oakwood. Big golf courses that play difficult.
Kevin (Malvern, PA)
Merion is on a pretty small piece of land, do you think the large crowds will be a factor?
Andy North
(2:40 PM)
I think once a player gets inside the ropes, the smallness of the course won't have an effect. The real problem is the logistics around the event. Getting back and forth from the practice facility to the first tee will be a problem. They've limited the ticket sales, so the USGA will take a financial hit from the fewer fans.
Kevin (CT)
How do you think Sergio will be treated this week?
Andy North
(2:41 PM)
There could be some issues. A lot depends on how he handles things. I suspect that we're in Philly that there will be a few people that say some things to him.
Craig (NYC)
How important will lag putting be this week? It seems like there isn't a straight in 4 footer on the course.
Andy North
(2:41 PM)
Putting in the U.S. Open is always very important in determining who wins. You seem to have a lot of 4, 5, 6, 7 foot putts over the week.
Brian (IA)
What young player has a good shot this week, besides Rory, what about Fowler?
Andy North
(2:42 PM)
That's a player that I think is a good course for. He hasn't played quite as well this year yet, but I think he's the player that you would think would have a good opportunity.
Jeff (Chicago)
have you heard anything about the set up for merion next weekend?
Andy North
(2:43 PM)
Supposedly there is a lot of rough. You probably won't see the graduated rough we've seen the last few years. But unfortunately with all of this rain and this big storm it will be hard to dry it out. There are so many places to put the tees and the pins. The softness will determine how it plays.
Dre (Philly)
If Rory and Tiger on their A game, who wins?
Andy North
(2:44 PM)
Boy that would be fun to watch. I think it's probably more difficult for Rory to ramp up and get to his A game with the way he's been playing. So I would say Tiger.
Nick (Canada)
With guys hitting it a mile. Bigger more athletic guys playing the game at such a high level where do you see the game headed in the future?
Andy North
(2:45 PM)
I don't think, if you look at the athlete itself, they're probably stronger, because they work at it in a different manner than 30 years ago. But the big difference is the equipment. Where the equipment goes determines where the game goes.
Beau (Lancaster, PA)
Any advice for spectators? I will be there on Friday. I hear it will be tight quarters and hard to move around.
Andy North
(2:46 PM)
First of all, you need to probably spend some time on the practice tee, watching the guys warm up. It will be difficult to follow a player around. Picking a couple of places to see 10-15 groups go through and then go to another area. That will be the best way to watch the tournament.
Kevin (Malvern, PA)
Why has it been so long since a US Open has been held at Merion?
Andy North
(2:46 PM)
It's basically the size of the venue. There is not enough room to do so much of the corporate entertaining, the parking. That's why it will be so interesting to see how it works this time around.
John (Kennett Square, PA)
I've heard a lot of pro's saying they've never played Merion before. Are there any older players who've played here before that may have an advantage?
Andy North
(2:47 PM)
There was a national amatuer some few years back that some of them may have played at. But it will be a new course to nearly everyone. It's a brand new course. Generally, that helps the better players who understand how to break down the course.
Nemes (P-Town)
Do you guys still play from the tips when you play?
Andy North
(2:48 PM)
When I do play, I always try to play from the back. Golf courses have gotten longer. The nice thing is that even though I'm 63 I'm not shorter than I was so the equipment helps out.
Andy North
(2:49 PM)
I appreciate everyone logging on for the chat. It should be a great championship and hopefully some good weather. That's the key.