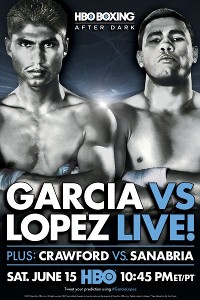 Welcome to SportsNation! On Wednesday, we're going inside the boxing ring when Mikey Garcia stops by to chat about his title fight this weekend.
Garcia (31-0, 26 KO) takes on Juan Manuel Lopez (33-2, 30 KO) as he defends his WBO featherweight crown. American Airlines Center in Dallas hosts the fight Saturday at 10:45 p.m. ET/PT on HBO Boxing After Dark.
Saturday's fight will be just the first title defense for Garcia since winning the belt in January by defeating Orlando Salido. Garcia turned professional in 2006 at the age of 18, fighting four times in the five months before he turned 19.
Send your questions now and join Garcia Wednesday at 2 p.m. ET!
More Special Guests: Previous chats | SportsNation
Buzzmaster
(1:56 PM)
Mikey is here!
Mitch (Baltimore)
If you get past Lopez this weekend, is there a short list you can give us of guys you want to fight?
Mikey Garcia
(1:57 PM)
The mandatory challenger has to be Cruz. If Top Rank and HBO want me to defend against him, he's the guy that would be next. If there are other options they allow me to take, then we'll see what they are.
mata (dilley texas)
MG I know you will defeat jml will you knock him out by the 6th rd
Mikey Garcia
(1:58 PM)
I never go in looking for the knockout, but it's very likely that it's something that could happen, either I drop him or he drops me. It will be exciting. We both have heavy hands. That's the ingredient for a good fight.
Ron (Tucson) [via mobile]
Mikey, how much longer before the move to 130?
Mikey Garcia
(1:59 PM)
That's one of the options that my promoter and manager have already considered. I would be willing to move to 130 if they let me go back to 126 to defend my title. It could be by the end of the year or early next year.
Chris (Boston)
do you like being so active with your fight schedule?
Mikey Garcia
(1:59 PM)
I'm always at the gym anyway. I take 2-3 weeks off and then I'm back in the gym to stay in shape. It keeps me busy. Keeps me fighting and keeps me in peoples' eyes.
Kherby (City of Angels)
What are you predictions in Mayweather-Canelo, Broner-Malignaggi?
Mikey Garcia
(2:01 PM)
Broner-Malignaggi is going to be an interesting fight. It will be interesting to see what Broner can do against a bigger guy that can fight. With Mayweather-Canelo, another interesting fight. Canelo is young, hungry, strong. He has the ingredients to give Mayweather a good fight. But I think Mayweather has what he needs to box his way to a decision.
Jose (Puerto Rico) [via mobile]
I believe a common theme with Puerto Rican fighters like Juanma and Cotto is they gas out, especially under pressure. What do you think helps your own endurance the most?
Mikey Garcia
(2:02 PM)
I thiink the best thing is working hard in the gym. I'm pretty patient early on the fight. That might let me carry my strength in the later rounds. My condition in the gym helps me carry in the later rounds.
Kherby (City of Angels)
How high in weight do you think you can eventually go?
Mikey Garcia
(2:03 PM)
I see myself staying at 130 the longest. Maybe at the end of my career going to 135. I'm pretty comfortable in those weight classes. It's not much of a difference from one to the other. 140 would probably have to be the last, last fight. But I would say 135 would be my highest weight class.
Alec (Nashville)
Mikey, congrats on your recent success...keep up the good work. Do you feel that JuanMa is going to be bringing anything to the table that you have never seen before? Are you concerned at all with him being a southpaw, or are you comfortable against lefties?
Mikey Garcia
(2:04 PM)
I'm not concerned with him being a southpaw. I have experience against them. I don't feel that's a big concern. But I do feel he's a good fighter at this stage of his career. He does have power in both hands to turn things with one punch. I have to be careful with his power and respect it. I can't take him lightly.
joel (Bay Area , CA)
How has your broken nose recovered? Hopefully it healed stronger than before !
Mikey Garcia
(2:05 PM)
Yes. We had surgery about 2 weeks after the Salido fight. The doctor broke the nose again and put it back in place. We let it heal for about a week and then had it checked out. I had some bloody noses so we checked it out again. It was like 45 days without activity. It's been fine since then. I can breath normally. It was a really good job.
Gerardo (AZ)
Mikey, it seems like the vast majority of people consider you a heavy favorite for this fight, even though JuanMa is also a very good fighter. Has this put more pressure on you for this fight?
Mikey Garcia
(2:06 PM)
No. You don't let the fans or media affect the way you fight. I don't think I'm the favorite to win. It's not that easy for me. I still have to do my job to win. You have to make sure you're ready to face the best.
Kherby (City of Angels)
We all know you're a cerebral fighter. Give us the scoop, how do you plan to dismantle Lopez?
Mikey Garcia
(2:08 PM)
We are prepared to fight different styles and have a few different stratgies and gameplans. We did our jobs in the gym and be able to fight coming forward, or trading punches or pushing him back. I did a good job with my brother, my dad and sparring partners to be ready for whatever unfolds Saturday night.
Chris Fiegler (Latham,NY)
Where is the Best & the Worst Sports Facility that you have Fought at?
Mikey Garcia
(2:09 PM)
My favorite is Madison Square Garden, where I won my title. That was a very nice venue to win my first title. It was a big honor. I've fought in other arenas, but it makes it more special when you win the world title.
Dave (Racine Wi)
Mikey, first of all I've watched you since you were a pup and congradulations on sticking with it. Don't you think it's an exciting time to be in your weight category? I mean you got Juanma, donaire, Rigiandox (sorry) Great matchups that you fit well in with. Whats your thoughts on the current level of competition?
Mikey Garcia
(2:10 PM)
It's definitely a very stacked division. I think the records of all of the world champions are all undefeated. That makes for interesting and exciting fights. I have to make sure I win this one and then see what my options are. If they let me defend my title or unify with other belts without impacting my fight with the mandatory challenger, that'd be a fight I'd be interested in.
Mikey Garcia
(2:11 PM)
Like always, it's a pleasure talking with you fans. Thanks for the love from all parts of the world. You're the reason I deserve to be called world champ. Follow me at TeamMikeyGarcia on Twitter, Instagram.