Boxing Chat: Golovkin, Macklin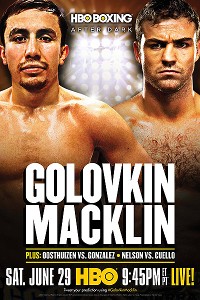 Welcome to SportsNation! On Thursday, we're going inside the boxing ring when Gennady Golovkin and Matthew Macklin stop by to chat about their main event WBA middleweight title fight this weekend.
Golovkin (26-0, 23 KO) squares off with Macklin (29-4, 20 KO) for Golovkin's belt. MGM Grand at Foxwoods Resort in Mashantucket, Conn. hosts the bout, which airs at 9:45 p.m. ET/PT on HBO Boxing After Dark.
Macklin (3 p.m. ET), @mattmacklin, is expecting fireworks against Golovkin. He last fought in Sept. 2012, earning a first round KO of Joachim Alcine.
Golovkin (3:30 p.m. ET), @gggboxing, enters the ring for the third time already in 2013. Saturday's fight will be his eighth title defense since winning his title in 2010, with all previous eight fights ending in a Golovkin KO.
Send your questions now and join the chat Thursday at 3 p.m. ET!
More Special Guests: Previous chats | SportsNation
Buzzmaster
(3:03 PM)
Matthew Macklin will be here soon to answer your question so get them in!!
Buzzmaster
(3:06 PM)
We're getting Matthew!
Kevin (NYC)
how do you defend against his power?
Matthew Macklin
(3:07 PM)
He's got good power. You have to be aware of. I will keep the defense good. He'll have plenty to think about as well. He'll have to be conscious of his defense more than he has before.
Alex (Houston)
you're pretty active on Twitter...do you enjoy interacting with the fans?
Matthew Macklin
(3:08 PM)
Yeah, definitely. It's important not to forget that the fans make who you are. Without them you wouldn't be where you are. I enjoy the fans.
Art Hornby (Ohio)
Hey Matt, will you raise a pint if you beat GGG?
Matthew Macklin
(3:08 PM)
Yeah, one or two.
Jeff (DC)
Matt, how long of a training camp did you go through?
Matthew Macklin
(3:09 PM)
It was just over 11 weeks...12 weeks since we announced it at the press conference. But I was in decent shape anyway.
Karl (Denver)
You've only fought in the U.S. a few times....what do you think of fighting in the States?
Matthew Macklin
(3:09 PM)
I love it. It's the place where big fights have always been. It's exciting boxing here with the crowd. When family and friends travel from the UK. The fans in the U.S. are great. They're great boxing fans. They understand the sport as well.
David (San Francisco)
what would it mean to win the world title?
Matthew Macklin
(3:10 PM)
It would be the fulfillment of lots of sacrifice over the years. Reinventing yourself. Bouncing back. It would be a dream come true.
Greg (DC)
what did you learn from your losses?
Matthew Macklin
(3:12 PM)
Early on, there were a couple of fights that I fought at 154. I definitely couldn't do that any more. Some times in fights I went up too quick. I was always in great shape. There was a weight issue also. With Sergio, it was different because it probably wasn't that I was in the condition I could have been. There were some injuries that prevented me from doing what I could. But no excuses. He was a better fighter that night. Training too. That's what you learn.
Seamus (NYC)
Ever thought about an Irish War against Andy Lee?
Matthew Macklin
(3:12 PM)
Yeah, many times. He's always turned it down, I think 3 or 4 times now.
Jason (Waterbury, CT)
Matt the Kinfe Macklin! So everyone wants to know who GGG is going on to fight if he wins, but I wanna know what would your plans be? Would you gun for a rematch with Sergio? I heard you guys have become friends, would you even want to fight him again?
Matthew Macklin
(3:13 PM)
Yeah, definitely. That would be at the top of the list. I consider him a friend and have quite a bit of respect. But that's the fight I would want.
Jason Hesbach (CT)
Macklin, you had an amazing first 7 rounds against Sergio, who is the legit top guy in the devision. You gave him all kinds of problems. How have you trained for this fight to make sure you can keep fresh in the second half the fight.
Matthew Macklin
(3:13 PM)
I've done a lot more road work. More running. I've had more rounds in sparring. Some interval running. Track work.
Matthew Macklin
(3:14 PM)
And not so much strength. We did a little of that early on in camp, but the last few weeks have been sparring and road work.
Brian (CA)
Hey MattAs you know, you are going into this fight as a 7/1 underdog against a guy who many people believe is the biggest puncher in the division. What have you seen in Golovkin's recent performances that makes you so confident in becoming a world champion on Saturday?
Matthew Macklin
(3:15 PM)
It's not that he does anything particularly badly. But the thing that people talk about is his footwork. His lack of experience. He's a world champion but he hasn't fought a lot of the top guys. He's fairly inexperienced due to that.
Kherby (City of Angels)
It seemed like you took Martinez's hard shots without much issue. Do you think Golovkin lacks the pop to faze you with single shots?
Matthew Macklin
(3:16 PM)
I don't really know. I'm not too worried. He probalby hits hard. There's a chance you could catch him. But I have full confiedence in my durability. But I don't reall know what his power is like until I get in there.
Kherby (City of Angels)
How do you classify yourself as a fighter? Boxer-puncher? Selective Pressure?
Matthew Macklin
(3:16 PM)
Probably a boxer-fighter. Someone that likes to mix it up. Likes to go to the body. But not recklessly.
Calico Cat (Cheshire, ENG)
Hi Matt, much love from across the pond to you. Who is hardest puncher you ever faced?
Matthew Macklin
(3:17 PM)
Probably Geard.
Patrick (nj)
WHAT DO YOU LIKE TO DO WHEN NOT TRAINING FOR A FIGHT?
Matthew Macklin
(3:17 PM)
I like other sports. Socialize. Just relax. General things, really.
Alonzo (Miami, FL)
Macklin: Since you were robbed against Sturm, will you let this one go to the cards?
Matthew Macklin
(3:18 PM)
Hopefully, I'll finish it myself. But it's a 12 round fight, so you have to make sure you're winning the rounds.
Jason Hesbach (CT)
So is all the running a new approach to training for you?
Matthew Macklin
(3:18 PM)
The Martinez fight, I did a lot of strength and conditioning. I didn't come in the way I wanted to. This fight, I did a lot of road work and track work. I've done it before with previous fights.
V (CA)
Do you see yourself moving up to 168 anytime soon or are you comfortable at 160?
Matthew Macklin
(3:19 PM)
At the moment I'm comfortable at 160. If an opportunity came up, you never know, but there are a lot of great fights at this division.
V (CA)
At some point, would you be interested in a fight with Chavez Jr.?
Matthew Macklin
(3:19 PM)
Yeah, definitely. There is a lot of talk about that fight. We went for it, but I think they weren't that interested.
Jason Hesbach (CT)
Whats your favorite part about training over in Spain?
Matthew Macklin
(3:20 PM)
I live in Spain there, so being able to chill out. You're in training camp, but it doesn't feel like you are. They have some great hills, so that was brilliant for running.
Matthew Macklin
(3:21 PM)
Thanks for the support. Tune in on Saturday night on HBO. It will be an exciting fight. Probably the fight of the year.
Buzzmaster
(3:21 PM)
Thanks Matthew!
Buzzmaster
(3:21 PM)
Next up is Gennady Golovkin at 3:30 p.m. ET!
Buzzmaster
(3:29 PM)
Gennady is here!
Will (LA)
How long was your training camp/
Gennady Golovkin
(3:34 PM)
10 weeks. 2 months for this fight.
Kevin (DC)
What do you hate about training camp?
Gennady Golovkin
(3:35 PM)
Sparring there is a lot of sparring.
Chris (Seattle)
Do you look for the knockout?
Gennady Golovkin
(3:36 PM)
Yes. I hope to get one. I go in boxing, but I want a knockout. I like to fight.
Art Hornby (Sarasota, FL)
Hi Golovkin. Tell me if you think that you can make 154 pounds and fight Canelo or Mayweather?
Gennady Golovkin
(3:37 PM)
Yeah. I would. Last week I was around that weight during my training. I think I could do that.
Tom (Yonkers, NY)
How do you prepare on fight night?
Gennady Golovkin
(3:38 PM)
Not much. It's normal. A couple of hours before the fight I relax.
Kerby (LA)
how do you get your strong punches?
Gennady Golovkin
(3:39 PM)
I train hard every day.
Peter (Boston)
how often do you get back to your home country?
Gennady Golovkin
(3:40 PM)
My friends and family are actually in Germany. I get to see them.
Stan (NYC)
What round is Macklin going down?
Gennady Golovkin
(3:40 PM)
Eight, nine....maybe 7.
Marc (Brooklyn, NY)
GGG - how have you prepared differently for this fight than you have in your previous fights?
Gennady Golovkin
(3:42 PM)
A little differently. There are different styles, different tactics.
the duder (PDX, OR)
Do you think Macklin will be your toughest test?
Gennady Golovkin
(3:42 PM)
I think so, yeah.
B Man (Canton OH)
GGG, I want to know if you think Macklin has the power to hurt you.
Gennady Golovkin
(3:43 PM)
Maybe. Maybe. I think my power is good. Better. Stronger.
Bill (Boston)
Who wins between Mayweather/Canelo?
Gennady Golovkin
(3:44 PM)
Right now, I think it's 50-50.
Gennady Golovkin
(3:47 PM)
Thanks for the questions everyone.