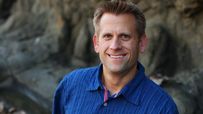 Welcome to SportsNation! On Tuesday, Sport Science host John Brenkus stops by to chat about his Emmy Award-winning TV show.
Sport Science uncovers sports' biggest myths and mysteries by utilizing cutting-edge technology to measure momentum, friction and the laws of gravity. In addition to his role as host of Sport Science, Brenkus, a Univeristy of Virginia graduate, is also the director and creative director of all BASE Productions programs.
Send your questions now and join Brenkus Tuesday at 2 p.m. ET!
More Sport Science: Chats | Index | Videos | Blog | @Sport_Science
Buzzmaster
(2:02 PM)
John's here!
Kevin (FL)
How impressive was Will Power in the SS lab? How does he compare to others you've worked with?
John Brenkus
(2:03 PM)
Will was fantastic. An amazing athlete who proved that these days auto racing drivers do a heckuva lot more than just an easy Sunday drive.
Davis (Boston)
you have volunteered to be choked out or tackled, what activity got you hurt the most?
John Brenkus
(2:04 PM)
Being dragged by Vernon Davis. It took all of the skin off my arms. Note to self: Don't do that again.
Jeff (CA)
so what's better when it comes to trying to get big air at the X Games, being youthful or having the experience of knowing what to do?
John Brenkus
(2:05 PM)
These days, it's hard to believe, but the up and coming athletes have both. These teenage kids, and in some cases preteen, put in thousands of hours of practice. They are so much better earlier in their careers than ever before, simply because perfect practice makes perfect.
Elvis (Tupelo, MS)
Have you ever done any research on the propensity to be injured? Can science explain why guys like Cal Ripken or Brett Favre or Emmitt Smith never missed games, while other guys can't stay on the field? Is it genetics? reflexes/reaction?
John Brenkus
(2:07 PM)
We've looked at injuires quite a bit. If anyone could answer the Ripken/Favre question, then no one would ever get hurt. It's clearly a combination of genetics, conditioning, determination and incredible good fortune.
Willie (LA)
Were you surprised that the new college baseball bat has had the impact on the game that we've seen?
John Brenkus
(2:07 PM)
Honestly, yes. Very, very surprising.
Kyle (VA)
How does Roger Federer's ground strokes compare to other tennis players you've analyzed?
John Brenkus
(2:08 PM)
Federer's records speak for themselves. His game is as complete as any players' in history.
Deven (New York, NY)
How close to perfect form would you say Lebron James is on his jumpshot, especially in the Finals?
John Brenkus
(2:09 PM)
Yes, it is possible to calculate the "perfect" jumpshot, but that's only in theory. In practice, the perfect jumpshot is one that goes in consistently. LeBron has clearly worked on his game and back-to-back championships means he must be doing something right.
Davis (Boston)
is there any athlete that you wish you could test in the past and who is the guy you want to test playing now?
John Brenkus
(2:10 PM)
We've done over 700 Sport Science experiments with the world's greatest athletes, but there will always be a list of athletes from the past that we'd love to have had one. And there will always be others from today that we hope will stop by to have some fun.
Brian Baroody ( Herndon, Va.)
Have you ever tested if it really is slower to dive headfirst into first base than it is to run through it? I have always contended that, if done properly, a well-timed and balanced dive would actually be quicker. I am not suggesting it is a better tactic, but I don't think it is the slower route that all coaches and broadcasters keep going on and on about.
John Brenkus
(2:12 PM)
Running is faster than diving.
Sid (Gainesville, FL)
what do you have on tap for the NFL seasosn?
John Brenkus
(2:12 PM)
Too much to list.
Chris (TX)
are you already thinking about the SS Combine?
John Brenkus
(2:13 PM)
We will greatly expand the NFL combine this upcoming year. It's going to be awesome.
Erik (DC)
What have you done in concussion research?
John Brenkus
(2:14 PM)
In regards to concussions in the NFL, there's not much you can do. The math is simple. The collisions are so big and the deceleration of the head lasts such a short amount of time, concussions are inevitable. Rule changes can try to help mitigate it, but ultimately the game is what it is.
Jeff(DC)
You've had a lot of SS segments recently, which wsa the most fun?
John Brenkus
(2:15 PM)
We just did some awesome segments with Julio Jones, Richard Sherman and Dez Bryant that you're going to love.
Derrick (Boston)
any odd SS segments coming up? like the paper airplane one?
John Brenkus
(2:16 PM)
We're always looking for the next paper airplane or competitive eating segment. Maybe ultimate frisbee? Whiffle ball?
John Brenkus
(2:17 PM)
By the way, did you see the catch? Amazing!
John Brenkus
(2:19 PM)
Super excited for the NFL season. More great Sport Science segments coming your way. As always, appreciate your support.