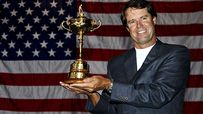 Azinger captained the U.S. to its first Ryder Cup win since 1999.
Welcome to SportsNation! On Wednesday, former captain of the U.S. Ryder Cup team, and current ESPN golf analyst, Paul Azinger stops by to chat live from Muirfield Golf Links in Scotland, the site of the 2013 Open Championship.
The 2008 Azinger-led U.S. team is the only Ryder Cup win for the U.S. in the 2000s. As a player, Azinger was on four Ryder Cup teams, winning back-to-back Cups in 1991 and 1993. He also played on the team that tied Europe in 1989 and lost in 2002. His personal record is 5-7-3.
As a PGA Tour pro, Azinger owns 12 wins, including the 1993 PGA Championship.
Send your questions now and join Azinger Tuesday at 9 a.m. ET!
More Paul Azinger: @PaulAzinger | Search | Ryder Cup
Rick (CA)
Are you any good at the Happy Gilmore golf swing?
Paul Azinger
(8:52 AM)
I have mastered it.
Andrew (Wilson, NC)
Hey Paul, big fan of yours. Really enjoyed you with D. Feherty. Tom Watson held his own at the Greenbrier and was within shouting distance at the Senior US open. He's won at Muirfield before. Any chance he makes some noise this week where he is virtually royalty over there?
Paul Azinger
(8:52 AM)
There is a very good chance that Tom Watson can get into contention. the course is so firm and fast that the length off the tee is not an issue.
Steve (sactown)
have you seen tiger in his practice rounds? If so how is his swing looking after the long layoff
Paul Azinger
(8:53 AM)
I haven't seen Tiger but have word that he is clicking on all cylinders.
Steve (sactown)
Does this course set up well with tiger considering he doesn't have to hit driver much, if not at all, because of the hard fairways?
Paul Azinger
(8:53 AM)
Yes Tiger will hit one or two drivers a day.
Steve (sactown)
what will be the winning score this week?
Paul Azinger
(8:55 AM)
It's impossible to predict because of the nature of the weather. The wind is predicted to switch on Friday -- from a direction the players haven't seen. I still feel like double the winner could be double digits under par.
Paul Azinger
(8:58 AM)
Tiger can win any week he tees it up.
austin (college station)
paul, the rough looks wispy, but how thick is it at the bottom. tiger seemed to indicate that it is not as thick as he expected.
Paul Azinger
(8:58 AM)
The rough is very thick in spots. Luck will play a factor when shots are hit offline off the tee.
Emily (Indiana)
What's your favorite British open course
Paul Azinger
(8:59 AM)
St. Andrew's because it's the birthplace of the game of golf.
Chris Fiegler (Latham,NY)
Who do you think will win the Open?
Paul Azinger
(9:01 AM)
I get asked to pick a winner a lot and it's almost impossible. At the US Open there were 4 players in it with 4 holes to go and I didn't know who was going to win. Your guess is as good as mine! :)
Steve (Iowa)
How many in the field have a realistic chance to contend?
Paul Azinger
(9:02 AM)
I think it's very wide open. The unlikelihood an unheralded player is on the leaderboard early is pretty high. Can they handle the pressure at the end? That remains to be seen.
Ben (Ohio)
what do you make of Westwood working with Foley?
Paul Azinger
(9:04 AM)
I'm surprised. But it's in an effort to improve. Players are always looking to improve, sometimes to a fault. Sean Foley has proven himself to be one of the top teachers in the game today.
austin (college station)
Paul, Tiger brushed off an criticism regarding his mental approach in the majors. What affect to you think his failure to win a major in the past five years is taking on his performance, or do you think it is really a bounce here or there?
Paul Azinger
(9:06 AM)
I've never heard Tiger talk about the luck factor before. He appears to be carrying more of a burden early in majors. Look for his demeanor on day one to be an indicator of his level of confidence. If he's demonstrative I feel he lacks confidence. If he's more reserved and stoic, watch out.
Karl (Denver)
I'm being totally serious with this question....has Tiger's window closed to pass Jack? It's been 5 years since his last major win. Jack won 4 majors after turning 38, following a few years between wins. Tiger now has to win 5 in that same span. I Think it's gonna be tough.
Paul Azinger
(9:07 AM)
Of course it's tough, I hope no one ever assumed it's easy. His window is closing but it's definitely not closed.
Paulie (Boston)
Last year Ernie Els kind of came out of no where to win the Open...anyone like that this year?
Paul Azinger
(9:10 AM)
Somebody can always come out of nowhere to win, I think maybe people didn't think of Ernie prior to the event. Look at Schwartzel and Oosthuizen.
JRbohn (Graham, TX)
How many drivers will be used during a round and do you think Phil carries 1, 2 or zero?
Paul Azinger
(9:11 AM)
It depends on the player and his philosophy, a conservative player may hit two drivers. An aggressive approach would be 6 or 7.
Will (TX)
What are the chances that an American wins?
Paul Azinger
(9:13 AM)
It's a world game and I'm no handicapper but I'd say 50/50. :)
austin (college station)
Paul, I saw Brandel Chamblee dissect Tiger's golf swing on the Golf Channel last night. In particular, he claimed Tiger's iron play is technically not as good as it was at Hoylake. Do you buy that, and if not, does the firm, hard track play right into Tiger's hands?
Paul Azinger
(9:14 AM)
I'd say Tiger seems to be swinging very well. I feel the question is more about his confidence and his short game. He won Bay Hill, finishing last in fairways hit. Does his technique really matter? :)
Melissa (Florida)
You have a new role in life... a new grandfather! How are Momma and Baby? What are you looking forward to most about being GrandPaul? And do you feel any older?? LOL
Paul Azinger
(9:16 AM)
Momma and baby are doing well. I don't feel any older but I can't believe I'm a grandfather.
Tim (FL)
Does it make sense to even bring a driver out on the course? With the usual winds, doesn't it make sense to try and cut below the wind with stinger shots?
Paul Azinger
(9:17 AM)
You'll see the stinger (or knockdown) shot the entire week.
JR Bohn (Graham, TX)
How long does it take for a player to adjust to the different time zone?
Paul Azinger
(9:17 AM)
Every player travels differently. It took me 3 or 4 days for my body to feel normal.
Jeff (DC)
should we all believe that Tiger is healthy? Or is he just saying that because it's a major?
Paul Azinger
(9:19 AM)
The condition of Tiger's elbow will be another thing to look for on day one.
Paul Azinger
(9:20 AM)
Thanks for all the questions everyone! Our coverage starts tomorrow at 4am ET.