Chat: Daniel Geale, Darren Barker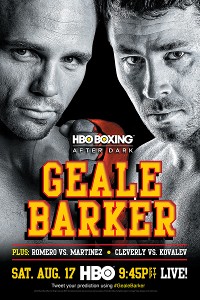 Welcome to SportsNation! On Wednesday, we're going inside the boxing ring when Daniel Geale and Darren Barker stop by to chat about their title fight this weekend.
Geale (29-1, 15 KO) faces Barker (25-1, 16 KO) with the winner taking Geale's IBF middleweight belt. The Revel Resort in Atlantic City, N.J. will host the fight on Saturday at 9:45 p.m. ET/PT on HBO Boxing After Dark.
Geale (chats at 11 a.m. ET) makes his fifth defense of his IBF title that he won in May 2011, with his previous four wins coming via decision. He ranks third in Dan Rafael's ESPN.com middleweight division rankings. Barker (chats at 10:30 a.m. ET) fights in the U.S. for the second time in his career. He's won his last two fights since suffering the first defeat of his career to Sergio Martinez in Oct. 2011.
Send your questions now and join the chat Wednesday at 10:30 a.m. ET!
More Special Guests: Previous chats | SportsNation
Buzzmaster
(10:37 AM)
We're getting Darren right now!
Buzzmaster
(10:41 AM)
Hang on folks. We're tracking him down.
Buzzmaster
(10:51 AM)
Sorry folks. We won't have Darren chatting right now. But Daniel is ready and waiting to take your questions starting at 11 a.m. ET!
Buzzmaster
(10:58 AM)
Daniel is here!
PJ (NYC)
Daniel, how excited are you for your U.S. debut, and do you plan on training/living in the U.S. in the future?
Daniel Geale
(11:00 AM)
I'm very excited being here. It's going to be a great fight. Barker is a tough opponent. Whether I do come over and stay and fight in the U.S. I'm not sure yet. Most of the time we do the bulk of our training in Australia. I will be doing the bulk of my fighting in the U.S. now so it's something we'll talk about.
Joe Dancer (Lordship, CT)
Yo Geale, tell me about what you think Barker's best skill is in the ring?
Daniel Geale
(11:01 AM)
Barker is a thinker. He's a smart boxer with good skills. He can adapt and change, because he's a thinker. You have to stay a step ahead of a guy like that.
Frank Smith (Brentwood)
What is the most important aspect of your training? eg roadwork, sparring, diet, rest?
Daniel Geale
(11:01 AM)
It's hard to say, but I would have to say all of the above. Everything has its importance. Sparring is definitely right up there. Getting the right partner. But every part of your training is important. If you leave something out, it will effect your whole game.
James (Portland, ME)
Big fan of what I've seen from Daniel Geale. Anything to say to the US fans who are seeing you fight on TV for the first time?
Daniel Geale
(11:02 AM)
Just to be ready for some excitement. I'll throw plenty of punches. The reason we got Barker is he comes to fight as well. It will make it a very action packed fight. It will be exciting, so definitely tune in.
Carlos (Brooklyn)
Hey Danny, people think everyone is scared of Golovkin. Like literally scared. Set the record straight for us. Thanks.
Daniel Geale
(11:03 AM)
No. I'm not scared of him. It's definitely a fight that's on our radar. I'm only taking one at a time. There is a lot of talk about him but that's down the track for me. My team will float that one out. But that guy is not unbeatable.
Daniel Smart (Brisbane, Australia)
Daniel, what sort of challenge does Darren Barker pose to you that you haven't faced already?
Daniel Geale
(11:04 AM)
I guess Darren has been similar to some of the opponents I've faced, but he's got the great background in boxing. He's a thinker and a boxer. With a guy like him, you can't make any mistakes.
Chester (Heavan)
Darren - Besides boxing, do you participate/watch other sports? Good luck on Saturday!
Daniel Geale
(11:05 AM)
Yeah, I'm a big fan of sports. I love all sports. Back home in Australia, I love to do footie. Cricket. Tennis. I love to golf when I have the time. I try to mix things up a little bit.
Ben ashley (Derby)
How many times a week are you running in camp and how far?
Daniel Geale
(11:05 AM)
I'm usually running maybe 3-4 times a week. In miles, I'm not 100% sure. I'm usually going between 6-10 km.
Dave (London)
what's your pre fight meal?
Daniel Geale
(11:06 AM)
I don't really get to eat what I like just before the fight. I have to usually eat plenty of carbs. It's pretty basic. A lot of vegetables and carbs. Rice, potatos, pasta, a little meat and chicken. Fish as well. It's basic, but it's about loading up and getting back everything I had to cut down on to make weight.
Matt Rich (London)
How will you celebrate WHEN you win?
Daniel Geale
(11:07 AM)
I haven't really thought about that. But I'm excited because my family will be here. I'm looking forward to seeing them. I haven't been able to spend too much time with them throughout training camp. I get to see my kids. I'll be spending as much time as I can with them. As far as celebrations, I don't usually do a lot of that. I'm too tired.
Julian (Dallas/TX)
Are you interested in fighting again before the year is out?
Daniel Geale
(11:08 AM)
Yes. Yes. That's a the plan. I would like to stay active and like to be active. But it comes down to my team and management. As long as there are no injuries or anything, I want to be back in the ring as soon as possible.
Tim (Randolph, NJ)
Hey Daniel. What do you think is the best strategy for defeating Golovkin? All the best on Saturday.
Daniel Geale
(11:10 AM)
A guy like him, you have to have good footwork. He has great power, but it comes down to footwork. He can make people miss and still be in range to hit you because of your footwork. You can't show any fear as well. You need to be confident. You have to throw punches. When guys come at him, he's not as comfortable. When guys back off, he is better.
Marc (Brooklyn, NY)
Have you prepared any differently for this fight?
Daniel Geale
(11:10 AM)
Every training camp is slightly different, but I feel there have been similarities. I feel like I've picked it up. I feel like I'm stronger since January and my last fight.
Slater (West by God Virginia)
Daniel whom would you say has been your toughest opponent to date, Sturm, Mundine, someone else?
Daniel Geale
(11:11 AM)
I would probably say Sturm, even though I feel like I dominated that fight. I had a big crowd against me. Traveling to a foreign country. I was up against it. But I stayed strong for the full 12 rounds. It was a good turnout.
Kris (DC)
How are you finding it over in America for this fight?
Daniel Geale
(11:15 AM)
I'm enjoying it. I'm here with a job to do. I'm not distracted. I'm here with a goal and purpose.
Daniel Geale
(11:16 AM)
I just want to thank all of my fans. I hope they will tune in on Saturday. It's going to be an exciting fight. There will be plenty of punches thrown. I think it will come down to who wants it the most. I'm still very hungry. Tune in on Saturday night.