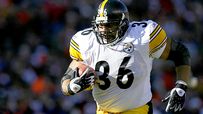 Bettis was drafted 10 overall by the Rams in the 1993 draft.
Welcome to SportsNation! On Monday, former running back Jerome Bettis stops by to chat about the start of the 2013 NFL season, as well as the release of Madden NFL 25.
Following a 13-year career in the NFL, Bettis retired after his Pittsburgh Steelers won Super Bowl XL in 2006, his only Super Bowl win. He left the game with 13,662 rushing yards, which, at the time was fifth all-time and his 91 rushing TDs is 10th all-time.
This season, Bettis is working with EA Sports' Madden NFL 25, the 25th anniversary of the iconic video game. The game hits stores Tuesday.
Send your questions now and join Bettis Monday at 2:30 p.m. ET!
More Special Guests: Previous chats | SportsNation
Buzzmaster
(2:43 PM)
Hang on folks, Jerome will be here in a few minutes!
Buzzmaster
(2:46 PM)
He's here!
Jeff (LA)
what do you tihnk of one of the players from your era on the cover this year?
Jerome Bettis
(2:47 PM)
Great. I've always been a Barry Sanders fan. I always thought that was the one bright spot of the Lions in their recent history.
Andre (Tallahassee, FL)
Prediction on ND's season?
Jerome Bettis
(2:47 PM)
I was super excited about the season, until the suspension of their QB. Now, I think a two loss season is probably the luckiest I'll be.
Jeff (SD)
how much do you play games?
Jerome Bettis
(2:48 PM)
I play about...I play against my kids probably 2 or 3 times a week, tops.
Danny (Texas)
Jerome, this will define you for ever! A choice that men must make... propane or charcoal for grilling?
Jerome Bettis
(2:48 PM)
Charcoal is the only way to go. Propane is not grilling. It's cooking.
Andrew Z. (Struthers, OH)
How much has the game changed since you retired?
Jerome Bettis
(2:49 PM)
Totally changed. This pistol offense is the new craze. There are only about 3-4 teams that believe in running the ball consistently. It's definitely a different day.
Tony (Saint Paul MN)
First and foremost I want to say thank you for all those great years with the Steelers Jerome! Do you think Leveon Bell can restore the Steelers ground game to greatness again?
Jerome Bettis
(2:50 PM)
I think he can. But I think ultimately, it's the OL that has to restore the running game. I don't think any one RB is going to dominate without the OL being the biggest factor in the equation.
Jeremy (NJ)
what do you think about the jets playing sanchez in the 4th quarter? it was obviously an injury risk, but anyone can get injured anytime. no one likes injuries, but it's not like we're talking about putting tom brady, or one of the mannings in that precarious situation. it's unfortunate and probably was not worth playing him, but this isn't the "dumbest decision ever," as the NY media is trying to build it as. the jets wont contend and sanchez isnt the qb of the future.
Jerome Bettis
(2:51 PM)
I thought it was terrible. And it sent a terrible message to the football team. One that management or the coaching staff has lost confidence in Sanchez. And they've lost in confidence in themselves. When you make a bad decision like that, you effect the team, ultimately.
Rich (New Jersey)
Hi, With all the rash of preseason injuries this, how did you stay healthy during your 13 year career and of the 13,662 yards you gained during your career, which team gave you the hardest time?
Jerome Bettis
(2:52 PM)
I tried to be as smart as I could about unnecessary contact. When I didn't need to hit somebody or run out of bounds, I'd run out of bounds. When there were 3-4 guys coming and crunch me up, I got out of the way. I was real smart about not taking that excessive beating.
Ray Stinger Jr (Pittsburgh)
Hi Jerome! Which team will have the better year,Notre Dame or the Steelers? Secondly,what would you recommend at 36 Bar and Grill on the North Shore?
Jerome Bettis
(2:52 PM)
Clearly, the Steelers will have more than two losses, so I'll have to go with Notre Dame.
David (FL)
did you use yourself when playing video games?
Jerome Bettis
(2:53 PM)
I never did. I wasn't that terrible. I wasn't selfish. I shared the love.
Nick (MN)
What did you think of this year's HOF class and your chances of making it into next year's class?
Jerome Bettis
(2:54 PM)
I thought it was a great hall of fame class. As far as me making it, I believe my body of work says that I belong, hopefully. But it's not my decision to make. Until the powers that be decide that my body of work is enough then it will happen. I keep my fingers crossed.
Andrew Z. (Struthers, OH)
What's your opinion on an 18 game season? Good idea or bad idea?
Jerome Bettis
(2:55 PM)
I think an 18 game season is more than probable. I think it's where the NFL is going. The only way to raise and build revenues is to add games. I think with what the league is trying to do with injuries and trying to curtail them, it gives them the thought that an 18 game season is possible.
Jess
In your opinion, who is the greatest running back of all-time?
Jerome Bettis
(2:56 PM)
Oh man......Greatest of my time? I would say Barry Sanders. Greatest of all time? I would say Jim Brown.
Payton ((Edina, Mn))
Your most memorable run?
Jerome Bettis
(2:56 PM)
Yeah, against the Chicago Bears where I ran over Brian Urlacher.
Andrew Z. (Struthers, OH)
Do you play any fantasy football?
Jerome Bettis
(2:58 PM)
I do not play fantasy football. In fact, I hated it because people would come up to me and ask why am I not scoring more touchdowns. I don't get to decide if I do or not. People would put your career in stats and box scores. But I think it has increased your viewership of the game. Everyone is watching the game. They have so many players on so many teams that it forces them to watch all the games. It makes the NFL healthier.
Jerome Bettis
(2:58 PM)
Looking forward to working at ESPN over the next year. I think it will be a great opportunity for me. Stay tuned.