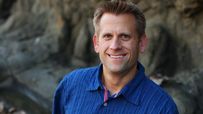 Welcome to SportsNation! On Friday, Sport Science host John Brenkus stops by to chat about his Emmy Award-winning TV show.
Sport Science uncovers sports' biggest myths and mysteries by utilizing cutting-edge technology to measure momentum, friction and the laws of gravity. In addition to his role as host of Sport Science, Brenkus, a University of Virginia graduate, is also the director and creative director of all BASE Productions programs.
Send your questions now and join Brenkus Friday at 3 p.m. ET!
More Sport Science: Chats | Index | Videos | Blog | @Sport_Science
Buzzmaster
(3:00 PM)
We've got John!
Buzzmaster
(3:16 PM)
Hang on folks....John's run into a delay. He'll be here shortly.
Buzzmaster
(3:19 PM)
OK...here's John for real!
Ryan (Miami)
Has Brittney Griner been the most impressive female athlete you've had in the SS lab?
John Brenkus
(3:20 PM)
She certainly is impressive. It's hard to say anybody is "the most impressive." Every athlete we have in here is among the best at what they do.
Keith (Ohio)
You recovered from you work on "Butt fumble"?
John Brenkus
(3:20 PM)
Still recovering. But, resolute that I will never do that again.
Dave (San Diego)
during your analysis of athony pettis' jump off the side of the cage and kick, did anything indicate how crucial the timing of the kick was? Would the force have been the same if he hadn't connected or if his kick had just glanced off the shoulder?
John Brenkus
(3:21 PM)
The timing is critical, especially with two moving targets.
Henry (Buffalo)
I recently came across your article in ESPN The Magazine last year about how female athletes have changed over the years. What was the biggest thing you have found that has changed women's sports?
John Brenkus
(3:23 PM)
Women could compete more consistently at a high level in many sports if they were told from Day 1 that they were just as good an athlete as the boys. The reasons why women haven't excelled as well as men in many cases is more sociological than biological. We all need to respect a woman's athletic ability and fear her roar.
Mike (TX)
Is there any analysis that can be done to find out how Diana Nyad's Cuba-Florida swim would have been done by someone half her age?
John Brenkus
(3:24 PM)
Age clearly wasn't a detriment to Nyad. 4,000 people have climbed Mount Everest, but only one person has ever achieved what Nyad did - young or old.
Jason (Philly)
Where does diana nyad's feat rank among some of the others you've analyzed in the SS lab?
John Brenkus
(3:24 PM)
I believe it is arguably the most impressive endurance feat ever.
Manny (Houston)
Which athletes from the 80's and 90's would you have loved to have on SS? I would have loved to see Al MacInnis on there and his slapshot (he broke masks, hands, gloves with his slapshot)
John Brenkus
(3:25 PM)
MacInnis and a slew of other stars.
Greg (Houston)
In your examination of Mariano Rivera, what was the one big thing that stood out about other factors that's been the key to his success over 20 years?
John Brenkus
(3:26 PM)
Rivera has approached the game much like a musician. He's not particularly scientific about his cutter and other pitches. He's been successful by concentrating on "feel." Nonethless, fun to break down scientifically.
Tim (Dallas)
After experiencing what Mark Sanchez did, how big of a hit do you think he felt during his butt fumble play? Was it bigger than a hit he would have taken on a sack?
John Brenkus
(3:27 PM)
Through our experiment and analysis, we think he probably experienced around 1,300 pounds of force. That's a pretty big hit, but certainly isn't the biggest of his career. Getting sacked blind sided by a relatively unimpeded LB would register 2,000-plus pounds.
Peter (Boston)
Did you get DJ to move at all during your tests?
John Brenkus
(3:28 PM)
We kept him stationary for safety reasons. It was hard enough just to coordinate me slamming into his backside. If he accidentally stepped on me, it would have been game over.
Jeff (DC)
How many times did you have to run into DJ to get all the data you needed on Mark Sanchez's butt fumble?
John Brenkus
(3:28 PM)
Too many times.
Bren (Pearl River, NY)
Orel Hershiser says that the average fan couldn't catch a major league fastball, let alone hit one. Have you ever tried? Do pitchers who throw for you go "all out?"
John Brenkus
(3:29 PM)
Yes, there is zero percent chance the average person could hit a MLB fastball. And yes, all of our athletes in the lab go all out.
Jeff (MD)
more humiliating, Suh throwing you or running into DJ's behind?
John Brenkus
(3:30 PM)
The Suh throw was terrifying. The butt fumble experiment was also terrifying, but for an entirely different reason.
Kevin (Dallas)
How do you get picked to do these things?
John Brenkus
(3:31 PM)
No one else will do them....would you?
Enzo (TX)
Who considers the athletes to partake on SS, Any info if in the future we can see a Cristiano Ronaldo breakdown
John Brenkus
(3:32 PM)
It's a collaborative effort between us and ESPN. We've done over 700 Sport Science segments, so we have great relationships with all of the agents, managers, trainers and the athletes themselves. And yes, we have had international athletes on.
John Brenkus
(3:33 PM)
Super excited for the NFL season. Go 'Skins! More great Sport Science coming your way!