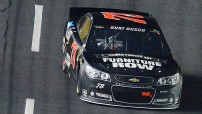 Kurt Busch has 12 top 10 finishes in 25 starts this season.
Welcome to SportsNation! On Wednesday driver of the No. 78 Chevy, Kurt Busch, stops by to chat about the final race of the regular season at Richmond and the upcoming Chase to the Cup championship.
Busch, who finished fourth at Atlanta Motor Speedway this past Sunday, will enter Richmond in 10th place in the Sprint Cup standings and in search of his first win of the season.
Send your questions now and join Busch Wednesday at 5:30 p.m. ET!
More Special Guests: Previous chats | SportsNation
Kurt Busch
(5:39 PM)
It's great to chat with everybody. I'm ready to fill you in with all the racing knowledge that I have.
Conner (Indiana) [via mobile]
What do you think team meetings will be like the Monday after races with all of those strong personalities?
Kurt Busch
(5:40 PM)
Hopefully, we are trying to decide where the trophy is going to go. There will be those days where we don't win and the way teams build strong chemistry is through communication. I see us being able to work through anything.
Shirley (Michigan)
Hi Kurt, what are the qualities you look for when selecting a crew chief?
Kurt Busch
(5:42 PM)
First and foremost, someone that's a car guy. Then you look at their ability to work with others, someone that can be a team leader, and one that has a little edginess to them.
melinda (kentucky)
Are you worried that it will be difficult getting along with your teammates next year?
Kurt Busch
(5:43 PM)
I don't think getting along with them will be a problem. The way to operate as a big team is to work together six days out of the week and go racing on the seventh.
Al from Detroit, Mi. [via mobile]
Kurt, do you think you can make the Chase without a win?
Kurt Busch
(5:44 PM)
Yes, I think so. At this point, if we had a win we still wouldn't be guarenteed a spot. But there's no better time for a win than Saturday night.
Jeff (Las Vegas)
Whats it like having a Brother race against you every week? View him as "just another driver"? Or do you race against each other differently?
Kurt Busch
(5:46 PM)
Kyle and I have a genuine sibling rivalry. We both want to beat each other but at the same time we are brothers and we treat each other like teammates.
Baseballman (Florida)
What goes through your mind when you line up 1-2 at the start vs. Kyle or on the final restart like at Atlanta?
Kurt Busch
(5:47 PM)
I'm gong to take it to him. If I want to beat the other competitors, he's the one I want to beat the most.
Chris Jans (Iowa)
Kurt, With a chase spot in your grasp...What route will you take to make it in if things are not falling in your favor towards the end of the race?
Kurt Busch
(5:50 PM)
The plan is to race for a top five spot and to back up what we did there in the first race. Now if things aren't going according to plan, we then have to draw up a gameplan to finish five spots better than Gordon.
Andy (Iowa)
Hey Kurt, trying to a settle a debate here. Are you the best driver in NASCAR or the best driver in NASCAR history?
Kurt Busch
(5:51 PM)
Thanks Andy. I was the best driver in 2004 if that answers part of your question. But there are many drivers eligible for your survey. I'm flattered by your comments.
Bart (East Bay)
Was Kyle really your first crew chief back in the Legends days?
Kurt Busch
(5:53 PM)
I was actually Kyle's first crew chief but our dad Tom was the owner, sponsor, crew chief, the checkbook and the driver that got us to the track.
James (Bayala)
Could you run your Championship winning #97 next year or does someone else have the rights to that iconic car number?
Kurt Busch
(5:55 PM)
I would love to run the No. 97 car. I think it's a cool option. Right now, the number is owned Joe Nemechek. We'll see how it turns out.
Slanted (Littleton, CO)
Will you be doing any more drag racing in the future?
Kurt Busch
(5:56 PM)
Not right now. My schedule is pretty full. The rush of a pro-stock car was a thrill of a lifetime.
Roy LaFaver (Louisiana)
Will you have any input on car color?
Kurt Busch
(5:57 PM)
I've seen some artist drawings. I think between Gene, Tony and myself, we will have something that looks really sharp and fast.
Andy (Iowa)
Do you plan on running any nationwide cars next year? Would love for you to come back to Iowa in 2014.
Kurt Busch
(6:01 PM)
The Iowa fans are incredible and don't rule anything out. I enjoyed running with Kyle and the Monster Energy guys. We'll keep our options open because I'm a racer.
Kurt Busch
(6:01 PM)
It was great to chat with everybody and feel the beat of what the fans are thinking. Thanks for showing your passion for NASCAR via this web chat. It's been a long day at ESPN. Thanks to ESPN for a fun filled day.