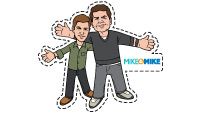 ESPN Radio hosts Mike & Mike have a few things to discuss Thursday.
Welcome to SportsNation! On Thursday, ESPN Radio hosts Mike Greenberg and Mike Golic stop by to chat about everything football, from Thursday night's kick-off to the 2013 NFL season to Week 2 of college football.
The football-mad hosts of Mike & Mike (6-10 a.m. ET on weekdays, ESPN Radio, ESPN2) will quiz fans on footlongs and football, while giving away free sandwiches in the heart of New York City on Thursday for a lunchtime celebration of Subway's SUBtember.
But the football talk won't stop there. Send your questions now and join Mike & Mike on Thursday at 2:15 p.m. ET!
More Mike & Mike: Search Greeny | Search Golic | @Espngreeny | @espngolic