Mark Fainaru-Wada, Steve Fainaru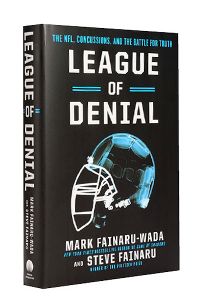 Welcome to SportsNation! On Wednesday, best-selling authors and award-winning journalists -- and brothers -- Mark Fainaru-Wada and Steve Fainaru stop by to chat about their book "League of Denial: The NFL, Concussions and the Battle for Truth" that hits stores Oct. 8.
Mark, @markfwespn, and Steve, @SteveFainaru, both now investigative journalists at ESPN, reveal in "League" how the NFL over nearly 20 years sought to cover up and deny mounting evidence of the connection between football and brain damage.
Mark and Steve combine for more than 50 years of reporting experience. Among their numerous career highlights is Mark helping break the BALCO steroids case and Steve spending years as The Washington Post's war correspondent.
Send your questions now and join the brothers Wednesday at 1 p.m. ET!
More special guests: Previous chats | SportsNation
Buzzmaster
(12:45 PM)
Mark and Steve will be here shortly to take your questions on their new book "League of Denial" that depicts the NFL's cover up of the connection between brain injury and football.
Mark and Steve
(1:02 PM)
Hi Everyone. Here to field your questions about League of Denial, our book about the NFL's campaign to deny science showing a link between football and brain damage, available in stores Oct. 8. Thanks for participating.
Taylor (LA)
What benefit do you hope comes out of this book? The league already settled, so what else do you hope to see come of this story?
Mark and Steve
(1:05 PM)
I think from the beginning we were just hoping to provide as much information as possible about an issue that has become important to fans, players and especially parents. This is the story of how we got to where we are now and what the NFL's role has been. Hopefully people can read and get information that will help them sort out where they stand on such crucial questions as, "Should I allow my child to play tackle football." There's not a consensus, even among scientists, and that is reflected in the book.
David (Seattle)
Do you think fans ultimately care about this issue as much as they should? I potentially see a comparison with steroids. Everyone makes a huge deal every time a MLB players gets suspended for drugs, but doesn't bat an eye when an NFL player gets suspended.
Mark and Steve
(1:08 PM)
The distinction from steroids here is that you're not just talking about the series of players choosing, but the fundamental nature of the game. And that has implications not just for the NFL but anyone who plays the game, particularly kids. We're not saying football is going away -- nor do we want it to, we're both big fans -- but rather this is clearly a topic that seems to resonate with not just fans of the sports but players, coaches, parents, etc. Seems that makes it a more pervasive issue than steroids to consider.
David (San Diego)
Was the league actively trying to cover up the science or did they believe in their own studies and were trying to knock down what they believed to be wrong theories?
Mark and Steve
(1:12 PM)
A great question. I don't think we can get into the NFL's head about why it took the approach that it did. The fact is that former Commissioner Tagliabue expressed his own skepticism about the problem, appointed a rheumatologist to head a league research arm looking into the problem; that committee published years of denials about the link between football and brain damage and went out of its way to try to discredit independent scientists who were producing contradictory information. There were certainly true believers on that committee, particular former chairmen Elliot Pellman and, later, the co-chair, Ira Cassen, who repeatedly denied the connection between football-related head trauma and brain damage.
Tre (NYC)
how did investigating this book compare to your other investigative work?
Mark and Steve
(1:15 PM)
I think the biggest difference for both of us was that we were essentially starting from scratch. For Mark, he had written about steroids for several years before writing Game of Shadows; and for Steve, he had covered the war in Iraq for Washington Post before writing Big Boy Rules. In this case, neither of us had done any work on this story until Mark did a piece for Outside the Lines. There had been a lot of great reporting already done, but we loved the idea of digging further into an issue, particularly focused around what the NFL knew and when it knew it.
akn (Chicago)
It seems to me that the primary coverup involved the NFL's epidemiological data on its current and former players. You've spent a great deal of time discussing the long term data as it relates to CTE and other chronic neurological conditions. However, there's another set of data that I believe is just as important: return to play. Through the 90's and early 00's, up to half of concussed players returned to play/full practice within a day. Last year, the average was 16 days. Can you comment on the NFL's role in obscuring the risks of returning to play too early, especially as it relates to suppressing epidemiological data?
Mark and Steve
(1:19 PM)
When the NFL began publishing its research in 2003, one of the first controversial positions it took was that professional football players were not at greater risk for injury if they returned to play after suffering a concussion. This flew in the face of a lot of previous research, including studies by UNC neuroscientist Kevin Guskiewicz, who described the NFL's conclusions as potentially dangerous. Interestingly, Guskiewicz now works as an adviser to the league, which has reversed its position on this issue 180 degrees.
Robert (Illinois)
While we have seen better development of return-to-play guidelines post-concussion, there has been relatively little work done to prevent subconcussive hits in football. What effect has the media focus on concussions had on the public's understanding of the related issue of subconcussive hits and their potential to cause CTE?
Mark and Steve
(1:21 PM)
Great question. If you listen to Ann Mckee and the folks at Boston University, this is the critical question, and it cuts to the core of the very essence of the sport. They suggest it's not just the big blows that are shown on highlights and discussed and the big concussion shots; rather, it's the nature of the repetitive pounding of the sport, in every practice, every game, every down, etc. And they point to the fact that when you look at the CTE cases, the biggest number are lineman -- the guys who pound into each other on every single play, every down.
Dan (New Haven, CT)
If you have kids, and maybe you do, would you let them play football?
Mark and Steve
(1:26 PM)
This is a question that I've (Steve) actually been grappling with lately. My son played lacrosse, where there a lot of concussions, and has talked about playing high school football. And the answer is I'm not sure. I think the evidence that football can cause brain damage at this point is very compelling, as is detailed in our book. At the same time the prevalence is not established, so we don't know how many people get it. The larger issue for me is that a lot about life involves risk; we want our kids to be adventurous, and not necessarily shy way from things because they are hard or dangerous. I played football in high school and it was a major life experience for me. So I don't know. It's a tough one. There are NFL Hall of Famers and neuroscientists who are saying no. Others say yes. Very personal question.
Sara (Philadelphia)
What or who was the biggest obstacle in researching this book?
Mark and Steve
(1:28 PM)
I think one of our biggest challenges was trying to cover as much as ground as we wanted -- and the story covers about 20 years -- and truly get a sense of what was going on inside the league. We received no cooperation from the NFL; while that wasn't surprising, that obviously made it more challenging to get at the story in some ways. Also, when you're interviewing folks, in some cases you're asking them to remember incidents that happened many years ago, and, obviously, memory can be a challenging thing.
Tommy Dean (Lafayette, LA)
Without having read your book yet obviously, how does the information in it change the way things are being done at the youth and high school levels of concussion management in your opinion? Is the game of football at these levels in trouble of becoming extinct knowing what is happening to former NFL players now?
Mark and Steve
(1:34 PM)
It's too early to say. There's a lot going on with these issues all over the country -- more research, rule changes and of course the ongoing dialogue in virtually every household with a kid playing contact sports over the right thing to do. Much of it will depend on how many people ultimately end up with this devastating disease, how the companies that ensure school districts and youth leagues respond, and how many parents simply decide that they can't reconcile the risks to their kids' health with playing a game, even one we love as much as football. All of that will determine the future of football in this country.
Kristy (NC)
Did the league have any stance on concussions or brain injuries prior to 20 years ago? The NFL has been around for decades, why is that the cutoff point?
Mark and Steve
(1:37 PM)
While there were stories earlier than 20 years ago discussing the dangers of concussions, the issue hit critical mass in 1994 -- The Year of the Concussion -- with several high-profile players getting concussed and guys like Al Toon and Merril Hoge retiring prematurely because of concussions. It's at that point that commissioner Tagliabue, although he refers to the problem as really just as "pack journalism issue," forms the MTBI committee. Among the people who pushed the league in those early years was the agent Leigh Steinberg, who represented many high-profile players, including Troy Aikman and Steve Young
Willie (FL)
There has been a lot of criticism directed at ESPN about how it handles issues like this that directly impact their business partners. What do you say about that criticism?
Mark and Steve
(1:43 PM)
This of course came up with us directly when ESPN ended its partnership with PBS Frontline on a documentary based on League of Denial, reportedly under pressure from the NFL. We've said repeatedly that this was a disappointing episode, especially since the partnership worked so well. At the same time, the documentary is airing next Tuesday, Oct. 8, at 9 p.m., on PBS, and the reality is that both it and our book could not have been made with out the participation and support of ESPN. In the book, we note that ESPN pays the NFL nearly $2 billion a year to air Monday Night Football, which is like staging a $120 million Harry Potter every week. So it's not surprising that there's tension there. And we're still on the story for ESPN, with total support from our editors.
Bobby (TX)
Was this the first time you two have worked with each other? What was that dynamic like?
Mark and Steve
(1:46 PM)
This is Mark, gonna answer this, and also incorporate with another question about how the writing was divvied up. So, yes, this was the first time we ever worked together, and, largely, it has been an amazing experience. Obviously, a big project like this can be incredibly challenging, and when you add the brother dynamic, the challenges increase. Steve (older) is the best journalist I know, which is great but also a bit intimidating. Amazingly, we had very few battles throughout, and we're both feeling great about the way the book turned out. And we're still speaking to each other. Today. ... As for the writing, we put together an outline, split it up, then exchanged chapters to edit each other's work. And then Steve, the better writer, smoothed areas to give us a single voice.
Ryan (San Diego)
If not for the public pressure and the public talking about this issue, do you think the NFL would have moved at all on its stance regarding concussions?
Mark and Steve
(1:51 PM)
It's hard to say, but the reality is that the NFL didn't totally embrace the issue until Goodell was hauled before Congress in 2009. This was two years after a seminal meeting, recounted at length in our book, in which the league's top doctor rolled his eyes over concrete evidence that showed football had caused brain damage in several former players, and after another independent scientist, during a meeting at NFL headquarters, told the league's researchers: "You are delusional." It took a while for Goodell to take decisive action.
Jeff (Philly)
did the NFL make a huge mistake here? What do you think would have happened if they would have gotten out in front of the issue 20 years ago?
Mark and Steve
(1:54 PM)
It's a really interesting question. One of the most fascinating things to us is the way in which the NFL attacked those scientists -- Bennet Omalu, Ann McKee and others -- who were sending this message. It's hard to know how things might have changed had they engaged more aggressive with those folks rather than attacking them. Certainly, one would imagine, with the NFL's resources, the science could have moved farther along. All that said, one recurring message you hear from the researchers is that you can't get around the fact that the helmet is not protection against concussions. It helps with skull fractures and such, considerably so, but it doesn't work to mitigate against concussions. And padding the helmet further, as some have suggested, doesn't seem to be the answer, either.
Greg (LA)
So many people thought that this concussion issue could be the downfall of the league. However, they settled quickly in an attempt to move on. What impact will the settlement have on the future of the league?
Mark and Steve
(1:58 PM)
I think this is a long-term question; it's simply too early to say. Right now I'm not sure there's really any effect, given how huge the league is. More than 100 million people watch the Super Bowl every year; by comparison, something like 10 million watched the finale of Breaking Bad the other night. But the long-term repercussions will be in how many people are still willing to play, and whether so many people ultimately get brain damage that steps are needed to dramatically change the sport.
Mark and Steve
(1:59 PM)
Unfortunately, we're out of time. Thanks so much for all your great questions. Hope you enjoy the book, which comes out Tuesday, and the Frontline documentary, which airs that night on PBS (9-11 ET). Take care, Mark and Steve