Chat: Timothy Bradley, Teddy Atlas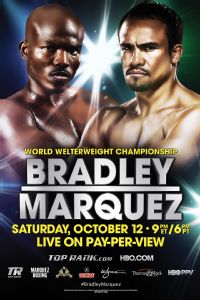 Welcome to SportsNation! On Tuesday, we're going inside the boxing ring when welterweight Timothy Bradley and analyst Teddy Atlas stop by to chat about Bradley's title fight this weekend.
Bradley (30-0, 12 KO) takes on Juan Manuel Marquez (55-5-1, 40 KO) for Bradley's WBO welterweight belt. The fight will be live from the Thomas & Mack Center in Las Vegas on Saturday at 9 p.m. ET/6 p.m. PT on HBO PPV.
Bradley (chats at 1:30 p.m. ET) makes the second defense of his welterweight belt after taking it from Manny Pacquiao last year. Bradley reigned for more than three years at junior welterweight before moving up in weight and taking on Pacquiao.
Atlas (2 p.m. ET), a boxing trainer who once worked with Mike Tyson, joined ESPN in 1998 and, among his duties, serves as an analyst on ESPN2's Friday Night Fights.
Send your questions now and join the chat Tuesday at 1:30 p.m. ET!
More Special Guests: Previous chats | SportsNation
Buzzmaster
(1:23 PM)
Timothy Bradley Jr. will be here at 1:30 p.m. ET to take your questions!
Buzzmaster
(1:35 PM)
Tim is here!
Jason F. - Chandler, Arizona [via mobile]
Bradley: What type of training do you do during fight week?
Timothy Bradley
(1:36 PM)
Just light work. Light training. Basically just to break a sweat. I'll do a 30 minute jog on the treadmill in the morning. Then I'll do 10 minutes of sprinting. I'll go for a minute, rest, minute, rest. Off and on. Then I stretch for 30 minutes after. I re-fuel, re-hydrate. Then at night, I'll do some light ring work, like 30-45 minutes. Light work. Breaking a sweat. Then jump rope for about 10 minutes after. And stretch. Always stretching.
Bronx Dan [via mobile]
Timothy how would you be able to overcome pressure and experience by JMM?
Timothy Bradley
(1:38 PM)
It's all about your mindset, man. It's all about having mental toughness. It's all about that. Staying relaxed. Knowing what you have to do. Staying concentrated on the gameplan. That's how I win my fights. Stay focused. Stay on the task at hand. Whatever he does, don't let it bother me, just throw my gameplan in his face. Staying relaxed is the key.
Big Al (South Central Los Angeles)
Do you feel your chances in beating Marquez is by out boxing or out brawling him? Good luck to you
Timothy Bradley
(1:39 PM)
Probably by outboxing him. That's my best chance to win the fight. If I brawl with him, then he'll have a chance to hurt me. He's a good puncher and good timing. But I'm really in there to do what I have to win. If I need to brawl, I'll do it.
Timothy Bradley
(1:39 PM)
I'll be able to adjust once I get in the ring with him.
Brandon De La Torre (Cathedral City Ca)
Bradley, do you think it will be difficult to listen to your corner throughout the entire fight, and not get caught up in the war with Marquez!
Timothy Bradley
(1:40 PM)
It's real simple. It's really simple to listen to your corner. Just stay concentrated and focused. I can't be stubborn and go out there on my own. Follow instructions and directions. Your corner is out there fighting with you, but just from the outside. It's not difficult, except for the last fight. I was trying to prove something.
vacaville ' ca [via mobile]
Tim ur last fight was a brawl and u were hurt many times! Did it take too much out of you?
Timothy Bradley
(1:41 PM)
No, not at all. We go back to that mental toughness. What happened in the past, stays in the past. If you live in the past, you'll never, ever come out. I'm a positive guy. I don't really think about that. I don't. I had a great camp. Great sparring sessions.
James (Portland, ME)
I know that other than boxing you're a football guy, Tim. Got an NFL team? Pats fan here obviously.
Timothy Bradley
(1:42 PM)
My NFL team is the Cowboys. Yeah, the Cowboys. I love football. I root for the Bengals. I also root for the Seahawks. And I root for the Green Bay Packers. Those are the teams I root for, but I'm a diehard Cowboys fan.
Jon North Carolina [via mobile]
Tim, did you put on a lot of weight between bouts? Can you out box Marquez? Can you beat him at his own game?
Timothy Bradley
(1:43 PM)
Yeah, my weight does fluctuate between bouts. I think that's probably the only problem that I have and need to get control over. The older I get, the more I go up. When I started my last camp I was about 180 pounds. Now I'm down to about 149. I've got 2 pounds to go to make weight. I used to walk around at about 160. That was 2 years ago.
mike L (kansas)
I do not see this fight going the distance. How does Timothy feel about his defense ? Do you feel that marquez is easy to hit with power punches ? We are going to vegas with fight tickets. Much props to both fighters. cheers
Timothy Bradley
(1:44 PM)
Oh, my defense is sick, man. I have one of the better defenses in the game. Everybody will see that on Saturday night. It will be hard for Marquez to hit me.
James (Portland, ME)
Is speed the biggest key in this fight or is it more a variety of things you need to do with Marquez
Timothy Bradley
(1:44 PM)
I think both. Speed and a variety of things I can do in the ring will be key. That's the key. The key is switching up things. Giving him different looks and using my speed to my advantage.
Jesse (Carlsbad, Ca) [via mobile]
To Tim Bradley: How would you fight Floyd Mayweather? What are opponents not doing right for him to be so dominant as of late?
Timothy Bradley
(1:45 PM)
I wouldn't swing for his head at all. Mayweather is able to get in and out of range and close the distance really quickly. I would be the aggressor in the fight. I would make him miss and make him pay. I'd be a counterpuncher in that fight.
Anthony (PA)
How has your preparation for this fight been any different than the training camp for the Pacquiao fight?
Timothy Bradley
(1:46 PM)
Yes. Preparation has definitely been different. For the Pacquiao fight I killed myself in the gym. I felt I was overtrained for that fight. For this one, I have been a lot more poised and relaxed. I've trained smarter. I haven't killed myself. I peaked three weeks before the Pacquiao fight.
Jim (NY)
Tim do you follow the Vegan diet only while in training?
Timothy Bradley
(1:47 PM)
Only when in training. That's when I follow the Vegan diet. I wish I had more self-discipline other than that, but I have four kids, a wife, two dogs and we barbecue often. I enjoy my time off, maybe a little too much. That's something I definitely have to get under control. I've talked to some doctors about it and they're going to help me. I should be leaner for the next camp.
Adrian (Chicago, IL)
How do you feel if you have overtrained? What can you do to counter that in the upcoming weeks to the fight?
Timothy Bradley
(1:49 PM)
Basically, the last week is your rest week. Let's say three weeks before the fight I'll peak, then I'll take more rest during the weeks leading up to the fight. Then I can monitor my training. More rest and tapering my training.
brian (ny)
What do you fear most in Marquez?
Timothy Bradley
(1:50 PM)
I don't fear anything, man. I really don't fear anything....should I fear an opponent? I would say his right hand. He knocked out Pacquiao with that right hand, so he'll be gung ho with it.
brian (ny)
What weaknesses of Marquez will you try and exploit?
Timothy Bradley
(1:51 PM)
Marquez lunges in. He lunges. I will be able to capitalize. He opens up when he throws his combinations. Especially to the body. He's 40 years old, so I definitely want to make him use his legs. Pushing him back or making him come get me. And keeping the pace high. Having a high pace is another weakness. He's older than I.
Ken (ca.)
Is this a decision, or does the world see Bradley finish Marquez?
Timothy Bradley
(1:52 PM)
I'm not sure. I can't predict the future. I know I'm prepared to go 12 rounds. Whatever happens during the fight, we'll see. The world will definitely see me retire Marquez. After this fight, he will retire.
Timothy Bradley
(1:53 PM)
Thanks for all of the support. Thanks for believing in me. I will definitely not let you down on Saturday. We'll all be getting paid. Thanks for your support.
Buzzmaster
(1:53 PM)
Thanks Tim for chatting! Next, we'll have boxing analyst Teddy Atlas taking your questions at the top of the hour!
Buzzmaster
(2:07 PM)
Teddy is here!
Andyman (Colorado Springs)
Teddy can you give us a scenario that you see in the fight?
Teddy Atlas
(2:09 PM)
I think it might end up being an entertaining, engaging fight. There are a lot of questions on both sides. The two questions that have to be answered on this fight is how damaged is Bradley from his last fight and how old does Marquez become? Does he show his age finally? Does Bradley show damage?
Teddy Atlas
(2:11 PM)
The big thing was the reports that Bradley was suffering from concussion symptoms for months. The one thing that remains with great fighters, even if they are diminished is their confidence and championship quality of character. That remains. That's what makes great fights. It makes for entertainment, for a fan-friendly fight. Even under these conditions, they can take it to a very special place. These fighters have that character, in-ring character to take it to a special place.
Jon North Carolina [via mobile]
Teddy, How long before Father Time shows up at Marquez's corner? Is this gonna be the last full on fight he has left in him, that is if Bradley can take him into deep water. Does Bradley have the chin to go 12 with Marquez?
Teddy Atlas
(2:13 PM)
It depends how closely knitted together the fights are. If he has space between the fights and they're not damaging fights, then Father Time can be pushed back a little bit longer. It's like having an old car. You don't take it on the highway every way. You leave it in the driveway, hopefully with a roof over it. Then you take it on the back streets on the weekend. It's the same thing with a fighter. If you leave it in the garage, then you get more mileage out of it. Father Time will show up eventually, but if you only fight once or twice a year.
Jason F. - Chandler, Arizona [via mobile]
For Teddy A: In this fight who do you think has the advantage when it comes to defensive technique and also who do you believe has the better overall speed in terms of punching?
Teddy Atlas
(2:15 PM)
Jason, I know you're looking to bet on this fight, so I'll try to help you. Who gets hit less is a big question. That's the right question to ask. Neither one of these guys is Mayweather. That's why we like watching them. They take chances and in turn they get lead put on them. I would say that Bradley, and it's a big IF, he's a fighter and he answers the call as a fighter and answers the call, sometimes to his detriment, he has to use his legs consistently if he's going to have a chance to win. If he does that throughout the fight, hit and move, hit and move, if that's a part of his mindset, I think he has a chance to be the more elusive guy in this fight.
Teddy Atlas
(2:16 PM)
But I think the better question, Jason, really at the end of the day might be who has the better chin. The bottom line is who will handle getting hit more.
Mario from phoenix [via mobile]
Teddy- what is the best developer of mental toughness? Does bradley have the ring intelligence to go with his toughness to adapt and conquer Marquez?
Teddy Atlas
(2:18 PM)
Bradley wrote the book on mental toughness. To develop it, it's how many times you've been put in places where you have had to make choices in your life. Have responsibilities to other people and influence other people. When you're in those situations, you have a certain approach, certain mental toughness. Under pressure, you can make hard, fast, difficult choices. A lot of it depends on your upbringing, a lot depends on what you've dealt with. A lot of that is pre-disposed.
Teddy Atlas
(2:19 PM)
As far as in the gym, when I have a fighter, I make them face things. I make him increase his aptitude to handle things. If he only wants to go four rounds, I'll push him to go five. I'll take him out of his comfort level, sometimes solely for the reason to prepare him for the future. Make him go somewhere he doesn't want to go.
Brandon (San Diego)
Teddy, did the Povetkin-Klitschko fight go the way you thought? Was his fight plan what you would have done?
Teddy Atlas
(2:22 PM)
No. No. When I decide to become a pizza pie maker, that will be my gameplan. But as of now, I'm not a pizza maker, so no. That would not have been my gameplan. My gameplan would have been what I told him when I was with Povetkin. When you get close and past the jab and get him backing up, he's very available to the right. Instead of 6-5 advantage of height and length it's a disadvantage because there's a lot to hit. My intent would be to once you get into that, you have to know what you have to know. The sun is going to come up tomorrow, you know that undeniably. If you've prepared and are aware as you are supposed to be, you know that he's not an inside fighter. You know that he's going to grab you. When you get close, you have to anticipate that.
Teddy Atlas
(2:23 PM)
As he reaches to grab you, you take a step back. When he reaches for you, he'll lunge forward and he'll be exposed. Then you go for him with a combination. That would have been my fight plan.
milligan [via mobile]
Teddy who can PBF fight next? Is there anyone left?
Teddy Atlas
(2:24 PM)
Yeah, there is one. But you're never going to see it. It would have to be at a catch weight. But you won't see it. There is a danger there. In their mind, it wouldn't make sense for them to make the fight. Not saying that Floyd's afraid. It's just that it probably wouldn't make sense. For me, it would be Golovkin. But his star isn't developed yet. That would be the interesting fight out there.
Adrian (IL)
Hey Ted, what's your prediction on Marquez/Bradley?
Teddy Atlas
(2:26 PM)
Timing. He's very good at timing. We know he's a good puncher. We know he has a great chin. He's a great warrior. But at 40 years of age, it's not about matching speed with someone 10 years younger, it's about throwing punches at the right time. Bradley gives you a chance to time him. I really believe, from my experience as a great pizza maker, that timing is the key here.
Teddy Atlas
(2:26 PM)
I love the fans. I love you all.