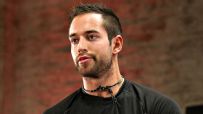 Froning also finished second in the 2010 CrossFit Games.
Welcome to SportsNation! On Wednesday, we're bringing to the chat room, the man who can lay claim to the title of "Fittest Man on Earth": CrossFit Games champion Rich Froning. He three-peated his title this year, becoming the first person to win three straight Games championships.
Froning, @richfroning, earned his back-to-back-to-back title in July at the StubHub Center in Carson, Calif. ESPN will air coverage of the finals Wednesday starting at 8 p.m. ET.
The CrossFit Games include high-intensity fitness competitions for both men and women. The workouts - announced immediately before they commence - are designed to test a competitor's strength, speed, agility and endurance through a combination of workouts.
Send your questions now and join Froning Wednesday at 1:30 p.m. ET!
More Special Guests: Previous chats | SportsNation
Buzzmaster
(1:40 PM)
We've got Rich!
David (LA)
Before you became a three-peat champion, did you ever think you'd be making a living as a CrossFit athlete?
Rich Froning
(1:41 PM)
No. I was just starting up doing CrossFit and it turned out I was pretty good at it apparently.
Will (DC)
What do you want to see during the Games finals coverage when it airs tonight?
Rich Froning
(1:42 PM)
While you're competing, you don't get to see much, so it's cool to see how it went down and who did well with what and who struggled with what.
Rick (NJ)
what led you to crossfit?
Rich Froning
(1:42 PM)
I was getting my degree in exercise science and one of my professors showed us some videos on the website. I loved it. Every day something was new. It was fun.
Tony (San Antnio)
Rich, when you started out what was your biggest weakness that you had to improve to get where you are now?
Rich Froning
(1:43 PM)
Definitely the Olympic lifts. I had never done them before. And overal strength. Being efficient. Having poor technique that I needed to clean up.
Dan (Southampton NY)
What are your favorite Sports Teams? ie football, baseball, hockey, etc.
Rich Froning
(1:43 PM)
I'm a Detroit fan in everything pro and I'm a Notre Dame fan in college.
Sean Aron Troester (Andalusia, AL)
Hey Rich how in the world do you fight complacency and/or any sense of entitlement after a three peat?
Rich Froning
(1:44 PM)
I just try to have fun. I surround myself with people that have certain strengths that are my weaknesses so they push me in certain areas. I enjoy what I do.
Jeff (FL)
How do you go about evaluating your performances?
Rich Froning
(1:45 PM)
The bench marks are a great way to do that. Doing workouts a time later and see if you improved. You constantly have to reevaluate and test. And you go by feel too.
Sean Aron Troester (Andalusia, AL)
How does your faith keep you motivated to keep competing? Do you ever get tired of training for the Crossfit Games?
Rich Froning
(1:45 PM)
It's the important thing of my life. I use CrossFit to glorify God with the talents he's given.
Zack (Columbus,OH )
How much peanut butter do you still eat each day?
Rich Froning
(1:46 PM)
A lot. It depends on the day, but a lot still.
Cameron (Nashville)
What's your favorite time to train during the day? any specific, morning, evening, etc...?
Rich Froning
(1:46 PM)
I workout all day, but there is something about working out at night that I like. Right now it's 9:30ish, noon and 3:30ish.
Mike Taggart (New Jersey)
Which professional athlete (NFL/NBA...) do you think would do the best at the crossfit games ?
Rich Froning
(1:47 PM)
That's tough. Wes Welker. He's shorter and looks like a strong dude. CrossFit is one of the sports where it doesn't hurt to be short.
Drew (Northern KY)
What is the best advice you can give to someone who wants to be a competitive CrossFitter?
Rich Froning
(1:48 PM)
Have fun. People make it too much of a stress. Exercise is supposed to be a de-stresser. For people like me and that's how we pay the bills, it can be a stress. But there's no need to add any stress to it.
Kevin (Fort Gordon, GA)
I just watched a video of the 30 clean and jerks from the 2012 CFG. Every rep was picture perfect. How do you apply this adherence to and pursuit of perfection to other areas of your life?
Rich Froning
(1:49 PM)
With anything, it's practice and dedication and consistency. I try to do that with everything in my life. I'm not always perfect in CrossFit or in life, but I try.
Mike (Iowa)
Do you have an off season?
Rich Froning
(1:49 PM)
No. I like to workout all year. I feel better when I move. There are times when I'm not as stressed about missing a workout.
Jen (RAM Athletic Holly Springs, GA)
What would you say to people who are afraid and intimidated to try Crossfit?
Rich Froning
(1:50 PM)
It depends on what you're intimidated about. The beauty of CrossFit is it's infinitely scalable. If there are things you're not comfortable with you can scale it to fit you.
Adriano (Niagara Falls, Canada)
What kind of supplements are staples for you and what is a typical training day meal plan for you.
Rich Froning
(1:51 PM)
I'm sponsored by BSN so I take their products. Vitamin C, fish oil.
Patrick (St. Louis )
What goals do you have outside of being the Fittest on Earth again?
Rich Froning
(1:51 PM)
I don't need anything else.
Rich Froning
(1:51 PM)
Run a successful business. That's about it.
Brian (Chicago)
Did you indulge in a cheat meal after the competition?
Rich Froning
(1:51 PM)
I indulge myself in cheat meal frequently.
Chris Fiegler (Latham,NY)
What is the Hardest Part of the Cross Fit Games?
Rich Froning
(1:52 PM)
The mental. There is so much up and down. So much getting all hyped for a workout and coming down. Working out 3-4 times per day and getting up and down. It takes a toll on you.l
Nicholas (Snohomish, WA)
Thank you for all you've done for CrossFit, I can't think of a better face for our Community and Sport. I was wondering what your favorite Will Ferrell movie is??
Rich Froning
(1:53 PM)
I like Anchorman. Elf. Those are probably my two favorites. They're all great.
Sam (San Francisco, Ca)
Do you think CrossFit training can benefit elite and professional athletes in sports like football, basketball, etc.?
Rich Froning
(1:53 PM)
Yeah. When I was an assistant strength coach, we used it for football, baseball, soccer. Everything.
Bradley (CT)
Hey Rich, what do you think is the top indicator of someone having high potential in the sport of crossfit? being naturally good at olympic lifts, naturally moving well, having a big engine, etc.?
Rich Froning
(1:54 PM)
It's tough. I don't think it's sometihng you can see. It's a combination of things. A lot of it is mental. There are people more physically and mentally prepared. But that combination has gotten me where I am.
Paul (NY)
what is the hardest workout you have done?
Rich Froning
(1:54 PM)
The half marathon row. It was terrible.
John Zeiner (Simsbury, CT)
Other than you being a man of your faith and a CrossFit athlete, what do you want to be remembered for?
Rich Froning
(1:55 PM)
Definitely my faith and being unashamed to talk about it.
Rich Froning
(1:55 PM)
Thanks for the questions. I appreciate the support as always.