Chat with AMI's Dr. Aaron Perlut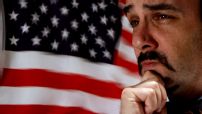 America. Mustaches. They go together like ... America and mustaches.
Welcome to SportsNation! On Friday, Dr. Aaron Perlut of the American Mustache Institute will stop by to chat about mustache season, which is far more important to the American people than football season.
As you may recall, Dr. Perlut is the global expert on the impact of facial hair on sports excellence, garnering 2008's SN chat of the year. More importantly, Friday closes voting for AMI's "Robert Goulet Memorial Mustached American of the Year" honor, and two sports stars are nominated -- Mike Brown (Edmonton Oilers) and Class-A Hagerstown Suns' Bryan Harper (brother of Bryce Harper).
Plus, as a sneak preview -- only for ESPN.com readers -- Dr. Perlut is advancing the survey of facial hair in the workplace (presented by Wahl Trimmers) so that the Mustached American community can better understand the deep discrimination that AMI believes exists across America.
Send your questions now and join Dr. Perlut Friday at noon ET!
More Special Guests: Previous chats | SportsNation
Dr. Aaron Perlut
(11:58 AM)
I think it's most appropriate to simply say as an introduction -- You're welcome. I've got a lot of underwhelming questions already in the queue and I look forward to more. I also what to throw out a quick shout to the current President & CEO of the American Mustache Institute, Adam Paul Causgrove, for his leadership; as well as Wahl Trimmer for their support of the sexually dynamic Mustached American lifestyle. And don't forget today is the FINAL day to vote for the Robert Goulet Memorial Mustached American of the Year award, presented by Wahl. After I've utterly entertained you, go vote here: http://www.americanmustacheinstitute.org/goulet-voting/. Now let's get going today.
Jason (Baltimore)
Official AMI stance on beards?
Dr. Aaron Perlut
(11:58 AM)
Jason, good question. For many years -- some 30 -- our organization was anti-beard but I changed that policy about 5 years go. We're all one big community and must support one another. I typically wear a beard as well.
Deven (New York, NY)
Are you a Doctor in terms of Doctorate or Medical?
Dr. Aaron Perlut
(12:00 PM)
Deven, I have a Ph.D. in Nuclear Mustacheology from the Institute but I also invented the fist-bump. So I'm able to perform a variety of surgeries such as spleen removal and karate deception.
Chris (Boston)
Is it a foregone conclusion that the Red Sox will win the World Series, since they've fully embraced the full facial hair lifestyle?
Dr. Aaron Perlut
(12:00 PM)
Chris, the short answer is YES. What the Red Sox's beards are doing is proving there is no greater performance enhancing device than a good looking mustache or beard.
Jason (Boston)
How are Mike Brown and Bryan Harper doing in the voting?
Dr. Aaron Perlut
(12:01 PM)
They are performing quite well -- both of them in the top 5. It's going to be very, very tight. Like my fist when it explodes through a clean-shaven mortal's chest just for being clean shaven.
Henry (Chicago)
Where do you think the deep-seeded discrimination against mustachiode people comes from?
Dr. Aaron Perlut
(12:03 PM)
Henry, great question. It's all about fear which is why the Wahl Trimmer and the American Mustache Institute are doing the Workplace Facial Hair Study (http://MustacheStudy.com). We need to answer these important issues. But if I were to offer a guess, it's fear -- fear of our 38% better good looks, our power, our musk, and our cocksure demeanor.
Greg (FL)
Beard or mustache?
Dr. Aaron Perlut
(12:03 PM)
Technically Greg, if you have a beard, you have both. I go back and forth but right now I have a very large beard.
Dave (Illinois)
How dangerous is it to trim your stach on Friday the thirteenth
Dr. Aaron Perlut
(12:04 PM)
When is it not dangerous to trim? But thank goodness the folks at Wahl Trimmer have the safest, most mustache and beard-friendly trimmer in the business. God bless them and their commitment to the sexually Dynamic Mustached American lifestyle.
Paul Suess (St. Louis)
Dr. Perlut -With the growing trend towards beards, as most recently seen in the media with the Boston Red Sox, do your foresee a decrease in mustache awareness nationally? How does AMI plan to combat this epidemic of fully facial-haired men? Regards,The Doctor
Dr. Aaron Perlut
(12:06 PM)
Facial hair awareness will always be ever-present Pablo (may I call you Pablo?) due to efforts like ours to fight for the sexually dynamic Mustached American community. But we are fortunate to have leaders -- like the Red Sox organization -- who can show baseball lovers the light
Ivan (MN)
How do you go about bringing the facial hair and non-facial hair people together?
Dr. Aaron Perlut
(12:07 PM)
Ivan, we do this at 'STache Bash, which will be in Pittsburgh one week from Saturday (http://www.americanmustacheinstitute.org/stache-bash/). And it's needed -- for people of Mustached American heritage to demonstrate our superiority and dynamic power. It's a must
Doug, Dallas [via mobile]
Who would be a better QB? Mustached Tom Brady or mustached Peyton Manning?
Dr. Aaron Perlut
(12:08 PM)
Doug, good question. I'm going to suggest they would both be aided by accepting a Mustached American lifestyle as it would clearly support their power, skill, accuracy, and good looks by a rounded average of 57.3 percent.
Evan (DC)
The mustache was huge in the 70's, 80's and 90's but seems to have been beaten back at the turn of the century. How do we get mustaches more incorporated into main stream society?
Dr. Aaron Perlut
(12:09 PM)
Evan, I was on the toilet this morning, reading a copy of "Good Looking Life" in which I was featured, and asked myself the same thing. The '70s were our heyday and they are not forgotten. Perhaps of Kenny Mayne or Scott Van Pelt would accept a mustached American lifestyle, we could make more progress?
Awayne (Indy)
Yosemite Sam the best cartoon mustache of all time?
Dr. Aaron Perlut
(12:12 PM)
Yosemite Sam is a leader. No question. And each year we honor one animated mustache by having an animated finalist in the Robert Goulet Memorial Mustached American of the Year voting. This year is Uncle Grandpa. Go vote for him here: http://www.americanmustacheinstitute.org/goulet-voting
Awayne (Indy)
Was Phil Garner the most under ratted mustache in baseball history?
Dr. Aaron Perlut
(12:12 PM)
Without question. Garner is a treasure to us all.
Dan (St. Louis)
Is it true the Chicago Cubs have not won a World Series since 1908 because that was the last time a mustached American was employed by the team?
Dr. Aaron Perlut
(12:13 PM)
Actually, Tim Stoddard was in 1984 but that was a good year for Cubs baseball, heh?
Keith (NYC (but currently sitting in STL))
Will there be any celebs at 'Stache Bash...Franco Harris rocks a smokin' beard/stache combo!
Dr. Aaron Perlut
(12:14 PM)
WE do expect some celebs at 'Stache Bash in Pittsburgh this year, including myself. You're welcome, by the way.
Neal (TX)
Isn't a beard better than a mustache, since it incorporates the entire face?
Dr. Aaron Perlut
(12:14 PM)
I don't think there is better, other than someone who lives a life of facial hair being better in every way than a clean shaven mortal. It's all good, healthy, manly.
Steve (Tehachapi,Ca)
Dr., What are your thoughts on the ever increasing popularity/trend of mustache/beard competitions popping up all over the country?
Dr. Aaron Perlut
(12:15 PM)
Steve, very fond of them. They are a credit to the growing culture of good looks in America.
Awayne (Indy)
Is dying a mustache a practice that is ok or is it a crime against nature?
Dr. Aaron Perlut
(12:16 PM)
There is some debate in the community about performance enhancing substances, but let's not get too hasty. A crime against nature is shaving a mustache (according biblical texts), a breast reduction, or indoor football in St. Louis. But not dying ones mustache is not a crime.
Longtrailahead (Pennsylvania)
Where do you rate the film "Tombstone," when it comes to overall mustache presentation?
Dr. Aaron Perlut
(12:17 PM)
Tombtone is top 10 in league with Anchorman, There Will Be Blood, Borat, Butch Cassidy & The SunDance Kid, and anything starring Richard Roundtree or Billy Dee Williams
Awayne (Indy)
Best song ever Jimmy Buffet "Pencil thin Mustache"?
Dr. Aaron Perlut
(12:18 PM)
I'd suggest's Cake's song "Mustache" is far superior
Kelly (Miami)
Are the Fu Manchu or Horseshoe Mustache the greatest of mustaches, since they include growing as much facial hair as you can and include it in a mustache without crossing the line into beard territory?
Dr. Aaron Perlut
(12:19 PM)
the style of mustache is dependent upon the face. Yes, Hulk Hogan's Fu Manchu is magical but that's because it suits his elongated face. But I do care for both the Fu and Horshoe
Chris Fiegler (Latham,NY)
What are your favorite NBA,NHL,NFL, & MLB(Major League Baseball) Teams?
Dr. Aaron Perlut
(12:22 PM)
Let's see -- in the NBA I prefer the Bullets (Elvin Hayes), the NHL the Capitals (Rod Langway), the NFL the Rams (Jeff Fisher), and MLB the Cubs (Pete LaCock). I have also been interested to see what's going on with the New York Giants bare-faced leadership and CafePress. CafePress is led by Bob Marino, who sports a meaty goatee. He has sent every player one of these: http://www.tfund.com/believe. Anyone who buys one will lead to a charitable donation. Solid stuff from the furry-faced Marino.
Awayne (Indy)
Was TB Bucs original helmet logo with awesome mustached buccaneer the greatest of all time ?
Dr. Aaron Perlut
(12:22 PM)
As a former Tampa resident, that was dark day when the former logo went away
Jake (NY)
I desperately would like to grow a stache, but when I do, it comes in not very full and patchy...do I rock it anyway or do i shamefully shave it off and never fulfill my lifelong dream of growing a real mustache?
Dr. Aaron Perlut
(12:23 PM)
Jake, there is no such thing as a bad mustache. Just bad people who do not own, nor operate, mustaches.
Jon C. (St. Louis)
I'm considering wearing facial hair to work but don't know how to break it to my manager, my co-workers and my family. Scared and confused. Suggestions?
Dr. Aaron Perlut
(12:23 PM)
Yes, Jon, you may leave. You are not a Mustached American but just a tall, weak man.
Kevin (PA)
Even after years of AMI's help, how much discrimination still exists for the mustached-American people?
Dr. Aaron Perlut
(12:24 PM)
Kevin, much still exists. There is hate and fear that has driven our people underground for many centuries. We must fight. I ask that you take our survey at MustacheStudy.com
Deven (New York, NY)
Should James Harden shave his beard?
Dr. Aaron Perlut
(12:25 PM)
According to the Dead Sea Scrolls, each time a mustache is shaved, an angel in heaven dies and falls to earth.
Dr. Aaron Perlut
(12:26 PM)
Ladies & Gents, thank you very much for your time. I hope you enjoyed it as much as I did. My thanks to Wahl Trimmer for their support of our noble organization as we fight for our lifestyle. Please go vote for the Goulet award finalist -- today is the final day -- take the MustacheStudy.com survey, and join us at 'Stache Bash 2013 in Pittsburgh for a great cause (Steps To Independence). You're welcome.