Chat with Darrell Wallace Jr.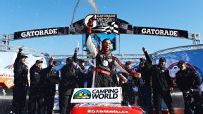 Wallace earned three top-10 finishes in four Nationwide races in 2012.
Welcome to SportsNation! On Wednesday, we're going out to the track to chat with Darrell Wallace Jr., who made history Saturday by becoming the first black driver to win in NASCAR in 50 years.
Wallace, @BubbaWallace, in his rookie season in the Truck Series, won at Martinsville to become just the second black driver to win on NASCAR's national level, and first since Wendell Scott in 1963.
Wallace, 20, drives the No. 54 truck for Kyle Busch Motorsports has 11 top-10 finishes this season in 19 total starts. He started racing at 9 years old, and, at 16, became the youngest driver, and first African-American, to win in the NASCAR K&N series. He went on to win the 2010 NASCAR K&N Series East Rookie of the Year.
Send your questions now and join Wallace Wednesday at 2 p.m. ET!
More Special Guests: Previous chats | SportsNation
Buzzmaster
(2:04 PM)
We've got Darrell!
Terry (Boston)
what's been the biggest difference with making the jump to trucks from where raced before?
Darrell Wallace Jr.
(2:05 PM)
The biggest thing is the aero packaging and going to the bigger tracks. The biggest I had been on before was Dover and New Hampshire. Daytona we went to this year. Learning how the aero works and where to put the truck when you're trying to fight back into the field.
Gary (GA)
How busy has your phone been since you won?
Darrell Wallace Jr.
(2:06 PM)
It's been pretty hectic. The phone calls are dying down, but the Tweets are rolling in heavily. It's cool to know you have the support of the fans. I appreciate every single one.
Kevin (NYC)
when did you first start to realize you had done something historic on Saturday?
Darrell Wallace Jr.
(2:06 PM)
I didn't even know until after the fact, when we were doing media. I was told I had made history and I was the first since Wendell Scott. It's cool to hear about it now.
Gerry (Houston)
What's it like knowing that with your success in racing, you're probably becoming a role model for a lot of young drivers?
Darrell Wallace Jr.
(2:07 PM)
That's huge. That's a main goal of mine. To get younger kids involved. It doesn't matter the color or anything, just to get them involved. Hopefully this has helped a huge amount.
Chris (DC)
what's been the key to such a consistent season so far?
Darrell Wallace Jr.
(2:08 PM)
Just figuring out each other on the team. Finally we've been able to do that. After Kentucky, we set down and really needed to regroup and refresh. We've had the speed, but weren't able to put it together. Now we've been able to do it. In the past six races, we've had four top 5. That's incredible.
Chris (DC)
What's been the coolest thing that's happened to you since you won?
Darrell Wallace Jr.
(2:09 PM)
Being able to put that clock up in my apartment today. That takes the cake right now.
Jason (ATL)
How close of attention did you pay to the history of black drivers in NASCAR?
Darrell Wallace Jr.
(2:10 PM)
Prior to being in the sport, I didn't know anything about it at all. But as you start out racing and you do more and more you hear about it more and more. It's really cool to be a part of that. To be the first in 50 years is outstanding. But it's kind of sad to a point too, because we need more minorities in the sport. We need to grow that number.
Anthony R (Tallahassee Fl)
How soon before I get to start rooting for you in the Sprint Cup series?
Darrell Wallace Jr.
(2:10 PM)
That's big there. My time table will probably be another 3-4-5 years. I want to take the right steps. It would be cool to see. Hopefully we'll be there someday.
Peter (FL)
NASCAR is not one of the most diverse sports, so what made you get into racing in the first place?
Darrell Wallace Jr.
(2:11 PM)
My dad bought a Harley Davidson. He got it fixed up and made to look good. The guy who did it for him raced near our house. He told us to come by, we did and got hooked.
Cameron (Palo Alto, CA)
Mr. Wallace, I want to start by saying congrats, and I can't wait to see you pull into Victory Lane numerous times in the future! How much do you think this win will help you secure a quality ride in either the CWTS or NNS? I want to see you in Homestead with a championship!
Darrell Wallace Jr.
(2:12 PM)
Hopefully this helps out a tremendous amount. We have a lot of confidence on our side. For the future, hopefully future sponsors see this and do something with it. We'll have to see. I have three races to go and that's what I'm focused on right now.
Dakota (Kansas )
Of the people who have congratulated you who was the biggest surprise and who the most meaningful?
Darrell Wallace Jr.
(2:13 PM)
Not too much of a surprise, but coach Gibbs called me from Victory Lane. Mark Martin and Randy Moss Tweeted me. That was cool to hear from Moss. He's a former Truck owner.
Marcus (Miami)
What is the most difficult part of being a racecar driver?
Darrell Wallace Jr.
(2:14 PM)
Winning. Of course. That's the biggest thing that comes to mind. That's about the only thing. It's tough to go out there and compete. You have to be on every weekend. The competition is so stacked. As a rookie, you are going to tracks you've never been to.
Matt (Iowa)
1st congrats on the clock. 2cnd Im in the same age group as you bubba and I was wondering how well do the young guys coming up through the ranks get along and do you guys get together outside of the track?
Darrell Wallace Jr.
(2:15 PM)
Yeah, we do. I started racing when I was 9. I think I started against Ryan Blaney when I was 10. We've raced together for a couple of years growing up. I hang out with him every other day, almost. So it's been cool to go against him. There are a handful of them that we're pretty close.
Dakota (Kansas)
How did you transport the clock back to NC? Lol
Darrell Wallace Jr.
(2:16 PM)
I had some guys go pick it up from the Speedway and bring it back to the race shop. Then a few guys from the team helped me pick it up. Now it's in its new home.
brandon ( virginia) [via mobile]
Whats your thought on road courses? Should NASCAR add more of them?
Darrell Wallace Jr.
(2:17 PM)
I love racing on road courses. It's always nice to change it up from ovals. I had a lot of fun in Canada this year. That was cool. I think there should be more road courses on the Trucks schedule next year. We'll see what the future holds.
Mike P (Greater KC)
Darrell, Congrats on the win... Do you feel that NASCARS drive to diversity program is doing enough within the African American community? If not what changes need to be made in order to allow NASCAR to be reached by more African Americans.
Darrell Wallace Jr.
(2:18 PM)
I believe so. The hardest thing is for guys to come out and win off the bat. I was fortunate enough that it did, but it wasn't easy. We took that race and had to work hard for it. The drivers have to stick with it and be dedicated and stick with the sport. I totally agree with the program. It's gotten me to where I am.
Shawn (pennsylvania)
Did you do anything special pre race that will now be a "must do" very weekend before the race? Are you superstitious like that?
Darrell Wallace Jr.
(2:18 PM)
No. I haven't thought of anything yet, but I need to figure out something.
james chicago [via mobile]
Hey dw will run any nationwide races next year for jgr?
Darrell Wallace Jr.
(2:19 PM)
I hope so. Hopefully the win helps out. It also depends on the sponsorship also. If we can find it, I think they'd be able to put me in some races.
Darrell Wallace Jr.
(2:20 PM)
Thanks for your support. Let's take this big win and take the momentum to Texas.