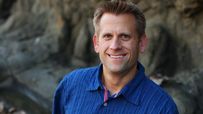 Welcome to SportsNation! On Monday, Sport Science host John Brenkus stops by to chat about his Emmy Award-winning TV show.
Sport Science uncovers sports' biggest myths and mysteries by utilizing cutting-edge technology to measure momentum, friction and the laws of gravity. In addition to his role as host of Sport Science, Brenkus, a Univeristy of Virginia graduate, is also the director and creative director of all BASE Productions programs.
Send your questions now and join Brenkus Monday at 2 p.m. ET!
More Sport Science: Chats | Index | Videos | Blog | @Sport_Science
Buzzmaster
(2:00 PM)
John will be here in 15 minutes to take your questions!
Buzzmaster
(2:16 PM)
We've got John!
Rex (CA)
How excited are you to have the NBA season underway? NBA athletes always seem like interesting test subjects in the lab.
John Brenkus
(2:16 PM)
Huge fan of the NBA.
John Brenkus
(2:16 PM)
Grew up in D.C., so haven't had much to cheer about with my hometown Wizards, but still love the game nontheless.
Ivan (St. Louis)
what were you trying to measure when you had Charles do the jump rope?
John Brenkus
(2:17 PM)
Power, foot speed, and the ability to learn a skill he knew nothing about.
Jason (PA)
John, any chance we'll get to see you dressed up as a cowboy again soon in another SS segment?
John Brenkus
(2:18 PM)
You need to be near my neighborhood for Halloween.
Carl (VA)
How impressed were you with Dez Bryant's hand speed?
John Brenkus
(2:18 PM)
Very impressed. Even more impressed with him as a person. I do think he's gotten a bad rap. He's actually a great guy.
Kevin (FL)
What did Jamaal Charles say when you told him you were going to have him jump rope in the lab?
John Brenkus
(2:19 PM)
He was game. He had a total blast doing it.
John Brenkus
(2:19 PM)
Elite athletes never back down from a challenge.
Jeff (GA)
John, with the breakdown you did of Matthew Stafford's late scoring TD...do you think more teams could find a play like that valuable? running a quick play when everyone thinks you're going to spike it?
John Brenkus
(2:20 PM)
Football is all about deception. So a play like that is useful, but only once in a blue moon.
Russell (Chicago)
Do you think other NFL caliber WRs could put up a similar performance as Bryant or do you think Bryant has a unique ability?
John Brenkus
(2:21 PM)
Dez is special.
Jason (Philly)
considering the size of NFL players, are you surprised at how hard it is sometimes for teams to score from close to the goal line? I would think there would be more plays like the Matthew Stafford play you ran on the SS segment.
John Brenkus
(2:21 PM)
The Stafford play only works if you're sleeping.
Meg (PA)
How much of NASCAR is the science of the car and how much is the driver's abilities?
John Brenkus
(2:22 PM)
Clearly it takes both.
Tyler (Pittsburgh)
what is a harder hit; a blind side hit in footballor a hit to the face in boxing
John Brenkus
(2:23 PM)
We've done every impact imaginable. The hardest hits in sports (without the aid of a machine like a car) are in hockey. The open ice collisions register giant numbers.
Mark (NYC)
When it comes to pitching mechanics, how much does raw arm strength effect velocity vs how you create momentum and your overall mechanical approach?
John Brenkus
(2:24 PM)
The efficiency of the kinetic linking chain determines velocity. Having a "strong arm" means the entire chain is efficient. Literally having a strong arm does not mean you can throw the ball hard. I can't imagine Arnold can throw a 100 MPH fastball.
Clark (NYC)
John, would love to see you do another rugby segment!
John Brenkus
(2:25 PM)
Stay tuned.
Steven (DC)
How far in advance do you film a segment?
John Brenkus
(2:25 PM)
We get most of the big players in the offseason. So, most of the NFL players come during the summer.
Greg (OH)
how many segments will you work on today?
John Brenkus
(2:26 PM)
There are three in the hopper today ...
John Brenkus
(2:26 PM)
Several hundred for the year.
Jay (PITT)
which NBA rookie do you want into the lab first?
John Brenkus
(2:27 PM)
MCW.
Jeff (DC)
It looked like Charles was sweating a bit...how long did he jump rope?
John Brenkus
(2:27 PM)
Until he could jump no more.
Jay (FL)
It seems like you have the athletes do things out of their comfort zone and do unorthodox things in the lab...is that a part of the plan?
John Brenkus
(2:29 PM)
Indeed.
John Brenkus
(2:29 PM)
Thanks for all of your support. More great Sport Science segments coming your way.