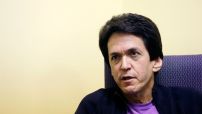 Albom won the 2010 Red Smith Award, for lifetime achievement in sports journalism.
Welcome to SportsNation! On Thursday, longtime sports columnist Mitch Albom stops by to chat about his 30-year writing career, as well as his newest book, "The First Phone Call From Heaven" that hit stores Tuesday.
"First" is Albom's eighth book and he has sold more than 35 million copies of them worldwide, in 44 languages and in 48 territories. The fiction piece is a story about what happens when one little town, way up north, starts getting calls from souls in heaven. Who believes, who doesn't?
Albom, @MitchAlbom, has branched his career from journalist to screenwriter, playwright, radio host and musician. He has appeared regularly on ESPN's "The Sports Reporters" for 25 years and still writes for the Detroit Free Press.
Send your questions now and join Albom Thursday at 3 p.m. ET!
More Special Guests: Previous chats | SportsNation
Buzzmaster
(3:02 PM)
Mitch is here! Get your questions in now!
Deven (New York, NY)
How long did it take you to write this book?
Mitch Albom
(3:03 PM)
Physically, it took about a year. But I've been thinking about it probably for the last four years.
Christian (Raleigh, NC)
Hi Mitch --- How much would it mean to the City of Detroit if the Lions were to win a Super Bowl? I've been following the team since my family lived in Michigan and I always tell people that I hold out hope that it "will happen in my lifetime"....
Mitch Albom
(3:04 PM)
I've always said Detroit is a football town first and foremost, but it's been asleep for 50 years. I've always said if the Lions win the Super Bowl, will be the biggest thing for Detroit sports in the last 25 years, easily.
Karl (Boston)
If "Tuesdays" hadn't happened or if you didn't write it, do you think you would have branched out in your career like you have?
Mitch Albom
(3:05 PM)
Almost certainly not. Tuesdays was a bit of an accident. I only wrote it to pay Morrie's medical bills. It wasn't supposed to be a big book. I was planning on returning to my sports writing and actually wondered if a book like that would hurt my reputation as a "grizzled" sports writer. Boy, was I off base.
Jeff (DC)
Which of your books do fans want to talk to you about the most?
Mitch Albom
(3:07 PM)
Still probably Tuesdays, because people use it in different ways -- some read it to help them grieve, some read it as a high school homework assignment. The Five People you Meet in Heaven almost has a frenzied cult following, the people that like that book REALLY like that book.
Michael (Kingwood, TX)
Mitch, loved your book on the Fab Five. Does this year's Kentucky Team remind you of them?
Mitch Albom
(3:08 PM)
Only in that they're freshmen. But it seems a given that at least some of them are going to be gone after this year, whereas only Chris Webber left the Fab Five earlier than the others, and even that was only after he had already played two seasons. One and done was not common back then, which helped make the Fab Five story a richer one because they were together a few years.
Will (MI)
You are so entrenched in Detroit. But many of your colleagues in the sports writing world have gone from mainly writing to other areas in the media...do you ever envision a day when you don't write for the Press?
Mitch Albom
(3:09 PM)
Only if they don't want me any more. I'm proud of my city. And I take pride in my column, particuarly when I can use it to help my town. I have no plans of stopping that, if they'll still have me.
Alex (Anaheim)
What's the best game you've ever covered?
Mitch Albom
(3:11 PM)
Wow....There are so many. Because I've been to the World Series and Super Bowls and Olympics -- events that don't involve Detroit necessarily -- I've seen a lot of the truly dramatic sports moments of the last two decades. But of Detroit or Michigan specific events, perhaps the Pistons last-second win over Portland for the NBA title, Michigan's 1989 NCAA chamionship behind Rumeal Robinson's free throws, Justin Verlander's amazing performances the last few years, and the Red Wings trouncing Colorado en route to the Stanley Cup finals are some of the ones that immediately come to mind.
Evan (NYC)
Where do you get the muse to write another book? How do you decide when you have an idea that could be turned into a book?
Mitch Albom
(3:12 PM)
Fortunately, I don't suffer from writer's block. I get ideas all of the time, from any minute of the day and in the weirdest places. My biggest problem is living long enough to get to write all of them.
Deven (New York, NY)
Which sports do you follow the most?
Mitch Albom
(3:15 PM)
Whoever is doing the best in Detroit I follow the most closely. But from a personal enjoyment point of view, I probably say the NFL. I can keep track of it even with all of the things I'm involved in, because there are only 16 games. Baseball is just too long and basketball and hockey have these enormous middle sections of the season that don't seem to matter, because too many teams end up making the playoffs. Once the postseasons of all sports come, I'm very much attuned to all of it as a part of my job.
Deven (New York, NY)
What are your thoughts about Detroit being in bankruptcy?
Mitch Albom
(3:17 PM)
This is a very sore subject for me. I feel many in the national media do Detroit a disservice. They fly in, spend a couple of days looking at desserted auto plants or burned out houses, find a couple of interviews to serve their purpose and go home. They write the story about a dying city. If they stay longer, they'd find there are more "green chutes", a growing downtown, a growing younger class, a growing investment, a newer mayor who is white elected by a populous who is black. Detroiters are hard working, humble and family oriented people that I've ever had the privilege of living amongst. I'm proud to call the Motor City my home.
Tre (CA)
what were you trying to get to throgh your newest book?
Mitch Albom
(3:19 PM)
It began with my mother losing her ability to speak after suffering two strokes. It got me thinking about the preciousness of the human voice and how it connects us all. I see people who lose loved ones and refuse to erase their voice messages from their machines just so they can hear the sound. I took that idea and wove it into a magical story about a single town that begins to get phone calls from heaven. I wanted also to explore how, in this age of technology and scientific explanations, people would react to the news of perhaps the biggest miracle of all time.
Ed (Queens Village)
What must Lions do to win NFC North? Which is more realistic for Lions winning playoff game or winning Super Bowl?
Mitch Albom
(3:20 PM)
Stay healthy. They're good enough to win when they have all of their pieces, especially given Green Bay's loss of Rodgers and having beaten the Bears twice. It's theirs to lose at this point.
Barf (Attleboro, MA)
Mitch, do you think the Tuesdays With Morrie movie starring Hank Azaria was an accurate protrayal of your famous book? If not, what would you change about the movie?
Mitch Albom
(3:21 PM)
I've learned to accept that books are books and movies are movies. When I first saw it, I was yelling at the screen. "I never did that!" "That never happened!" But the important thing about a film is they capture the essence of your story and not every sentence. They certainly did that with Tuesdays.
Mitch Albom
(3:23 PM)
Thank you all so much for following my work and believing in my work. I never take readers for granted and I'm always surprised when they come out and get involved with a new book. There is a new thing I tried this time around, making a video for my new book, with my 23-year-old nephew: it looks more like a movie trailer than anything else. When we make the movie, this could very well be what the trailer looks like. Please check it out.