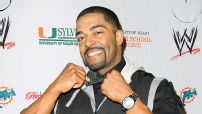 Otunga is engaged to singer Jennifer Hudson and the two have a son together.
Welcome to SportsNation! On Tuesday, professional wrestler, and WWE star, David Otunga drops by to chat about his wrestling and acting careers, as well as his first Muscle & Fitness magazine cover.
Since joining WWE in 2008, Otunga has won two WWE Tag Team championships. With a Harvard law degree, he also acts as the lawyer for several of the WWE stars on the organization's various shows.
Otunga made his big screen debut in March when he starred alongside Halle Berry in "The Call," an action-thriller about a 9-1-1 operator, who must confront her past.
Send your questions now and join Otunga Tuesday at 2 p.m. ET!
More Special Guests: Previous chats | SportsNation
Buzzmaster
(2:00 PM)
Hey everyone, David's schedule got delayed, so we're going to be pushing back his chat until 2:30 p.m. ET. Keep sending in questions!
Buzzmaster
(2:29 PM)
David is here!
Jason (NYC)
When did you first start to feel like you made it in WWE?
David Otunga
(2:30 PM)
When I hosted Raw.
David Otunga
(2:30 PM)
I was still a rookie at that time.
Derek (Chicago)
how many copies of the magazine did you go out and buy?
David Otunga
(2:31 PM)
I'm still buying them. Every store I've been to, I buy at least 5. They sent me three copies, but I can't help myself. I am so excited, I can't help myself. It's a dream come true. I want a lot of copies, but I also want other people to be able to read them, so I limit myself to five. People will see me and say, hey David, I wish I had something for you to sign. And I will have a copy on me and sign it for them.
Fred (AL)
I feel like WWE had a golden age of sorts in the late 90s, when guys like undertaker, big show, steve austin, the rock, etc. were big. do you feel like the wwe is undergoing another renaissance of sorts with all of the big names involved now?
David Otunga
(2:32 PM)
Yeah, I do. There are a lot of new superstars. Those guys are all pretty much done. Now there are a bunch of new superstars. Cena. Other guys. And myself, of course. David Otunga. No one has a physique like I do.
Ryan (CA)
How long did the photo shoot take for the coveR?
David Otunga
(2:32 PM)
Actually, it only took about 15 minutes to get the cover shot. They were shocked that we nailed it so fast. Then they wanted to do other workout stuff.
Kevin (TX)
did you get any say in what they used for the magazine?
David Otunga
(2:33 PM)
No. Acutally. I supposed I could have, but I didn't care. I'm so confident in everything I do. I didn't even need to see the photos. I told them whatever works best. I wanted to be surprised.
Kurt (IN)
how weird was it to have pictures taken of you posing in the gym?
David Otunga
(2:34 PM)
It was awesome! Are you kidding me? It was awesome. That right there tells me that you've made it. You are definitely not a couch potato if the gym has your photo up. My ex-girlfriend once told me that I would never go anywhere by working out. And now that picture is hanging up in that gym!
Tre (ME)
When you made the video standing up for Big Show and his lawsuit, did you rely on your own law background to write your statement or did you have help/
David Otunga
(2:35 PM)
It was a little bit of both. I knew, based on what he wanted and I added my own twist to it.
Bob (Boston)
David, what are your thoughts on concussions in sports? Have you ever discussed it with fellow Harvard alum Chris Nowinski?
David Otunga
(2:36 PM)
I haven't. I haven't had the pleasure of meeting him. I haven't had any concussions. It's something the WWE takes seriously. We take a baseline test, just like the NFL. If you ever have a blow to the head and you take the tests to compare to the baselines. You don't compete again until you are sure you don't have a concussion.
Greg (VA)
did you go after the cover or did they come after you?
David Otunga
(2:37 PM)
They came after me. I've always been really into bodybuilding and fitness. They used to see me around. I did a couple of signings with them before. They told me they'd love to have me for the cover.
Gary (FL)
which wrestling star, past or present would you like to face in the ring?
David Otunga
(2:37 PM)
I'm going to say The Rock.
doug (fl)
what's been the highlight of your time in the WWE so far in your short career?
David Otunga
(2:38 PM)
Hosting Raw, that was great. But also my WrestleMania experience. I've had one. But coming out in front of 80,000 people is a very unique feeling.
Tim (Boston)
Do you ever miss practicing in the world of BigLaw?
David Otunga
(2:38 PM)
Not so much. That was something I enjoyed. But what I'm doing now is living my dream. I was happy practicing law, but now I couldn't be happier actually living my dream.
James (PA)
would you like to do more movies?
David Otunga
(2:38 PM)
Yeah, absolutely. I would love to.
Jeff (DC)
how did you first hear that muscle was interested in having you?
David Otunga
(2:39 PM)
There were some talks saying they were interested. It was probably 6 months earlier. When they told me they were actually interested in doing it, I had about 6 days.
Teddy (California)
Who would be your dream opponent at a WrestleMania?
David Otunga
(2:40 PM)
The Undertaker.
Kelly (Texas)
what's been the biggest change in your life?
David Otunga
(2:41 PM)
I guess just being happy living my dream. Finally feeling like I am doing what I love. A sense of fulfillment. Instead of going to work and hating it, enjoying what I'm doing.
Aaron (Atlanta)
When should we expect to see you back in the ring?
David Otunga
(2:41 PM)
You can expect it any time. Any time.
Hank (NYC)
How strange does your son find it in being able to watch Mom and Dad on TV all the time? Does he understand your jobs?
David Otunga
(2:42 PM)
Actually, it's just the opposite. To him, it's not strange at all. We were on the TV since before he was born. We have to be on the road a lot, and that's one of the ways he is OK with it, because he can see us on TV. He will tell me that he doesn't want Daddy to leave, but then I ask him if he wants to see Daddy on TV and he says yeah, OK, you can leave Daddy.
Aaron (Atlanta)
Who is the Greatest WWE performer of all time? Hulk Hogan/Rock/Triple H/Steve Austin/Other?
David Otunga
(2:43 PM)
You really have to give credit to Hulk Hogan. He made wrestling what it is. He's the biggest of all time. Was he the best in the ring? No, but performance wise, yes he was.
Chris (Denver)
Do you ever have a morning where you don't feel like dragging yourself to the gym?
David Otunga
(2:48 PM)
Yeah, sure. There are plenty of times when I wake up and aren't feeling it. That's what separates a great physique from an average physique. Sometimes when you get in there and do it, those turn out to be the best workouts.
Craig (LA)
When you see some of the sadder post-career, injury-plagued lives of former wrestlers, how does a smart guy like you ponder the question of how long you want to do this for?
David Otunga
(2:48 PM)
Yeah, you can't wrestle forever, and that's something I will always plan for the future.
Mitch (TX)
How big of a shot will you get of your cover for your house?
David Otunga
(2:49 PM)
HUGE! As big as I can. I wanted to get as big as the wall, but I couldn't get a frame big enough. Plus, I didn't think Jennifer would allow me to take up a wall. Definitely a poster size.
David Otunga
(2:49 PM)
Please go out and buy the magazine. Hit me up on Twitter if you have any questions. Bodybuilding, fitness, wrestling. I will answer more of your questions there.