Chat with Dominique Wilkins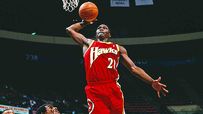 'Nique's 24.8 ppg average ranks 14th all-time in NBA history.
Welcome to SportsNation! On Tuesday, Pro Basketball Hall of Fame Class of 2006 member Dominique Wilkins stops by to chat about the NBA season.
Wilkins enjoyed a 15-year NBA career, scoring 26,668 points, good for 11th all-time, and led the league in scoring in 1985-86 with 30.3 points per game.
"The Human Highlight Film" won the slam dunk competition in 1985 and again in 1990. He was a nine-time all-star and is just one of four players with a number retired by the Atlanta Hawks.
Send your questions now and join Wilkins Tuesday at noon ET!
More Special Guests: Previous chats | SportsNation
Buzzmaster
(12:01 PM)
'Nique is here!
Jake Stover (NY)
Who is your favorite basketball player of all-time?
Dominique Wilkins
(12:01 PM)
Dr. J.
Jaker Baker (Warsh, PA)
In your mind, do you think that the teams now could outplay the teams that you used to play for and play against?
Dominique Wilkins
(12:02 PM)
Is that a trick question?
Dominique Wilkins
(12:02 PM)
It's hard to compare the eras. Our era was very skilled and very physical.
Ryan (FL)
What are you looking forward to seeing in the NBA season?
Dominique Wilkins
(12:03 PM)
Good question. The consistency with the mid-level teams. Seeing how the consistency level goes into the all-star break. That's usually what I look at. Who picks it up. Washington is playing good.
Vince (Sacramento)
Nique, Do you believe if LBJ played during your era he would still be among the best in the NBA?
Dominique Wilkins
(12:03 PM)
He would do very well.
Mike (Senaca Nation)
Are the Pacers and the Warriors the best contenders for the NBA championship this season?
Dominique Wilkins
(12:04 PM)
Yes. Absolutely. Both of those teams have really turned it up as far as their level of play. Indiana looks so strong. They'll be hard for someone to beat them.
Deven (New York, NY)
What was it like playing for the Spurs back in the mid-90s?
Dominique Wilkins
(12:05 PM)
I didn't see the championship run coming. We had so many people hurt that year. I had to play power forward. They should thank me, because that year was so bad and everyone was hurt, they got Tim Duncan and he got the number 21. I should get paid for that!
Chris (Dallas, TX)
Do you think you were shafted in the 1988 Slam Dunk contest? I sure do. Thanks for all the great memories.
Dominique Wilkins
(12:06 PM)
Every day, fans come up to me and tell me that.
Jeremy A (Fighting Illini nation)
Whats your opinion of the Chicago Bulls at the moment? With Rose gone, should they now seriously consider shopping Deng and/or Boozer?
Dominique Wilkins
(12:06 PM)
I think that they're a hard working team. But offensively, they have some challenges, because Rose isn't there.
Jeremy (NJ)
what do you make of the knicks? no defense, no heart, no cohesion on offense. coach woodson has to do a better job, but blame also falls on the leaders too. how many closed-door team meetings need to occur before changes are made?
Dominique Wilkins
(12:07 PM)
They definitley aren't playing any defense. It's hard to say. They're a team that tries to outscore you. Your scoring has to be dictated by your defense. With Chandler out, they don't have that.
Terry (Reservation)
What is your advice for rising stars in the NBA today?
Dominique Wilkins
(12:08 PM)
What you do today dictates what you do in the future. Your image, how you act. How the corporate world thinks of you. You have to think outside of the box and prepare for life after basketball.
Kris (Denver)
what was your experience like playing overseas? How did it compare to the NBA?
Dominique Wilkins
(12:08 PM)
It was a great experience. I got to see other cultures and how they do things. How they live. But the NBA is on a level by itself. You can't compare that.
Mark (Miami)
Hi Nique:Loved watching you play. Once spoke with Larry Bird, who told me you were one of the most under rated players in league history. Your thoughts on playing against Larry and those old Celtic teams. Thanks.
Dominique Wilkins
(12:09 PM)
Larry is one of those guys that is probably among 15-20 guys that you can't make comparisons. He's one of them. He's at the top of the list. You can't compare anyone to him. Unbelievable player. Unbelieveable drive to win. We will probably never see it again.
Bill (CT)
HHF, Great to chat with you. Does the NBA still have the intense rivalrys that it had back in the day when you were mixing it up with Michael, Bird, and Jordan?
Dominique Wilkins
(12:10 PM)
I think the rivalries are starting to be built now. It's not as intense as it used to be, but they're coming back.
Andrew Z. (Struthers, OH)
How has the game of basketball changed since you retired?
Dominique Wilkins
(12:10 PM)
The physical play. The rule changes have impacted that. Also, everyone played more of a natural position. You rarely played other positions, because the PF and centers had license to kick your butt.
Eduardo (TX)
What is your second favorite sport after basketball?
Dominique Wilkins
(12:11 PM)
Actually, believe it or not, I wanted to be in track and field. I hold my high school record in the quarter mile. But then I realized other people were a lot faster than me.
Michael (New York)
In your opinion who is the better all around player, Lebron James or Kobe Bryant? Also who would you have rather played with between the two?
Dominique Wilkins
(12:12 PM)
They are very similar. Kobe in his prime was probably the better all around player, but LeBron has taken over that title.
Ice (Antarctica)
You were one of the few athletes to return from a Achilles tear and be great again. Have you had any advice for Bryant?
Dominique Wilkins
(12:13 PM)
Kobe, I said this early on, you need patience. Not rushing it. It's been about nine months now and that's about when I came back. He knows his body. If he's anything close to what he was before getting hurt, LA will be on another level
George (NC)
Who was an underrated player that you didn't enjoy going against?
Dominique Wilkins
(12:14 PM)
A lot of them. I think an underrated player that I played against was Calvin Natt. I hated playing against him. I had to ice down after playing against him. The only guy I had to do that for.
Tyler (ATL)
Whats happening Nique. What must the Hawks do to have a fighting chance in the east this year?
Dominique Wilkins
(12:14 PM)
You're in that building stage right now. We're trying to find out who we are. But we're playing better than many gave us credit.
Dominique Wilkins
(12:15 PM)
I appreciate your time. Thanks for the questions.