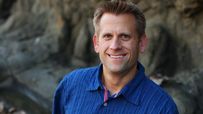 Welcome to SportsNation! On Monday, Sport Science host John Brenkus stops by to chat about his Emmy Award-winning TV show.
Sport Science uncovers sports' biggest myths and mysteries by utilizing cutting-edge technology to measure momentum, friction and the laws of gravity. In addition to his role as host of Sport Science, Brenkus, a Univeristy of Virginia graduate, is also the director and creative director of all BASE Productions programs.
Send your questions now and join Brenkus Monday at 2 p.m. ET!
More Sport Science: Chats | Index | Videos | Blog | @Sport_Science
Buzzmaster
(2:11 PM)
We've got John!
Kyle (VA)
What did the soccer fans on your staff think when you talked about cutting up the World Cup ball?
John Brenkus
(2:11 PM)
At first they screamed "No!" and pulled their hair out. Then they remembered we were doing it for science.
Kevin (TX)
Out of all of the kickers that have hit 63 or 64 yard field goals in NFL history, two have been from Denver....that's not a coincidence, right?
John Brenkus
(2:12 PM)
It is not. We did a segment on it, showing the effects at Mile High on a field goal. That's what makes Tom Dempsey's record that much more impressive. New Orlean's stadium is at sea level.
Jason (FL)
I think Matt Prater's record setting kick would make for a great SS segment...will you be looking at it? As well as how much the air in Denver aided in the kick?
John Brenkus
(2:13 PM)
Working on that segment now.
Ryan (La)
When you saw the Chris Davis return for Auburn, did you immediately think that's something Sport Science needs to investigate?
John Brenkus
(2:13 PM)
Yes.
Derrick (Chicago)
Is there any sort of comparison you could do to see how Kobe Bryant compares to his pre-injury performance?
John Brenkus
(2:15 PM)
We're working on the effects of how the Achilles impacts basketball segment as we speak. We're keeping a close eye on Kobe.
Jake (LA)
How did Richard Sherman yelling at you impact your performance in the lab?
John Brenkus
(2:15 PM)
He broke me down to build me back up....quite honestly, I'm still in the building process.
Carl (CA)
I read somewhere you're working on another book....what's the status? How is it coming along?
John Brenkus
(2:16 PM)
It's coming along. Everything takes time.
Jeff (DC)
How cool was it to have a chance to get a look at the World Cup ball that millions and millions of people will be watching next summer?
John Brenkus
(2:16 PM)
It's pretty cool. But, honestly, every day at Sport Science is pretty cool. Every day we get to do things like cut open World Cup soccer balls. All in the name of science.
Peter (GA)
I loved your Greatest of All Time project....do you have anything big like that coming up in the near future?
John Brenkus
(2:17 PM)
Indeed.
John Brenkus
(2:17 PM)
We have a huge project launching in February of next year. Stay tuned.
Terry (DC)
John, I loved the video you made breaking down the SportsNation crew, Sport Science style...did you have fun making that video? How long did it take to shoot?
John Brenkus
(2:18 PM)
That was a fun behind the scenes thing I did just before an appearance. The math was particuarly complex, because when dealing with Max and Marcellus, the numbers just don't seem to add up right. :)
Evan (CA)
From coming up with the initial idea for a segment to sending it off to air, how long of a process is it?
John Brenkus
(2:19 PM)
It really varies on the segment we're doing. We could do a piece the same day, meaning we turn it around in a few hours. Or, it may take us several months to research, shoot, edit and deliver that particular segment.
Bren (Pearl River, NY)
Do you think there will ever come a day when Science helps seriously curtail, or even eliminate, pitching injuries? Or is it just too violent?
John Brenkus
(2:20 PM)
Science will never eliminate injuries. The more we learn about particular injuries, the more we can try to prevent it, but we're human. We just break.
Kevin (PA)
how odd is it for Sherman to combine his height with elite speed? it seems like all the faster guys in the NFL are all shorter.
John Brenkus
(2:21 PM)
True. And Sherman has unusual size for his position. He is a special DB in the league.
ben (alabama)
alabama had no players who could catch up to auburn, the kicker could not takle
John Brenkus
(2:22 PM)
We did a segment breaking down that play. What is really interesting about it, is how quickly that play was already over. By the time Davis got to the original line of scrimmage, he was home free. We broke down the elimination of buys block by block. The bottom line is they just didn't cover well.
Brian (LA)
do you have favorite sport to break down in the lab?
John Brenkus
(2:22 PM)
I love all sports, honestly.
John Brenkus
(2:23 PM)
Personally, my favorite sport to watch is football, but I really enjoy working with athletes from every sport.
John Brenkus
(2:24 PM)
Lots of more great Sport Science segments coming your way. Appreciate your support!