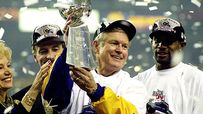 Dick Vermeil went 120-109 as an NFL head coach and 6-5 in the postseason.
Welcome to SportsNation! On Thursday, Super Bowl-winning coach Dick Vermeil stops by to chat about the NFL playoff season.
Vermeil spent 19 seasons as a coach in the NFL, 15 as a head coach with the Philadelphia Eagles, St. Louis Rams and Kansas City Chiefs. He led the "Greatest Show on Turf" St. Louis Rams teams in the late 90s, winning Super Bowl XXXIV. He won four coach of the year awards, with three different teams.
Vermeil also spent seven seasons coaching in college, including three as head coach at UCLA, where he won the 1975 Rose Bowl. He will use his college and pro football expertise when he coaches in the NFLPA Collegiate Bowl that airs Jan. 18 on ESPN2.
Send your questions now and join Vermeil Thursday at 3 p.m. ET!
More Special Guests: Previous chats | SportsNation
Buzzmaster
(2:59 PM)
Coach is here!
Gary (St. Louis)
What do you make of the renewed success that KC had this year? They haven't had that kind of success since you were here!
Dick Vermeil
(3:00 PM)
The timing was right. They brought in the right coach. He hired the right staff. They got the QB they needed. They got the personnel director he needed. And a strong enough leader to put it all together.
Dylan (OH)
how different is it coaching players in something like the Collegiate Bowl as opposed to an NFL game
Dick Vermeil
(3:01 PM)
First off, it's very limited. You try to give them just enough tools to have them be successful and not be confused and show their physical talents and just play. It's a very basic offense and defense that they can just show their talents.
Tom (Boston)
Who do you think are the toughest teams left in the NFL playoffs?
Dick Vermeil
(3:03 PM)
First off, they're all tough right now. Statistically, the toughest team, from a computer analyzation standpoint, is Seattle. They don't make mistakes. They don't turn the ball over. But I believe that the 49ers will beat them. I think it will come down to the Broncos and 49ers.
Rich (New Jersey)
Hi, The 49ers had a great win versus the Packers, now go to Carolina and probably on to Seattle, what's the toughest part of getting back to a Super Bowl let alone winning one?
Dick Vermeil
(3:05 PM)
I think the toughest thing for the 49ers would be Carolina's defense. It will have nothing to do with having lost one last year, it will have to do with dealing with the problems against Carolina, their defense. Their offense is not very explosive. The 49ers offense is better and has more experience. I think they'll beat them because of it.
Derrick (CA)
what kind of messages do you hope to get across to the players you'll be coaching in the collegiate bowl?
Dick Vermeil
(3:06 PM)
I think No. 1 is their future belongs to them. Not that they already haven't, but it's critical they make an investment in their future every day in the present. You can't afford to pass up opportunities by not being prepared. That's No. 1.
Neal (VA)
It seems fans are still enthralled with Kurt Warner's story. At the time, did you think he would have the success that he had?
Dick Vermeil
(3:06 PM)
I had no way to predict he was going to be as good as he became. But I thought we could go to the playoffs with him as a QB, so he exceeded my expectations.
Jake (NYC)
What would you focus on the most in putting in a gameplan for a playoff game?
Dick Vermeil
(3:07 PM)
Playing smart. You can not turn the ball over and you have to take it away. What happened with Indianapolis, winning at -3 in turnovers, they had about an 8 percent chance to win. You have to play smart. They'll both play hard, tough. The other thing is you have to hope your most skilled guys step up and make a play beyond the design.
Kevin (DC)
How do you think your Rose Bowl team would have stacked up against this year's Florida State team/
Dick Vermeil
(3:08 PM)
They'd beat the hell out of us. More athletes. More sophisticated offensive scheme. Much tougher defense. Even though I think Ohio State ended up with 6 NFL players off that roster. But I don't think there's a comparison.
Jason (FL)
How much, as a coach, do you worry about having a week off in the playoffs?
Dick Vermeil
(3:09 PM)
I appreciated it. No. 1, it gave the players an opportunity to freshen up. I didn't have another Super Bowl, but I did appreciate the bye week and it's value.
Mike P (Greater Kc Metro)
Coach Vermeil both Philly and KC made the playoffs and are out in the first round... if it ever happened to be a Philly v KC or I-70 Superbowl with ST Louis and KC, who would you route for. You had so much success at all the places
Dick Vermeil
(3:10 PM)
It would be very tough. Andy Reid and the Hunt Family I know much better, so I may root for the Chiefs. I know rooting makes no difference on the field. I feel a little closer to that coach and ownership.
Ed (Queens Village)
What was the feeling like winning Super Bowl with Rams?
Dick Vermeil
(3:11 PM)
Having lost a Super Bowl in 1980 with the Eagles, I know the difference and winning is better. But I respect and appreciate the Eagles loss every bit as I do my Rams win. It took the Eagles more to get there and lose than it did for my Rams to get there and win.
Rylee (VA)
How closely do you still pay attention to the game, pro and collegiate?
Dick Vermeil
(3:12 PM)
I'm an NFL fan. I watch everything I can. Occasional college football game. Basically I watch NFL teams that has a coach that's coaching that I worked with and a player playing that I coached. I follow them on Sundays and Mondays.
Larry (LA)
As a former college football coach, what do you think of the move to a playoff format next season?
Dick Vermeil
(3:12 PM)
I like it. I think it's over due. I think it will be good for the game and for the players.
Cbrown (Tahoe)
Hey Dick! Why the confidence in the niners going to Seattle and pulling the W? Oline play, coaching?
Dick Vermeil
(3:13 PM)
I think the quality of their OL and defensive front 7 will be the difference maker. But it could end up being an INT or fumble recovery that wins it for them or loses it for them.
Jeff (KC)
How do you prepare your team to play in noisy environments on the road, like New Orleans will face this weekend in Seattle?
Dick Vermeil
(3:14 PM)
I think you've been preparing for that all year, with sound on the practice field at least once a week, with sound that makes it so you can't think. If you haven't prepared for it all year, then it will be hard for you on gameday in Seattle.
Jake (Philly)
Nick Foles had about as good of a year as you could possibly have, and there are still doubters. What are your thoughts about him heading into next year?
Dick Vermeil
(3:15 PM)
I feel much better about him now than I did at the start of the year. I was a skeptic, I am not any longer. I think they can win big with him. Though he will never be the runner that the system of offense would really like to have.
Kevin (Boston)
Dick, as a head coach would you prefer your player take a 5 yard delay of game penalty as opposed to burning a timeout early in the third quarter? Doesn't that timeout have a lot more impact late in the game than a 5 yard penalty early in the second half?
Dick Vermeil
(3:16 PM)
I would always call the timeout. That's what I used to do. I always felt the use of a timeout to prevent a bad play is worthy. It back fires on you, but I don't remember of it really hurting me.
Tim (El Cajon, CA)
Hey Coach! What are your thoughts on the DEN/SD game this weekend? Broncos are given around a 10 point advantage in Vegas. I just don't see it. Maybe give them the 3 point homefield advantage is all. I see it as a toss up myself.
Dick Vermeil
(3:17 PM)
It all depends on San Diego's defense. Both are very fun offensive teams. In fact, San Diego averages more per snap than Denver does.
Dick Vermeil
(3:17 PM)
So, if the team whose defense ends up having their best day, wins that one. I don't see it being a 10-12 point spread.
Shawn (Detroit)
The Lions are still searching for a coach...any chance they can get you back into run the show and bring a Super Bowl to the Motor City??
Dick Vermeil
(3:18 PM)
Would love to be young enough to do it. I have the energy but not the stamina. If they hire Whisenhunt, they're hiring the right guy.
Mike P (Greater Kc Metro)
Best running back and QB you ever coached was?
Dick Vermeil
(3:18 PM)
Marshall Faulk. Kurt Warner. Both on the same team.
Greg (DC)
Coach, you had some good teams that had byes in the playoffs. How do you get them ready to play after having a week off?
Dick Vermeil
(3:19 PM)
I gave the players the first week off. In KC in 2003 was the last time. Then brought them back for the normal routine and preparation. I thought the rest, physically and mentally was important to them.
Dick Vermeil
(3:20 PM)
Thanks for the questions and your interest in what I had to say. I've been away from the league since 2006, so it's nice that someone remembers that I coached.