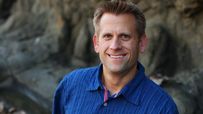 Welcome to SportsNation! On Tuesday, Sport Science host John Brenkus stops by to chat about his Emmy Award-winning TV show.
Sport Science uncovers sports' biggest myths and mysteries by utilizing cutting-edge technology to measure momentum, friction and the laws of gravity. In addition to his role as host of Sport Science, Brenkus, a Univeristy of Virginia graduate, is also the director and creative director of all BASE Productions programs.
Send your questions now and join Brenkus Tuesday at 1:30 p.m. ET!
More Sport Science: Chats | Index | Videos | Blog | @Sport_Science
Buzzmaster
(1:30 PM)
John's here!
Dave (LA)
John, with the success that the Seahawks have had with their crowd noise, do you think teams will try to mimic the construction of CenturyLink for future stadiums?
John Brenkus
(1:31 PM)
It certainly is one of the factors that will be considered in the future.
Derrick (FL)
John, compared to NFL WRs you've analyzed in the SS lab, how does Kelvin Benjamin stack up physically?
John Brenkus
(1:31 PM)
He's NFL-ready.
Kevin (CA)
In your last chat you mentioned that you're working on another book. Has there been a publish date set for it yet?
John Brenkus
(1:32 PM)
In process of writing. All good things come in due time.
Terry (Chicago)
Is there an athlete that you'd like to get into the lab but you haven't been able to bring in yet?
John Brenkus
(1:33 PM)
There is always going to be someone that we want to get into the lab. We're in Year 7 now and have done over 700 segments. Many more years to come.
Larry (TX)
How interesting was it for you to break down James HArden's NBA DNA? Will you do more of those kinds of comparisons?
John Brenkus
(1:33 PM)
We will be doing a bunch more. It's a blast!
Lenny (Phoenix)
Will you be doing a Sport Science NFL draft combine this year?
John Brenkus
(1:34 PM)
Yes. The biggest one ever.
Candy (Slippery Rock)
Hi John, did you see anything in your previous work with Derrick Rose that could have foretold his current injured state and is it just not possible for a human being to play that way?
John Brenkus
(1:35 PM)
It's possible to predict if someone is more or less likely to sustain a particular injury, based on their makeup. However, there is no way to be certain. If decisions were made solely based on being more or less likely to be injured then GMs would be missing out on some amazing athletes.
Vince (Philly)
Your GOAT project was great. Do you have any more big projects coming up?
John Brenkus
(1:36 PM)
Yes. We are doing our first awards show called "The Newtons." It will air February 16. It's going to be huge!
Newnan,Ga [via mobile]
which myth has been your favorite to test?
John Brenkus
(1:37 PM)
Too many to list.
Evan (LA)
So, how much did Richard Sherman yelling at you impact your performance in that obstacle course?
John Brenkus
(1:37 PM)
He shattered my ego. Still piecing it back together.
Vick (Richmond, VA)
What new information do you hope to bring to your book from your last?
John Brenkus
(1:37 PM)
Stay tuned.
Peter (Boston)
what's your favorite Winter Olympics sport?
John Brenkus
(1:38 PM)
We are a skiing family. So, anything on the mountain is exciting to us. Olympics hockey is pretty awesome.
Karl (ME)
What's been the hardest sport to try and figure out the best tests to use in the lab to best quantify that athletes performance?
John Brenkus
(1:39 PM)
If we can't figure out something physically in our lab, we go outside. So, we've been able to cover just about everything.
Kyle (VA)
How far out do you plan segments? Ar eyou planning World Cup episodes already?
John Brenkus
(1:40 PM)
Indeed. Some segments we plan a year out. Some we turn around in a day. It just depends.
mk (albuquerque)
how much do we know about how the types of drugs arod was using affect that body? do we know for sure that it's bad for someone to take these things?
John Brenkus
(1:41 PM)
Of course the drugs work, or else the people wouldn't work. To me, the real question is what should we consider a PED? Just because something improves your performance, doesn't mean it's bad for you. It's a very complicated issue.
pj (midlo)
hi john, love your tv pieces - with the winter olympics near - please consider doing a piece on curling - fascinating to think that the broom sweeping and rotation of the stones can be controlled or influenced much if any over the length of the lane/alley (whatever it is called)
John Brenkus
(1:42 PM)
Bring your broom down to the lab and let's see what you got.
Willie (San Fran)
What all-time athlete would you like to bring into the lab to test?
John Brenkus
(1:42 PM)
Any of the legendary athletes who made our Greatest Athlete of All-Time list.
robert (DE)
what is the coolest segment you have talked about? and why?
John Brenkus
(1:43 PM)
Fans like to talk to me about any segment that involves me getting crushed. I'm not sure why, but the audience loves to see me get jacked.
Nick (NC)
When will you start bringing in players for the NFL draft combine?
John Brenkus
(1:44 PM)
We're already starting to get players now. Fortunately, the draft has been moved back, so the window is bigger this year.
Ryan (Dallas)
Will Sport Science work on anything for the NFC or AFC championships?
John Brenkus
(1:44 PM)
Yes, we're currently working on stuff.
John Brenkus
(1:45 PM)
More great Sport Science coming your way. I appreciate your support.