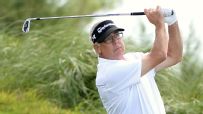 Kratzert won the 1968 Indiana Amateur title before becoming an all-American at Georgia in 1973-74.
Welcome to SportsNation! On Tuesday, golf analyst Billy Kratzert stops by to chat about that early part of the 2013-14 PGA Tour season.
Kratzert played on the PGA Tour from 1974-97, winning four tournaments with a career earnings of more than $1.4 million. His most successful stretch of his career came from 1977-80 when he finished in the top-12 on the money list in three of those four seasons. Kratzert turned to work in TV in 1997, providing commentary for several media outlets, including ESPN, TNT, Golf Channel, CBS and the PGA Tour Radio network.
Send your questions now and join Kratzert Tuesday at 1:15 p.m. ET!
More Special Guests: Previous chats | SportsNation
Buzzmaster
(1:09 PM)
Billy is here!
Ronnie (Chicago)
Billy, have you learned anything from the first few tournaments in 2014?
Billy Kratzert
(1:11 PM)
With this wrap around season, I kind of have to include what happened at the end of the last year. One thing I learned is Jimmy Walker is the player I thought he was going to be, after coming off of the Web.com years ago and then having the neck injury. All of a sudden, he's won a couple of tournaments.
Billy Kratzert
(1:11 PM)
The other thing is there are patterns that are followed. We've always talked about Tiger and his patterns. Charles Howell, he gets off to a hot start every year on the West Coast. I'm curious to see if he has a lull in the middle of the year.
Aaron (LA)
Billy, is it safe to say that unless Tiger piles up at least one major this year, if not two, that he realistically won't catch Jack?
Billy Kratzert
(1:12 PM)
Yeah, I definitley feel as though if he doesn't capture a major this year and get to 15, especially at the four venues they're playing, where he's won at three and finished second at the fourth. He's certainly not going to surpass Jack and I don't think he'll catch Jack.
Neal (LA)
What do you think of the new wrap around schedule?
Billy Kratzert
(1:14 PM)
I think it's good for the fall tournaments. They were lost in space a little bit. It was a way for guys that did not play well during the year to go out and play the fall series and gain some access or keep their card. We saw that basically every year. With the wrap around season, you don't have that luxury any more. You play until the Barclays and you are either in the 125 or you're not. With the wrap around season, they've made it more of one. I thought of it as the season, the FedEx Cup and then the fall where guys could play back into the 125. The blend just gives it the one-year feel.
Jeff (PA)
Tiger opens his season this week. What do you think we should be looking for from him?
Billy Kratzert
(1:15 PM)
This week you should look for a win. He's one 7 times on the PGA Tour there, plus the 2008 U.S. Open. Typically at the start of the year, he'll jump right out there and get a win about 50 percent of the time.
Larry (Miami)
Do guys come into the first tournament of the season knowing where their game sits or are they just as curious as us fans?
Billy Kratzert
(1:18 PM)
I think it's a mix. I think you have a guy, we saw like Zach Johnson, the attention he paid to his wedge game paid off. Then there are some guys who had equipment change and they're still in the testing period and trying to get everything to their liking. But I think with the money that they play for now and with the season how it is structured, with about 30 events leading up to the FedEx Cup, there isn't capturing anything after that. I think with the wrap around season, there will be more guys comfortable starting the calendar year. If you find yourself looking at your game and you're one of those players that's always sitting between 75-125, a couple of top 10s make a big difference in those early tournaments. With the Tiger money out there, there is so much for these guys to gain. If you're not out there working out, practicing, with the technology, you're just falling behind.
Jake (Billings, Mt) [via mobile]
Do you think Phil can win the U.S Open this year?
Billy Kratzert
(1:20 PM)
I do. I think his chance, even though he was the runner up in '99 to Payne Stewart, have increased with the restoration of Pine #2 with close to its original state. Now, with the bunkers, it puts a whole different spin on the approach shot. If you're coming out of the rough, with the greens, there is no way you can stick your ball on the green. Now, coming out of the bunker, you have a chance to hit a golf shot close to the hole. Before, it was complete guess work.
Larry (Boston)
Billy, everyone points to the fact that Tiger is still young and that Jack got his final major at 46. However, the truth is that Jack mostly stopped being competitive in majors at 40. Tiger turns 40 next year...how competitive do you think we'll see him being in majors the next couple of years?
Billy Kratzert
(1:22 PM)
I think you're going to see him there, especially since he's won on three of the four venues in 2014. He won at Liverpool. He won at Val Halla. He has four green jackets at Augusta, but he hasn't won in 8 years. But if you go down the odds list, you're going to see Tiger. I think his chances are better than they have been to win a major. I also think that majors 16, 17 and 18 will come a whole lot easier than 15, because you have a whole lot of other stuff coming with it.
Ryan (FL)
McIlroy's season last year, I think we can all agree was horrible. What happened?
Billy Kratzert
(1:27 PM)
You can say equipment and all of that. I just think that might have been 10 percent of it. I think the fact that all of a sudden he's this young man, everything that you see written about him, everything you hear, everything is how great this kid is. I think he is the kind of guy that needs some room. When you start squeezing him and narrowing him down to where he feels like he has just another thing to do, the more you bring that in, the more it confines what he does. He's a player like Mickelson, he's a free swinger. Say he plays 30 weeks, there will probably be 6 of those weeks where he's seemingly unbeatable. We saw it last year at Congressional. He'll run those streaks and that's how he plays. When you start to try to reign him in, that's when you see him slip. If I were his management group, I'd say he's not doing something.
Vic (Pittsburgh)
Everyone has an opinion, so what's yours? Do you think Tiger gets Jack's record?
Billy Kratzert
(1:28 PM)
Because of the four venues, if he wins one this year, I think he certainly gets to where he ties Jack's record. I don't think he'll break it. If he doesn't get one this year, he doesn't.
Kevin (VA)
considering all of the work you do in and around the game, are you able to just kick back and play a fun round or does that feel too much like work?
Billy Kratzert
(1:29 PM)
No, I can kick it back and play. In fact, I'll play Furyk's down in Ponte Vedra. I'll still go to pro-ams. I'll go to the Monday after the Masters and play.
Billy Kratzert
(1:30 PM)
I think golf is in such a good spot right now. You start talking about 40 year olds playing well, Mickelson, Furyk, Clarke. The transition that will happen between them and the younger players, it will be a gentle handoff and the tradition will continue on. There are so many good young men.