Chat with Addison Russell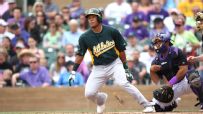 Despite a slow start in high Class A in 2013, Russell, after June 1, hit .319 in 299 plate appearances.
Welcome to SportsNation! On Wednesday, Oakland A's shortstop prospect Addison Russell stops by to chat about his No. 3 ranking in ESPN.com's top baseball prospects list.
The A's selected Russell, @Addison_Russell, out of Pace (Fla.) High School with the 11th overall pick in the 2012 MLB draft. In 55 games after being drafted, Russell played through Rookie ball and two levels of Class A. In 2013, he played most of the season at high Class A, where he had 17 home runs and 21 stolen bases, before being promoted to Triple-A.
Send your questions now and join Russell Wednesday at 3 p.m. ET!
More Special Guests: Previous chats | SportsNation
Buzzmaster
(3:02 PM)
Everyone, Addison should be here shortly for the chat. Keep sending in those questions!!
Buzzmaster
(3:06 PM)
Addison is here!
Ryan (CA)
when did you think you could make it in pro baseball?
Addison Russell
(3:07 PM)
I would say around my sophomore year in high school. I started doing showcases. Once I saw that I could perform at the same level as these other guys, I thought maybe I had a future in this.
Kyle (Oakland)
Do you like to keep things loose in the clubhouse or are you a little more serious?
Addison Russell
(3:08 PM)
I like to keep loose. I'm not the guy that gets everyone pumped up or anything. I also keep to myself as well. I'm more outgoing when I'm around people that I know well. Around the baseball guys, I'm a cool guy to be around.
Brad Washburn (Sacramento CA)
How hard is it for a player to adjust after being moved up like from rookie ball to Class A.. exc?
Addison Russell
(3:08 PM)
It's pretty tough because there are a lot more experienced players, guys who have played a lot longer than I have. You have to maintain your composure and make the right adjustments and hope it all works out.
Tom (CA)
What have you worked on the most this offseason?
Addison Russell
(3:09 PM)
I've been working on footwork in the field. Also, a lot of contact points at the plate. Working on BP and in the cage.
Andrew Z. (Struthers, OH)
Have you thought of how you'll break the news to your parents once you've been promoted to the majors?
Addison Russell
(3:10 PM)
No. I have not the slightest clue about that. Whenever that time might be, I'll have to call them and tell them. They'll be excited. That's a day I'm looking forward to. Only time will tell.
Vick (Philly)
how do you deal with the expectations of being such a highly ranked prospect?
Addison Russell
(3:11 PM)
You just go about your business the same way you have. You got there for a reason. You don't try to do too much. You go about your business that's gotten you this far. Stay composed and don't try to impress. Go out there play your game.
Taylor Hamilton (Napa, CA)
I know you love to fish when not out on the diamond... whats your best catch? Go A's!
Addison Russell
(3:11 PM)
I like deep sea fishing, but I don't have a boat. But I go fresh water fishing. My best is probably an 8-pound bass.
Kevin (GA)
What's been the biggest lesson you've learned since you got drafted?
Addison Russell
(3:12 PM)
Being patient in all aspects. Don't try to go up through the system fast. Be patient at the plate. Basically just relax and be patient. Things will take care of themselves in the long run. There's no reason to rush anything. Patience is a big key for this game, especially through the minors. Stay patient, handle your business.
Neal (NC)
If you oculd go pro in another sport, what would it be?
Addison Russell
(3:13 PM)
I would like to go pro in football.
Ricky-Run (Oakland)
So very excited to see you in ST! What would you say were the biggest jumps between Class A to AA, and then AA- AAA when facing pitchers? Off-speed stuff, better control of the zone, strategy, high velocity? Thanks for chatting!
Addison Russell
(3:14 PM)
Going into spring training, I think I'll see a lot of two-seams and cutters. Also, a lot of guys that can locate and command all of their pitches, the splitter, curveball. They can put it where they want more often than I'm used to seeing. As you go up the system, there is more command.
Larry (FL)
If you could play another position in baseball, what would it be?
Addison Russell
(3:15 PM)
I would like to try to play either second, first or somewhere in the outfield. But I like the middle of the diamond. It's a complete different angle from second. It's a complete different turn. And in the outfield, there is a lot of area to cover. I like to show off some speed and the arm a little bit.
Bryan (Ventura)
What was your reaction when the A's drafted you 11th in the 2012 draft?
Addison Russell
(3:15 PM)
It was just surreal. I didn't know really what to think or do. I remember that I just jumped out of my seat with my hands on my head. So many emotions at one time. I'm just blessed that Oakland gave me this chance. It's a great experience to go through.
Richard (CA)
how do you spend your free time in the offseason
Addison Russell
(3:17 PM)
Actually, I just like to go hit in the cage. Hang out with friends. Bowling. Fishing. I didn't go fishing this offsesaon, because I didn't have the time. I went hunting twice this offseason. I used to do a lot of roller bladding back in the day, but I don't think I need to do that any more, something might happen to my ankles.
BH (North Carolina)
Had a chance to meet many current or former A's? Any good advice/stories? We're rootin for ya!
Addison Russell
(3:18 PM)
Yeah, I got to meet a few guys. They all come with good, good advice. Rickey Henderson. A lot of guys aren't coming to me right now. But Rickey is the one that I've talked to the most. He's a good guy. He was a raw talent guy. Everything he says just makes sense.
James (Madison, Wi)
Hi Addison, I have read you remade yourself through training in high school to stay at shortstop. How do you tailor your training to such a physically demanding position as shortstop? Congrats on the accolades, I just traded for you in my fantasy league.
Addison Russell
(3:19 PM)
Really, I pack on weight easy, I can lose weight easy. I know that what I take in will impact how I look. I put myself on a light diet. I probably ran more than anything else. A lot of agility stuff. I didn't want to lose my quick first step.
Jason (Ellicott City, MD)
Do you seeing yourself stealing a lot in the majors?
Addison Russell
(3:20 PM)
That's something that I would like to incorporate into my game. Right now, I'm still trying to figure out what kind of player I am on the bases. Time will tell. But if a manager wants to say that you can be more aggressive on the base paths, then I'll steal more. But you have to be smart too. Make sure you're in a good position so your teammates can knock you in.
Mike (LA)
What kind of goals do you set for yourself this year?
Addison Russell
(3:21 PM)
Normally, statistic wise I normally don't set goals. Every season I go in with the mindset of play how you want to play and then look back on the season and ask did you have a good season. I'll go and play and then at the end I'll look back.
Sam Berman (New Orleans)
In your late season promotion to AAA last year it seemed as if you struggled to make contact, albeit in a very limited number of plate appearances. What did you learn from that experience and what adjustments to upper level pitching are you trying to make?
Addison Russell
(3:22 PM)
I was just the new guy there. It was the end of the season. The pitchers wanted to feel me out. They tried to get me to chase some pitches and I did. The adjustment there is be more selective. Stay calm. Hit your pitch.
Addison Russell
(3:23 PM)
I just want to say thank you to all of the fans that follow me. I appreciate the support and the feedback. Thank you. You can follow me @Addison_Russell on Twitter. Thank you to everyone.