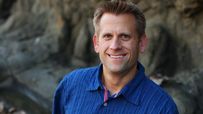 Welcome to SportsNation! On Wednesday, Sport Science host John Brenkus stops by to chat about his Emmy Award-winning TV show, as well as the "Newton Awards" that will rewards the best sports plays of 2013 based on scientific analysis.
Sport Science uncovers sports' biggest myths and mysteries by utilizing cutting-edge technology to measure momentum, friction and the laws of gravity. In addition to his role as host of Sport Science, Brenkus, a Univeristy of Virginia graduate, is also the director and creative director of all BASE Productions programs.
Send your questions now and join Brenkus Wednesday at 1:30 p.m. ET!
More Sport Science: Chats | Index | Videos | Blog | @Sport_Science
Buzzmaster
(1:29 PM)
We've got John!
Tommy (NYC)
What do you think will be your favorite part of the Newton Awards show?
John Brenkus
(1:33 PM)
The Newton Awards is an incredibly exciting show. Most awards shows use a voting process to determine a winner, not our show. We allow our scientific metric to determine the best plays of the year. I think you're really going to dig the show.
Jeff (TX)
did you create the categories for the awards after compiling all of the best plays?
John Brenkus
(1:34 PM)
We've been developing this idea for the last seven years. So choosing categories has simply evolved over time.
Mike (ATL)
did you have any say in the design of the NEwton trophieS? They look pretty cool.
John Brenkus
(1:36 PM)
The design of the trophies started with me simply saying let's fuse an apple with as many sports as we can. One of our graphic artists Doug Newton -- no relation to Sir Isaac -- came up with an amazing design. He really knocked it out of the park. The trophy is made by the same company that makes the Oscars and the Emmy. They think this is the best trophy they've ever made. No joke. They're submitting our trophy design for an award....stay tuned. Can our Newton Award win an award?
Peter (Boston)
Which Winter Olympic sport do you think depends on good science the most?
John Brenkus
(1:38 PM)
When you're dealing with events that are timed down to the thousandth of a second, science plays a giant role. Body position, design, fabric, etc. play a huge factor. Can you imagine missing out on a medal in the luge because you stuck your pinky out? It's that razor thin.
Neil (LA)
We saw MArshawn Lynch so quiet during Super Bowl week...was he that quiet during your time with him in the SS lab?
John Brenkus
(1:39 PM)
Not at all. Marshawn only wants to talk about the things that he wants to talk about. He's incredibly honest, sincere and a warm guy. You should check out his foundation -- the Marshawn Lynch Foundation. I think he just stayed quiet this season because he doesn't see much upside in talking just about football. You ask him about his foundation and he won't be able to stop talking.
John Brenkus
(1:39 PM)
Like he said. He just likes to "do his thing." I'm grateful to have made friends with him.
Regan (Dallas)
were there any plays when you first saw them that you instantly thought it had to be a Newton nominee?
John Brenkus
(1:41 PM)
We're very fortunate that we get to see every great play. When we see those plays that make us say "wow!" we know we're on to something. It's got to be a Newton nominee.
Eric (ATL)
When did you start coming up with the idea for Newton Awards show?
John Brenkus
(1:42 PM)
When we first launched Sport Science seven years ago, we always envisioned that our "season finale" would be the Newtons. No joke, we had this idea from the very beginning. This past year ESPN really loved the idea and got behind it full force. I think when you see it you'll really love it as much as we do.
Chris Fiegler (Latham,NY)
What is your Favorite Event in the 2014 Winter Olympics?
John Brenkus
(1:43 PM)
I am following the Olympics. I really enjoy all of the sports. It's awesome to watch the best compete in anything. I could watch Olympic snowball fighting ... hey, wait a minute. That's a pretty awesome idea.
Terry (Chicago)
How hard was it to judge an event like Joey Chestnut's hot dog eating against a throw in from the outfield by Yasiel Puig?
John Brenkus
(1:44 PM)
We've become quite adept at comparing different sports against each other. We had to do it for Greatest Athlete of All-Time. And we employed the same process for the Newtons.
Karl (Denver)
Did you and your team have to create a new metric for these plays? How did you go about doing that?
John Brenkus
(1:45 PM)
The Greatest Athlete of All-Time project really sharpened our metric and we employed a very similar approach for the Newtons.
Mikey (NJ)
Do you have a personal favorite play from last year?
John Brenkus
(1:46 PM)
It's really hard for me to pick just one. They're all so cool in their own right. All of the Newton nominees are amazing.
Greg (DC)
how hard was it to come up with the list of nominees for the Newton Awards?
John Brenkus
(1:47 PM)
It's a process, but we don't do it all at once. It occurs over time, so narrowing the field is an organic process.
Ryan (LA)
Do you think Skittles can really impact Marshawn Lynch's performance that much? Could a large part just be psychological?
John Brenkus
(1:48 PM)
No doubt that sugar works. But you're right, the physical effects aren't probably as great as the psychological effects. With that being said, it does work both physically and psychologically. If it works ... it works!
Eric (Ontario)
How often do you attempt the tests you put the athletes through? What is your favorite challenge?
John Brenkus
(1:49 PM)
We always try out our tests prior to the athletes coming in. Honestly, the whole process is my favorite part. Impossible to pick just one.
John Brenkus
(1:50 PM)
Thanks so much for all of your support. Be sure to tune into the ESPN Sport Science Newton Awards that debuts Sunday, 5 p.m. ET on ESPN. It will also air on ABC on Saturday, Feb. 22. Check listings for 14 additional airings on the ESPN platforms.