Chat: Boxers Algieri, Taylor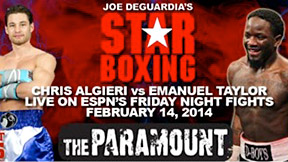 Welcome to SportsNation! On Wednesday, we're going inside the boxing ring when Chris Algieri and Emanuel Taylor stop by to chat about their junior welterweight fight on this week's ESPN2's Friday Night Fights.
Algieri (18-0, 8 KO) and Taylor (17-1, 12 KO) square off live from The Paramount in Huntington, N.Y., and the show starts at 9 p.m. ET on ESPN2.
Algieri (chats at 3 p.m. ET), @ChrisAlgieri, fights in his hometown for his eighth straight fight, all at The Paramount, a place where he won three times in 2013. In just six years since turning pro, Algieri has fought 18 times.
Taylor (chats at 3:30 p.m. ET) makes his second appearance on "Friday Night Fights" in the last year, having fought his last bout in March 2013, scoring an eighth-round TKO. His other 2013 fight came in January at The Paramount, which he won via sixth-round TKO.
Send your questions now and join the chat Wednesday starting at 3 p.m. ET!
More Special Guests: Previous chats | SportsNation
Buzzmaster
(3:01 PM)
Chris is here!
Carl (Denver)
What is Huntington like as a fight town?
Chris Algieri
(3:03 PM)
It's grown tremendously over the past few years since I've been fighting there. I've fought there eight times and we've had eight sell outs. They come out in droves on fight nights.
Ivan (TX)
A lot of your fights go the distance...is endurance something you work on a lot?
Chris Algieri
(3:04 PM)
Absolutely. Conditioning, I think I'm one of the best out there. We work hard to make sure that I'm always ready fro 10 rounds, 12 rounds, whatever it takes.
Dave (NYc)
Chris, how great is it for you to fight in your home town?
Chris Algieri
(3:05 PM)
It's great. I've been lucky. The shows keep getting bigger and bigger. Now that we have national exposure, it's getting even better. It's great to bring boxing back to Long Island.
Kevin (NY)
What do you see as your advantages in the ring on Friday?
Chris Algieri
(3:05 PM)
Definitely my endurance and my boxing ability. My ability to use my feet, cut angles. And the fact that I get stronger as the fight goes.
Nick (TX)
How comfortable do you feel at The Paramount?
Chris Algieri
(3:06 PM)
When you fight at a venue that's 10 minutes from where you live and in your hometown, you know exactly what to expect. I've fought there so many times, I have it down like clockwork.
Vic (Philly)
Do you prepare any differently for a fight on a Friday versus Saturday/
Chris Algieri
(3:07 PM)
That's a good question. I feel a difference. I do take a lot of notes and I refer back to them. It changes up the schedule a little bit, with my coaches and the schedule. But at the end of the day, it's not going to make any difference.
Len (NYC)
since you're fighting so close to home, do you still travel for training camp/
Chris Algieri
(3:07 PM)
Yes, I did. I spent several weeks out in Las Vegas working with fighters out there. I feel like it's important to not get too comfortable and get out of your zone to reach you max potential.
Rick (NJ)
How big do Long Islanders support local athletes?
Chris Algieri
(3:08 PM)
The support has been tremendous. Boxing was kind of dead here for a while, but the last two years, The Paramount has brought boxing back. I fight one day and the next I'm getting texts asking when is the next fight. It's coming back.
Harry (Long Island)
Hey, Chris! Is there any added pressure in not only stepping up in competition, but also headlining an ESPN card?
Chris Algieri
(3:09 PM)
There is pressure in every fight. But this is what I've been asking for for a while now. Now it's time to go out and execute. I'm definitely more excited than nervous about this.
Luke (Chicago)
What do you like to do on the day you fight?
Chris Algieri
(3:10 PM)
I do the same thing every fight. I wake up, I drink a protein shake. I run dashes to open up my lungs and break a sweat to make sure my body doesn't get too relaxed. Then I just prepare for a battle.
Eric (FL)
You fought three times last year....do you like staying that active as a fighter?
Chris Algieri
(3:10 PM)
I actually would like to stay more active. If it were up to me, I'd fight every 6 weeks or even every month. I'd like to fight 4-5 times per year, if it were up to me.
Cyrus (Charleston, SC)
Did you do anything different in preparing for a fight against a power puncher like Taylor? Feeling the similarities to the Garcia-Mathyesse fight in which the more conditioned boxer used his skills and smarts to win, and that boxer is you Chris.
Chris Algieri
(3:11 PM)
Defense is a big part of my game and every fight. So, not really. My defense has been tight, I haven't been hit by too many big shots. So stick to what we've been doing.
Mike (NY)
How many family and friends will you have at the fight?
Chris Algieri
(3:12 PM)
Oh man. It's hard to put numbers to it. From my hand, personally, I would say we sold over 300 tickets. It's a lot. It's hard to say.
Willie (LA)
the paramount is a small arena...do you like fighting in a small environment like that?
Chris Algieri
(3:12 PM)
It doesn't really make a difference to me. I don't prefer one to the other. A small arena is good for the fans. There's not a bad seat at The Paramount. You get to be right in the action.
Neil (LA)
is it more important for you to close up around you during training camp, since you're fighting close to home to try and avoid distractions?
Chris Algieri
(3:13 PM)
Yeah, absolutely. As the fight approaches, I look internally and shy away from those around me and focus on the task at hand. You have to do that when you fight in your home town and you see people around all of the time.
Kris (LI)
what have you been working on to improve the most as a fighter?
Chris Algieri
(3:14 PM)
I've really been working on technical boxing. Using my jab. Keeping my defense tight. Setting up my power punches. Using my jab. My coach is big on the technique.
Jay (Olympia) [via mobile]
Who will you fight next after this fight?
Chris Algieri
(3:15 PM)
I don't know. I'm really focused on Taylor. But me having a high ranking in the IBF And Lamont Peterson having just fought, that would be a good fight. Maybe even this year.
Keith (DC)
Do you like to come out aggressive or do you feel things out the first few rounds?
Chris Algieri
(3:15 PM)
I like to set the tone, but I also am smart about it and try to see what my opponents motives are. Find a rhythm. Boxing is a rhythm sport. You can't see your opponent's rhythm from watching tape.
Harry (Long Island)
Chris, you spar with Marcus Maidana. How have you held up to the power and pressure of that powerhouse?
Chris Algieri
(3:16 PM)
Yeah. I did 40-50 rounds last year with Marcus. He's a huge puncher, the biggest I've been in with. I felt comfortable in there. Got some good rounds with him. It was really good work.
Kerry (TN)
what's the atmosphere like at The Paramount?
Chris Algieri
(3:17 PM)
It is electrifying there. The crowd ebbs and flows during the fight. The buildup is tremendous.
Chris Algieri
(3:17 PM)
Keep checking in. Tune into Friday Night Fights on ESPN. It will be a good show.
Buzzmaster
(3:17 PM)
Thanks Chris!
Buzzmaster
(3:18 PM)
We'll have Emanuel coming up in the next 10 minutes!
Buzzmaster
(3:33 PM)
Emanuel Taylor is here!
Kevin (NYC)
Do you think it will be hard fighting someone in their hometown?
Emanuel Taylor
(3:34 PM)
It will be real interesting. For the crowd. To see that. I've fought there before. They loved me up there. So it will be real interesting.
Peter (Baltimore)
You've gotten KOs in a lot of your wins...is that somehting you look for?
Emanuel Taylor
(3:35 PM)
No. It just happens. I break down all of my opponents and force them to quit. Get that knockout.
Chris (NY)
what did you learn the most from fighting at the paramount last year?
Emanuel Taylor
(3:35 PM)
I learned that the ref is quick to stop the fight. As soon as you get hurt the ref will jump in to stop the fight.
Kellen (ATL)
what is your advantage in the ring?
Emanuel Taylor
(3:36 PM)
My power. My skills. I'm going to bring the heat to him. I've been boxing longer than him. He's just been doing kickboxing. So my skills will bring me a long way, and my power.
Son Of Valero (Youngstown)
Emmanuel, what is your game plan? Are you going to pressure him? He got KOd in the WCL. Chris has great stamina and can box, do you think you can make him fight you?
Emanuel Taylor
(3:37 PM)
I'm definitely going to get him to fight by pressuring him. That's not a problem for me. He's going to fight my fight.
vince (philly)
Do you think having fought previously on FNF will be your advantage?
Emanuel Taylor
(3:38 PM)
Oh yeah. Definitely. I've fought on that before. I've been on that stage. I think that's an advantage for me.
Greg (Houston)
What sports outside of boxing do you like to watch?
Emanuel Taylor
(3:38 PM)
I like football. I like playing footblal.
Kevin (Miami)
what's your diet like during trianing camp/
Emanuel Taylor
(3:39 PM)
It's a lot of whole grain food. Chicken. Baked food. Broccoli. The right, healthy food to eat. A lot of fruit.
Nick (TN)
How long was your training camp?
Emanuel Taylor
(3:39 PM)
Training camp was about six weeks. It was pretty long. I worked on my jab the most. Using my jab to get inside.
Neal (Miami)
you've been pro about five years...what is the biggest lesson you've learned?
Emanuel Taylor
(3:39 PM)
The biggest lesson was never it in the judge's hands.
Larry (NY)
do you think you'll move up in weight?
Emanuel Taylor
(3:40 PM)
After I win a world title at 140, I'll probably move up to 147 and get a world title there too.
Henry (Buffalo)
what is it like knowing that you'll be fighting on national TV?
Emanuel Taylor
(3:40 PM)
It's always the best fighting on TV. That's what everyone wants to do, fight on TV.
Tommy (Boston)
During a fight, when do you start to think that you might be able to get a KO?
Emanuel Taylor
(3:41 PM)
I don't really know the round. But when I see him getting weak. I can see it in his face. In his reactions. So I try to go for the KO then.
Julian (Dallas/TX)
How many more fights after this one do you think you will need before you are ripe for a title shot?
Emanuel Taylor
(3:42 PM)
Hopefully after this fight, my next one will be for a title.
Aaron (FL)
You've had a lot of fights early in your career, was that your plan when you started?
Emanuel Taylor
(3:42 PM)
Yes, that was my plan. Get a lot of fights in the beginning, get my record up and get me to the point I am now.
Aaron (Chicago)
who is your favorite boxer of all time?
Emanuel Taylor
(3:42 PM)
It's Floyd Mayweather. I love watching him.
Ryan (LA)
do you feel you have a disadvantage since your opponent has fought so many times at the paramoutn theater?
Emanuel Taylor
(3:43 PM)
No. No. I'm not worried about any of that. I know it's his hometown, but I know what I have to do to get the W. It's just me and him in the ring.
Bob (Freeport)
You are a big step up in competition for Algieri. Do you think he will be able to handle your power and aggression?
Emanuel Taylor
(3:44 PM)
No. Not at all. Nah. I'm very strong. I feel like I can get him out of his comfort zone.
Emanuel Taylor
(3:45 PM)
Everybody tune into my fight. Friday Night Fights on ESPN2. Main event. Chris Algieri. Undefeated from Huntington, NY. Against me, No. 4 in the world.