Chat with Michelle Beadle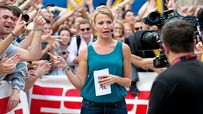 Welcome to SportsNation! On Tuesday, we're welcoming back an old friend when Michelle Beadle drops by to chat as her return-to-ESPN week continues.
After nearly two years away, Beadle, @MichelleDBeadle, returns this week to ESPN, and her former role of co-hosting SportsNation (weekdays, ESPN2, 3 p.m. ET). She will host alongside Marcellus Wiley, @marcelluswiley, and Max Kellerman, @Max_Kellerman.
Beadle first joined ESPN in 2009, prior to the launch of SportsNation. She previously worked for "The Michael Kay Show" on 1050 ESPN New York and as a YES Network reporter for the New Jersey Nets. Prior to returning to ESPN, the former Texas resident worked for the NBC Sports Network.
Send your questions now and join Beadle on Tuesday at 11:30 a.m. ET! And check out our new Instagram account!
More SportsNation: Facebook | @MichelleDBeadle | @SportsNation | SportsNation.com