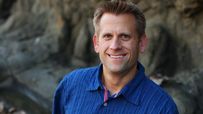 Welcome to SportsNation! On Wednesday, Sport Science host John Brenkus stops by to chat about his Emmy Award-winning TV show.
Sport Science uncovers sports' biggest myths and mysteries by utilizing cutting-edge technology to measure momentum, friction and the laws of gravity. In addition to his role as host of Sport Science, Brenkus, a Univeristy of Virginia graduate, is also the director and creative director of all BASE Productions programs.
Send your questions now and join Brenkus Wednesday at 3 p.m. ET!
More Sport Science: Chats | Index | Videos | Blog | @Sport_Science
Buzzmaster
(3:01 PM)
John is here!
Ryan (TX)
Do you think 40 times are pretty useless as a measuring tool for nfl players?
John Brenkus
(3:01 PM)
Yes, 40 times are fairly irrelevant, especially conducted the way the NFL does them. No player in the NFL has ever run 40 yards in a straight line during a game in their underwear.
Kevin (FL)
How willing was Tom Izzo to doing your tests?
John Brenkus
(3:02 PM)
Very willing!
John Brenkus
(3:02 PM)
He's a great guy. Really inspirational.
greg (LA)
Andrew wiggins announced he's going pro. So, based on your analysis of andrew wiggins, how does he compare to other nba players that you've looked at?
John Brenkus
(3:03 PM)
His skill set is clearly off the charts. How he'll fit into the NBA remains to be seen. Depends so much on the team, coach, system, etc.
Vick (Philly)
is there anything you could do to take what you learned through Izzo's experiment and forecast the long term impact coaching has on someone?
John Brenkus
(3:03 PM)
The Izzo experiment shows you need to stay in great shape to be an effective, great coach. Otherwise the impact could be hazardous.
Nick (NC)
how much fun were the newton awards?
John Brenkus
(3:04 PM)
Honestly, the most fun I have ever had. It was really exciting to create something new. Looking forward to doing it for many more years to come.
Kris (LA)
you've had several nfl prospects into your lab to analyze....what do you think is the most important event at the combine?
John Brenkus
(3:05 PM)
The NFL combine is looking for the best. Look at we do ...
Darren (South C.)
in light of tiger woods back injury...have you ever looked at how the torque of his swing impacts his body? If so, what did you find?
John Brenkus
(3:06 PM)
Yeah, we did several segments on Tiger and how his aggressive swing can effect his body. Long story short, it clearly takes a toll as evidenced by his many injuries.
John Brenkus
(3:06 PM)
Hopefully he'll be able to come back. The sport is much better with him.
David (Chicago)
how did it develop that you got Coach Izzo for your segment?
John Brenkus
(3:06 PM)
It was a joint effort between us and Nightline. As it turns out, Izzo is a big Sport Science fan!
Nick (Columbus)
Who has been the most impressive athlete you've ever tested?
John Brenkus
(3:07 PM)
We've done over 700 segments for Sport Science. Hard to pick just one. Not a cop out answer ... just the truth.
David (tx)
how interesting was it to do the tests on Tom Izzo?
John Brenkus
(3:08 PM)
The technology is always fascinating to me. The biggest thing that I learned was that he's actually in good shape. Every time his heart rate spiked, it returned to normal in 30 seconds. A sign he's clearly in good shape.
Harry G (Washington DC)
What has been your favorite episode thus far?
John Brenkus
(3:08 PM)
It's always hard to pick just one. Coming up we have some segments with Rory McIlroy that we just did that I think you'll really like.
Mac (carlisle pa) [via mobile]
Is a batter in more danger than a lacrosse goalie?
John Brenkus
(3:10 PM)
Well, a goalie is wearing a lot of pads. On the other hand, a pitcher is not supposed to hit a batter. It depends on how you look at it. The lacrosse ball, when shot at full force from point blank range is moving much faster than any major league pitch. So, it can certainly do more damage on exposed bodies.
John Brenkus
(3:10 PM)
As to which one is actually more dangerous? It depends on how you look at it.
Greg (Miami)
have you done anything on Lionel MEssi or other soccer players? How do they compare?
John Brenkus
(3:12 PM)
Soccer players are amazing athletes. Like all other elite athletes in sports that are as demanding as soccer, huge respect for soccer players.
Jason (NY)
will we see you take on any athletes any time soon?
John Brenkus
(3:13 PM)
Just took one on, who set a record for throwing me the farthest. You'll have to tune into our NFL Combine show to see who.
David (LA)
any episodes on the Final Four?
John Brenkus
(3:14 PM)
Stay tuned.
John Brenkus
(3:14 PM)
Thanks so much for all of your support. More great Sport Science segments coming your way.