Chat: Sergey Kovalev, Cedric Agnew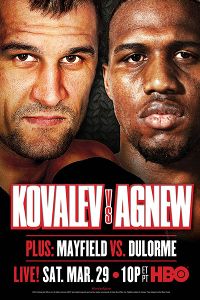 Welcome to SportsNation! On Wednesday, we're going inside the boxing ring when Sergey Kovalev and Cedric Agnew stop by to chat about their WBO light heavyweight title fight this weekend.
Kovalev (23-0-1, 21 KO) takes on Agnew (26-0, 13 KO) for Kovalev's championship belt. The Ballroom in Atlantic City, N.J. hosts Saturday's HBO Boxing After Dark at 10 p.m. ET/PT.
Kovalev (chatting at 3 p.m. ET) is making his second title defense, after winning his belt in August. Over the last two years, he has won all seven of his fights via knockout. Agnew (chatting at 3:30 p.m. ET) is in his first international title bout and his first fight in 2014 after winning his only 2013 contest in April.
Send your questions now and join the chat Wednesday at 3 p.m. ET!
More Special Guests: Karim Mayfield-Thomas Dulorme chat | Previous chats | SportsNation
Buzzmaster
(2:57 PM)
Sergey Kovalev will be here in a few minutes to chat about his title fight this weekend!
Buzzmaster
(3:07 PM)
We've got Sergey!
sammy (Seattle)
what's your favorite part about fighting in the United States?
Sergey Kovalev
(3:09 PM)
The big arenas. A lot of people watching. The crowd is cheering a lot. The fans are all over the places near the fight. There is a lot of big support and a lot of TV coverage. This is a mega boxing country.
manny (Oakland)
what keeps you motivated in continuing to get into the ring?
Sergey Kovalev
(3:10 PM)
When I won my first championship title and became world champion. I just wanted to continue to be champion. I want to be the best in my weight division. That's what motivates me the most.
Mike (Chicago)
what's your diet like when you are training?
Sergey Kovalev
(3:11 PM)
My diet is very strict. A lot of fish, vegetables. Only healthy food. Drink a lot of food. No sweet drinks. No sparkling drinks. A lot of water. Fruits. Vegetables. Proteins. Healthy stuff.
Erik (Denver)
you usually fight 3 or 4 times per year...do you like fighting that much?
Sergey Kovalev
(3:12 PM)
Yes, I want to be as active as possible. 3-4 times per year is a good pace for being the champion. My fights end in the early rounds, but you never know, you might have to go 12 rounds. If you do 12 rounds four times per year, that would be a lot of rounds.
Peter (DC)
do you always go into a fight looking for a KO?
Sergey Kovalev
(3:13 PM)
Never. I always to go the fight to box. I never put myself for one punch to knock out my opponent. I go to box and fight. If I can see during the fight that I can get the KO, I take advantage of it.
Jason (Dallas)
this is your first time fighting in atlantic city....what's it like as a boxing city?
Sergey Kovalev
(3:13 PM)
I've been in Atlantic City before. I came here for another fight. I've seen the city. I've seen the city for boxing. It was snowing yesterday and it's cold today. I don't see as much of the city when I am the one fighting.
Greg (la )
how do you think your experience in championship fights will help you in the ring this weekend?
Sergey Kovalev
(3:14 PM)
There is always time for everybody. I also once fought for the first time for a title. The people coming to fight for a title for the first time aren't coming to lose. I am going to defend the title as well as to win the title. I can't let anybody take my title away.
Steven (Detroit)
how do boxing fans in the United States compare to your home country?
Sergey Kovalev
(3:16 PM)
I didn't have much chance to fight as a pro back in my country, so I can't compare much. But with some fights in Russia, they sell out with 30,000 people. I was on a TV show and I was asked about the last time Roy Jones fought in Moscow and there were a lot of fans that came. I can't compare it myself, but I think now a days, the boxing fans in Russia are waking up.
Jeff (Miami)
What got you into boxing?
Sergey Kovalev
(3:16 PM)
When I was a kid, 11 years old, my classmate joined a boxing gym. He asked me if I would like to go and be a part of it. That's how I ended up in the sport.
Evan (Houston)
what's the first thing you will want to eat after a fight?
Sergey Kovalev
(3:17 PM)
I always eat very good after the fight. Food is not the most important thing in my life. I think about the victory more than the food.
Tito's Punch (Puerto Rico)
Have you studied Agnew? If so what do you think you can exploit
Sergey Kovalev
(3:18 PM)
There is no tape of this guy. I don't know where he's fought or been fighting. I don't think he will blindside me.
Sergey Kovalev
(3:19 PM)
When I was a kid, I liked Roy Jones a lot. To watch him and follow his boxing. We couldn't see too many fights when I was growing up. Probably one of the guys that I did follow was Jones. And then I just concentrated on myself. I never wanted to grow up to just be like another fighter like Roy Jones or Floyd Mayweather. I wanted to be Sergey Kovalev.
Gregory (Washington)
What's it like having your fights broadcast on national TV where fans everywhere can watch?
Sergey Kovalev
(3:20 PM)
It feels really great. It feels good. This is what my dream was all my life. It looks like my dream comes true. And it's not just in this country. It's broadcast all around the world. It means a lot to me to be on the network's fight like this.
Julian (Dallas/TX)
What are your advantages in this fight?
Sergey Kovalev
(3:21 PM)
It's hard to predict with boxing. I don't know. I'm going to go step by step. I can't say what it will be: my aggressiveness, my speed, my power. I will see what happens in the ring. Fight to fight is different. Opponent to opponent is different.
Tito's Punch (Puerto Rico)
What do you consider to be your most devastating punch?
Sergey Kovalev
(3:22 PM)
I think they're all powerful. I never considered myself a big puncher. I don't know where it came from. I still don't consider myself a big puncher.
Vince (TX)
how will you celebrate a win on Saturday?
Sergey Kovalev
(3:23 PM)
I will go get my paycheck and go to bed.
Matt (AC)
I know you are singularly focused on Agnew but does the news of Stevenson signing to showtime disappoint you? You seemed to really want to fight him.
Sergey Kovalev
(3:23 PM)
Absolutely not.
Nick (NC)
What do you hate the most about training camp?
Sergey Kovalev
(3:25 PM)
There isn't much difference when I'm not training. I'm still going to the gym. I'm still running. I don't do everything every time in the gym. When I start training, I do the same thing every day. Same time eating, same time running, same time go to the bathroom. The discipline can get to my head. But it's good to get a vacation. Go to the beaches with my wife. I like to travel. When you're preparing for the fight, you're thinking about it. There is pressure. But other than that, nothing really changes in my life.
Sergey Kovalev
(3:26 PM)
Tune in Saturday, March 29 on HBO. Don't reach for popcorn; don't reach for the beer or else you'll miss something. It will be a good show. I promise.
Buzzmaster
(3:26 PM)
Thanks for chatting Sergey!
Buzzmaster
(3:26 PM)
Next up is Kovalev's opponent Saturday night -- Cedric Agnew. He should be here in a few minutes!
Buzzmaster
(3:36 PM)
Cedric is here!
TexMex (Spain)
On average, how many rounds to spar going into a fight?
Cedric Agnew
(3:37 PM)
I couldn't even tell you. It's almost unlimited. There is a lot of sparring. Maybe 50-70 rounds at least.
Sam (Boston)
how do you prepare for a fight on the day of the fight?
Cedric Agnew
(3:37 PM)
You pretty much don't want to do too much of anything. I like to sit back and relax and visualize myself in the ring. Visualize myself winning the fight and what I need to do.
Em [via mobile]
How much do you train during the week? And what do you do in training? I understand if you can't answer this.
Cedric Agnew
(3:38 PM)
I train in three-hour sessions and get around 2-3 sessions per day.
Ryan (FL)
Do you set up a KO punch or is it something that just happens?
Cedric Agnew
(3:39 PM)
It is just something that happens. You can't just go out looking for the KO. You take it as it comes to you.
Nicky (Jersey)
How do you feel about fighting in Atlantic City? And for a title??
Cedric Agnew
(3:40 PM)
It feels real good. Fighting for a world title, it couldn't be more perfect timing. It feels good.
Mason(Va) [via mobile]
What do you like to do during your down time?
Cedric Agnew
(3:40 PM)
Just relax. Relax. Talk to family. Talk to my kids. Hang out. Shoot pool. Go to the movies. Things like that.
Gabriel Corona ca [via mobile]
Is there fighter from the past you would've loved to fight?
Cedric Agnew
(3:40 PM)
Oh, Roy Jones.
Jeff (VA)
How long was your training camp for this fight?
Cedric Agnew
(3:41 PM)
About 10 weeks.
Tito's Punch (Puerto Rico)
What do you think is your advantage coming into this fight?
Cedric Agnew
(3:41 PM)
Being a smarter fighter.
Jesse S (Minneapolis)
Cedric, your opponent has a long history of knock outs. Is your fight plan to take this fight into the late rounds seeing as no other top level fighter has done that with Sergey?
Cedric Agnew
(3:42 PM)
That's my plan for every fighter. I go in looking to fight 12 rounds. I go in prepared to fight 12 rounds in each and every fight.
Red (NJ) [via mobile]
Do you plan on going for other world belts to be undisputed or possibly conquering other weight classes?
Cedric Agnew
(3:43 PM)
Just my weight class at this time. I'm not thinking about other weight classes. I can make the weight that I'm at and not struggling to make weight at all.
Johan [via mobile]
How did you get into boxing? Any advice for the young starting boxers out there?
Cedric Agnew
(3:43 PM)
My father got me started. Me and my other siblings started at the age of 8. He started me.
Junior (Jupiter, FL)
How has your training changed for this fight since it is a major step up in class?
Cedric Agnew
(3:44 PM)
My training didn't change just because my opponent is good. My training changed because every fight is different.
Billy (CA)
did you focus on anything in particular in preparations?
Cedric Agnew
(3:45 PM)
No, not really. Just thinking and thinking and thinking and being smart. Being smarter than my opponent. Trying to out think people.
Ryan (TX)
How does it feel to be a big contender in your division?
Cedric Agnew
(3:45 PM)
It feels great. But I don't want to just be a contender, I want to be a world champion.
JL (Baguio)
it seems like that you don't have a moniker.. do you got something in mind?
Cedric Agnew
(3:46 PM)
Everybody calls me L-O-W.
Tito's Punch (Puerto Rico)
What do you feel you have to be mindful of in this fight so that you do not fall into Sergey's gameplan?
Cedric Agnew
(3:46 PM)
Just out thinking my opponent. You have to be thinking in there all the time. Constantly thinking.
Brian (DC)
take us right up till the final seconds before the opening bell rings, what thoughts are going through your head?
Cedric Agnew
(3:47 PM)
Being smart. Thinking about the game plan.
Cedric Agnew
(3:48 PM)
Thank you for supporting me. I'll keep on doing what I do. Keep fighting hard.