Chat with Timothy Bradley Jr.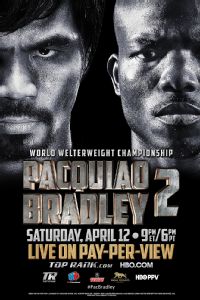 Welcome to SportsNation! On Wednesday, we're going inside the boxing ring when Timothy Bradley Jr. stops by to chat about his title defense this weekend.
Bradley (31-0, 12 KO) takes on Manny Pacquiao (55-5-2, 38 KO) for Bradley's WBO welterweight belt. The fight will be live from the MGM Grand in Las Vegas Saturday at 9 p.m. ET/6 p.m. PT on HBO PPV.
Bradley and Pacquiao square off in a rematch of their June 2012 fight that Bradley won in a split decision, a result ESPN.com's Dan Rafael called "one of the worst" in boxing history. Since that fight, Bradley has beaten Juan Manuel Marquez and Ruslan Provodnikov and is ESPN.com's No. 3 Pound-for-Pound fighter.
Send your questions now and join Bradley Wednesday at noon ET!
More Boxing: Pacquiao chat wrap | Previous chats
Buzzmaster
(12:03 PM)
Timothy will be here shortly to take your questions!
Buzzmaster
(12:21 PM)
OK everyone. I've been told that Bradley will be here in 5 minutes or less.
Buzzmaster
(12:21 PM)
Here he is!
KR (Omaha, NE)
Sup champ, not to give away too much of your game plan but will you be looking to counter mostly or you looking for a brawl?
Timothy Bradley Jr.
(12:22 PM)
I am going to look for everything. It all depends on how Manny comes out. Everyone knows I can box. I can brawl. It all depends on what Manny brings to the table and I can adapt.
Derek (Brooklyn)
Tim why do you want Pacman do be more vicious? Isn't it better to let sleeping dogs lie?
Timothy Bradley Jr.
(12:23 PM)
No. I am not worried about that at all. THat's what I want. I trained extremely hard for this fight. Bring it. I'm in this sport to be the best. I want to fight the best Manny. I'm not afraid of anyone.
Jeff (VA)
How do you feel about the fact that it seems the fans still think you're the underdog in this fight, even though you won the last time?
Timothy Bradley Jr.
(12:24 PM)
I don't really pay too much attention to it. Manny has a lot of fans. A lot of people have his back. He's gotten there by fighting the best. He's fought everybody. And he's beat them. You have to respect the fact that he's built his career and fans will always back that guy. I like being the underdog.
Julian (Davenport, IA)
Kind of random, but I know you stick to a strict vegan diet throughout your training camp. What is the first type of junkfood you eat after the fight?
Timothy Bradley Jr.
(12:25 PM)
Oh man...I have plans to eat chicken and waffles after the fight. I'm pretty sore after the fight, so I try to eat something light and healthy. Light and simple. Soup or salad. But on Sunday, the chicken and waffles.
Jeff (Chicago)
Will you be wearing socks for this fight?
Timothy Bradley Jr.
(12:26 PM)
Haha! Yeah, I'm doubling up on my socks this time around. That's what I did. I read a book on Mike Tyson the last time and read that he didn't wear socks. He wanted to grip the canvas. I tried it during camp the last time and it felt natural. I did it in the fight and it backfired.
Curtis (Springfield, Va)
What are you going to do differently this fight than the last fight?
Timothy Bradley Jr.
(12:27 PM)
I'm going to be ready for the pace this time. I was tired after about four rounds the last time. He brough an intensity that I had never felt before. He keeps you on your toes. You have to be ready. Being completely dedicated is the key. Everything else falls into place. I know how to fight, brawl. I know how to win.
Kevin Kirkpatrick (Silver Spring, MD)
Bradley, what do you have to do to convincingly beat a motivated Pacquiao this upcoming fight?
Timothy Bradley Jr.
(12:27 PM)
Knock him out.
John (nj) [via mobile]
How many total miles a week do you run?
Timothy Bradley Jr.
(12:28 PM)
I do a lot of running early on. I do anywhere from 6-8 miles. Then in the middle of the camp. I pick up the pace and go about 5 miles. As I get older, I've found that I can run faster and run less. Speed work is what I do more, because I hate it. I hate doing sprints. That's a pain, but I do it a lot, because I hate it.
4real (memphis)
After you beat Pac Man ,who's next?
Timothy Bradley Jr.
(12:29 PM)
I don't know. I don't know who is next. That's something I'm going to have to sit down and think about. Truthfully, Pacquiao is the only thing I'm thinking about in this moment. That's pretty much it.
Carl Llamoso (Hillside, New Jersey)
Have you added strength on your punches? Read an article that you'll knockout Pacquiao with a left-hook. Any truth to this?
Timothy Bradley Jr.
(12:29 PM)
Absolutely. That's what we've been working on, man. Strength and power. A lot of strength training and power drills. We want to knock this guy out. We're going for the knockout. No playing around.
hasan javed (uk bradford)
hey tim , how are you going to counteract manny pacquiao suprise attack, are you looking to exploit manny pacquiao defence by fighting in the pocket
Timothy Bradley Jr.
(12:30 PM)
He's quick. But I have a great defense. I have a great defense and great footwork. I just have to break his timing.
Timothy Bradley Jr.
(12:30 PM)
I'll counter right back.
Joydeep (Philippines)
Do you think you gave away a bit of your strategy in the 24/7 tv program?
Timothy Bradley Jr.
(12:31 PM)
I haven't watched any of the programs. I've been pretty busy just doing my training. I haven't seen any of the shows. I don't know if I gave anything away.
shawn armstrong (Redlands , Ca)
whats your pre-fight meal ?
Timothy Bradley Jr.
(12:33 PM)
Pre fight meal is always pasta. Pasta. Pasta. I eat pasta for a whole week straight. Before the fight, from Monday to Saturday. Lots of water. To fuel myself. Tons of fruit. I just might eat a little bit more.
Timothy Bradley Jr.
(12:34 PM)
I don't shower either the whole week. That's a ritual. I don't shower until Saturday right before the fight. I'll jump in and clean up. And then I pray for an hour.
Timothy Bradley Jr.
(12:34 PM)
Meditate and pray for an hour.
Cesar (Salt Lake City )
Champ, apart from the killer instinct, do you still see Pacquiao the same way today as you did two years ago or has he declined?
Timothy Bradley Jr.
(12:35 PM)
I think he is the same as far as his abilities go. But I question his passion. His passion for the sport. He's in a different place than he was years ago. He's different. He still has the ability, but I question his passion for the sport.
Joydeep (Philippines)
Are you going to get all up in Manny's face during the weigh in like last time?
Timothy Bradley Jr.
(12:35 PM)
Nah.
Timothy Bradley Jr.
(12:36 PM)
Nah, I'm not planning on getting all up in his face. I'm much more seasoned now. I won't show any emotion. I don't want to give away anything. No emotion. I just want him to try and guess what I'm thinking about.
Don (Seattle)
Is Manny Pacquiao your toughest opponent to date?
Timothy Bradley Jr.
(12:36 PM)
I would probably say yeah. He's very tough. He's very quick and unpredictable at times. He's right there with Marquez. These guys are at the top of boxing. These guys can fight. They're the best. He's probably one of the toughest guys I've been in the ring with.
Timothy Bradley Jr.
(12:37 PM)
To all of the fans that have supported me over the years, I really appreciate it. And all the fans that don't support me or hate me, thank you too. You motivate me. Thank you to all of the fans around the world.