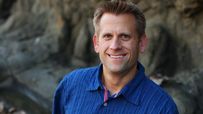 Welcome to SportsNation! On Thursday, Sport Science host John Brenkus stops by to chat about his Emmy Award-winning TV show.
Sport Science uncovers sports' biggest myths and mysteries by utilizing cutting-edge technology to measure momentum, friction and the laws of gravity. In addition to his role as host of Sport Science, Brenkus, a Univeristy of Virginia graduate, is also the director and creative director of all BASE Productions programs.
Send your questions now and join Brenkus Thursday at 3 p.m. ET!
More Sport Science: Chats | Index | Videos | Blog | @Sport_Science
Buzzmaster
(3:01 PM)
We've got John!
aaron (dc)
how do you decide what drills will best reflect a football players' attributes for his position?
John Brenkus
(3:02 PM)
After doing over 700 segments, we've refined the process quite a bit. We want to make sure whatever we do is relevant for the player and interesting to the audience.
Evan (Chicago)
do you think you finally put an end to the slide or run through first base debate:
John Brenkus
(3:02 PM)
I hope so!
Tim (Baltimore)
When you bring nfl prospects into your lab, do you any mental testing, like a wonderlich that contributes to your grades?
John Brenkus
(3:02 PM)
It's included in our tests.
Kirk (Seattle)
do you know if nfl teams have your eyesight technology? don't you think that could help them in evaluating players?
John Brenkus
(3:03 PM)
It certainly could, but I seriously doubt they actually implement it.
Rob (Boston)
from a physical standpoint, how does eric ebron stack up against the other TEs you[ve had in the lab?
John Brenkus
(3:04 PM)
We've had Tony Gonzalez and Vernon Davis and others and Ebron ranks right up there with the best we've ever had. He is going to have an immediate impact in the NFL.
nikki (Dallas)
How would you rank this year's crop of WRs compared to years past?
John Brenkus
(3:05 PM)
With Mike Evans and Sammy Watkins, it's solid. The position of WR is interesting. In addition to the superstars we all know of, there are WRs that we don't know who will also have an impact.
John Brenkus
(3:05 PM)
Think Victor Cruz.
Ryan (TX)
who would you say had the strongest arm from all of hte qbs you worked out in the lab this draft?
John Brenkus
(3:06 PM)
Strong arm is a deceiving statistic. Much more important to have a quick release and be accurate. All of the QBs at this level have a strong enough arm. The question is do they get rid of the ball quick enough?
Greg (DC)
how much impact do you think tanaka's stride length has had on his success?
John Brenkus
(3:07 PM)
His stride length certainly contributes to his success. But the efficiency of his kinetic chain, as well as the masking of his pitches also contribute quite a bit.
Ivan (St. Louis)
How excited are these nfl prospects to come in and get tested in your lab:
John Brenkus
(3:07 PM)
Very excited.
John Brenkus
(3:07 PM)
Rightfully so!
Vinny (Philly)
which would you rather have, sammy watkins' blazing speed or mike evans size advantage?
John Brenkus
(3:08 PM)
You can't go wrong with either guy.
Kris (GA)
After watching Jon Jones win yet another fight and watching your SS segment, it got me thinking....are some guys just born with a body type that is just meant for fighting? his reach is crazy long.
John Brenkus
(3:09 PM)
Body type is only one factor in a fighter's potential success. MMA is kinetic chess. It is as much mental as it is physical.
Kerry (FL)
If Tanaka's splitter changes planes over the final quarter second, is that enough time for a professional hitter to react?
John Brenkus
(3:10 PM)
No.
Evan (Chicago)
which part of Jon Jones' physical build do you think has the most impact on his success?
John Brenkus
(3:10 PM)
His mind.
Kevin (NYC)
what made you decide you wanted to analyze Tanaka?
John Brenkus
(3:11 PM)
He was the biggest offseason signing for the biggest MLB franchise. His Japanese record was astounding and it looks like that record will continue in the MLB. He definitely deserves a Sport Science segment.
Erik (atl)
which qb that you[ve ever tested has been the best at the eyesight drill?
John Brenkus
(3:11 PM)
Colin Kaepernick.
Chuckie (Rochester, NY)
Is Johnny Manziel going to be on Sports Science anytime soon?
John Brenkus
(3:12 PM)
In progress ...
Chirs (Denver)
what kind of information can you use from your lab as it relates to injuries?
John Brenkus
(3:14 PM)
There is quite a bit of scientific research on the best ways to recover from an injury. But in terms of preventing an injury, that requires education on creating balance within your skeletal structure.
Keith H (Seattle)
Have you thought about getting Richard Sherman, Earl Thomas and Kam Chancellor together to see what characteristics make them such a special unit?
John Brenkus
(3:14 PM)
Already did it.
John Brenkus
(3:15 PM)
More great Sport Science segments coming your way. I appreciate your support!