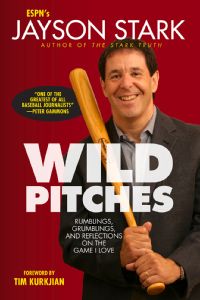 Welcome to SportsNation! On Thursday, ESPN.com senior MLB writer Jayson Stark drops by to chat about the baseball season, as well as his new book "Wild Pitches" that hits stores Thursday.
In "Wild Pitches," Stark examines the "why" behind baseball's winners and losers to give fans a rare look inside the game. He tries to answer questions like, how do high-priced contracts impact a team's ability to compete for a title? How do sabermetrics play a role?
Stark has been a senior baseball writer for ESPN.com since 2000. His regular contributions include the newsy Rumblings and Grumblings column.
Send your questions now and join Stark Thursday at noon ET!
More Jayson Stark: Search | Blog | Chats | MLB index
Jayson Stark
(12:02 PM)
Greetings. Thanks for joining me in Chat Land for the next hour. I'd love to talk about my new book, "Wild Pitches," which is officially released today. We have an excerpt, the Strange But True Feats of the Millennium, on our site. AND a bonus companion column, the Strange But True Feats of April.
Jayson Stark
(12:03 PM)
Feel free to nominate your own Strange But True favorites. But we can talk anything in the baseball world for the next hour. Now let's get started.
Jean Claude (Vermont)
Congrats on the book release. Are the Braves having a bad series or are they coming back to reality?
Jayson Stark
(12:04 PM)
Thanks! It's a little of both, obviously. This is their worst series of the year. But did you really think their rotation was going to finish the year with a sub-2.00 ERA? This isn't 1968! Still really like that team. Don't panic!
Sean (Washington DC)
Congratulations Jayson! Great accomplishment there and I hope it sells like hot cakes! Wondering how good you think George Springer will be over the next five years? Can he reach say Carlos Gomez levels?
Jayson Stark
(12:07 PM)
Thanks, Sean! Are hotcakes still selling? Springer has the tools to be a tremendous power/speed force as he goes along. But what we've learned so far is that he has a long way to go. He's really struggling with offspeed stuff. And he's still working on developing a feel for what big-league pitchers are trying to do with him. He'll be fun to watch when he figures it out. But that might take a little longer than people in Houston were hoping.
Bill (Chicago, IL)
Jayson, where can I find your book Wild Pitches?
Jayson Stark
(12:08 PM)
I didn't plant this question. I promise! It's available now in bookstores everywhere. And the e-book and iBook editions were just released today. So the correct answer is: Anywhere and everywhere. Thanks for asking, Bill!
Andrew (Fort Collins, CO)
How great has Tim Hudson been?
Jayson Stark
(12:10 PM)
This has been amazing. You'd have thought the Braves knew him better than anyone, and they were unwilling to go two years because they weren't confident he could bounce back from that injury. But off what we've seen so far, he was the best free-agent pitching buy of the winter. By far.
Rob (Lime Rock, CT)
Congratulations on the book! Looking forward to reading it. Jose Abreu has gotten most of the attention and deservedly so, but Adam Eaton has been fun to watch too.
Jayson Stark
(12:11 PM)
Thanks, Rob! Adam Eaton is as fun to watch as any player in the game. And I mean that sincerely. Rick Hahn had an excellent winter. Don't you think?
Adam (Phoenix)
If you were the Braves wouldnt you put Gavin Floyd in the pen for a while and let him work his way back slowly? Similar to Medlen
Jayson Stark
(12:12 PM)
I expect that to happen. Scouts I talked to who saw him on his rehab option weren't convinced he was ready. You know, everyone thinks that if you have Tommy John Surgery, you're automatically back in 12 months, good as ever. What we're learning, increasingly, is that isn't true. The other issue in Atlanta is" Which starter would you take out of that rotation at this point so Floyd can start? Correct answer ought to be: Nobody.
Chris (San Diego)
What do you think of the mets, do you think they can continue to succeed or is this just a hot start?
Jayson Stark
(12:16 PM)
The Mets fascinate me, Chris. They're hitting .220 as a team, and on pace to strike out something like 1600 times. They're 10th in the league in ERA. They've had four closers in the last two weeks. But there's something about them. They've found a lot of ways to win. I don't see them making the postseason, but this is a fun team.
Shawn (Detroit)
Strange but true...The Mets and Yankees have identical winning records heading into May...Who wins the A.L East after a month of assessing the teams?
Jayson Stark
(12:18 PM)
If you'd asked me a week ago, I'd have said the Yankees. But with Nova down and worries about Pineda's health, I'm not as confident about that rotation as I was earlier. Watch out for the Orioles. Just sayin'.
Tim (AZ)
Santana might have been a be a better FA buy than Hudson.
Jayson Stark
(12:19 PM)
He's in the argument. But talk about your small samples -- on all these guys. Sorry I ever brought this up!
Leo (Austin, TX)
You mentioned the book is available everywhere, as well as the ebook and ibook. You failed to mention anything about the audiobook and the braille version. Just giving you a hard time!
Jayson Stark
(12:19 PM)
And I'm available to read it to you aloud for the right fee! (Just giving you a hard time.) Shameless book promotion is a beautiful thing, Leo.
Bruce (Lancaster)
Congrats on the book! I hope it's a big hit. What's your take on Phillies' prospect Ken Giles?
Jayson Stark
(12:20 PM)
Thanks, Bruce! Big arm. Long way to go. Needs to get a better feel for a second pitch. Needs to work on fastball command. But I still think you'll see him in Philadelphia at some point this year.
Jake (Pittsburgh)
Do you feel Gregory Polanco should be in Pittsburgh right now? I mean, its been a month of mashing AAA pitching, and it's not like it's a surprise he's doing it either, so what's the wait?
Jayson Stark
(12:22 PM)
In a simpler world, he'd be there right now, Jake. He's ready. And they know he's ready. But business is business. So they need to wait a few more weeks. It'll save them millions to wait for the Super-2 date to pass. They'd just better hope they're not 15 games out by then.
Jay (PA)
Strange but true - every team in the AL East has a negative run differential
Jayson Stark
(12:23 PM)
Good one. Never saw that coming. I had about 100 candidates for that Strange But True column today. Only picked 22. It was rough! So feel free to nominate your favorites during this chat.
Shawn (Detroit)
Why are the Rays making such a big deal of having to play a day/night doubleheader today? Anything to complain about the Red Sox
Jayson Stark
(12:25 PM)
No team wants to play a day-nighter. But especially the Rays, at a time when they don't have Cobb or Hellickson healthy and their rotation is as shaky as it's been in years. Of course they'd rather play this later in the season. But they obviously lost that battle.
Mark (Greesnsboro, NC)
Having seen Jose Fernandez pitch in the minors and be dominate so far in the pros, can he sustain his success and if so what pitcher would you compare him too?
Jayson Stark
(12:27 PM)
I love watching him pitch. Wrote about him last week. He's must-see viewing for me. It's all about health, because right now, I think he might have the best stuff in baseball. He's almost Pedro-like in the joy he plays the game with and his incredible feel for pitching and the game. Still love the stat that his batting average is 30 points higher than the hitters who have faced him.
Scott (SF)
Strange But True fact that would need some research on your part: Have there been any other historical "Brandon to Brandon to Brandon" double plays turned like the Giants do with Crawford, Hicks, and Belt?
Jayson Stark
(12:28 PM)
Yeah, I've been trying to figure out what to do with that one. But I guarantee it's the first Brandon-Brandon-Brandon DP combo in history. People keep tweeting it at me.
Bruce (Lancaster)
Can you tell us one of your favorite stories from your new book, or a favorite thing that you enjoyed writing about?
Jayson Stark
(12:30 PM)
I love that Bengie Molina story in the excerpt today. You just can't beat a guy who doesn't score a run on his own homer. But since my Keith Olbermann appearance the other night, there's been a lot of talk about my connection to the Pete Rose lifetime suspension (a la Donald Sterling). The short version is: He, Joe Morgan and Mike Schmidt met with Bud Selig in 2003. And it looked as if he was heading for reinstatement in some form. I found out about the meeting and reported it. And everything blew up afterward. But I still think I'm innocent. Pete's continuing ban has more to do with him than me. Don't you think?
Mitch (Michigan)
Strange but true, The D'backs are 3-15 at home and already have a -62 run differential...Can the Giants manage to stay atop the NL West all year?
Jayson Stark
(12:33 PM)
The 2002 Diamondbacks only lost 26 games at home all season. This team could get there by Memorial Day at this point. I still think the Dodgers are the favorite in the NL West. But it looks like another fun Giants-Dodgers race. And you can't beat that for entertainment.
John (Anaheim)
Are the Angels much better than their record indicates?
Jayson Stark
(12:34 PM)
Their run differential certainly says they are. Their bullpen has made them look worse than they really are so far. The question is: How fixable is it? If it is, they're a team to watch.
Marc (California)
Congrats on the new book. Heard the Baseball Tonight podcast the other day and enjoyed/remembered that Bengie Molina story. What is wrong with Prince Fielder? He will get out of this slump or is he destined for a bad year?
Jayson Stark
(12:36 PM)
I think if you asked the Tigers -- and injected them with truth serum -- they'd say he was headed in this direction last year. His bat has gotten slower. He's not a good defender. The Tigers questioned what kind of shape he was in. There's a lot to wonder about. I hope this is an aberration, personally. I like Prince. And I always enjoyed watching him play. But this is getting worrisome.
Jeff (Rocklin)
I know Ubaldo Jimenez is historically a slow starter but this seems different. Do you think he'll turn it around any time soon?
Jayson Stark
(12:38 PM)
We could have had this exchange about Ubaldo at almost any time in the last three years, other than the final couple of months of 2013. He's established no pattern of dependability, ever, other than two stretches, three years apart. So many moving parts in that delivery, it's tough for him to establish any level of consistency.
Scott (SF)
Speaking of the Giants, I believe I heard that Hunter Pence played every inning last year, is that correct? I believe he has done the same so far this year? When you think of Cal Ripken, did he have a "consecutive innings played streak" that was this long (Assuming this is correct info on Hunter Pence - I'm not sure). I'm assuming Cal did?
Jayson Stark
(12:40 PM)
I believe you're absolutely correct. Cal played every inning for like a decade. I'll try to look into Pence's streak, too. Excellent idea!
Clay (Charlotte)
Who do we need to talk to so we convince Billy Hamilton to just become an elite bunter?
Jayson Stark
(12:41 PM)
So you want him to bunt every time up? Is that what you're saying? He's a work in progress offensively, Clay. But he's actually having much better at-bats lately and much better results. Hang in there. I WOULD pay to watch him bunt and try to beat the throw four times a night, though.
Greg (LA)
The Greinkster going to win his 2nd Cy Young this year?
Jayson Stark
(12:42 PM)
He's been awesome. No doubt about that. But I'll take Jose Fernandez. You can have Greinke and the field. What do you think?
Bob Melvin (Oakland)
I've done the best I can with the cards I've been dealt in my time here and I think collectively we've put ourselves in a good position. From what you've seen so far...do we have what it takes to win the World Series this year?
Jayson Stark
(12:43 PM)
If you can pitch, you can win the World Series. I actually think the A's are one of those teams that's better built for April-September than for October. But they were my pick in the West. And I certainly wouldn't change that pick, based on what I've seen.
Eric (Atlanta, GA)
How long of a leash do the Braves give Uggla? I mean at some point the sample size including last years disaster has to make them cut bait right?
Jayson Stark
(12:45 PM)
They always sound encouraged when I ask about him. But I agree this isn't trending real well. And this year, he isn't even balancing the whiffs with walks. It's too soon to contemplate this question, I think. But "at some point?" How can they not? It was obvious they wanted to move him this winter, so there's no question they'd love to upgrade.
Damon (MO)
Since Kershaw and Wainwright are also in the field for that NL CY I would have to take the field.
Jayson Stark
(12:46 PM)
You're probably smart to do that. I'm just making a point on Fernandez. Not sure how he's still underrated, but he is. Still amazes me he wasn't on every Cy Young ballot last year.
Chris (Troy)
Here's a Strange But True. Currently, Charlie Blackmon is ranked the #1 guy in fantasy baseball.
Jayson Stark
(12:47 PM)
I have a tidbit on him in my Strange But True Feats of April column. He had more four-run games in April than Carlos Gonzalez has had in his whole career. Top that!
John (Los Angeles)
A generation or so before the Three-Brandon DP combo, the SF Giants gave baseball a Three-Alou outfield.
Jayson Stark
(12:48 PM)
True. But those Brandons aren't related! So which is cooler? Your thoughts? I'm still not sure.
Jason (Birmingham)
Strange but true? Robbie Ray will pitch in the bigs for his new team before Doug Fister does for his new team. Congrats on the new book, can't wait to pick up a copy!
Jayson Stark
(12:49 PM)
Good one. I'll be interested to watch Robbie Ray do his thing. As you know, that might have been the most controversial trade of the whole offseason. The Tigers liked him more than most clubs. So let's see, even though it looks as if this will only be a start or two, because Sanchez won't be out long.
Drew (Philadelphia)
Jesse Chavez for AL Cy Young Award!#ChavezforCy
Jayson Stark
(12:51 PM)
Has he been amazing or what? But are we sure he's even been the most dominant pitcher on his own team? Sonny Gray's been pretty awesome, too.
Clif (VA)
Everyone keeps talking about Bryce Harper in DC, but the way I see it, Anthony Rendon is who we really need to be talking about, along with the resurgence of Danny Espinosa! Thoughts?
Jayson Stark
(12:53 PM)
Anthony Rendon has star power. No doubt about that. They need him more than ever with Harper and Zimmerman out. I'm concerned about them offensively. Other than when they've faced Houston, they've really scuffled to score since Zimmerman went down.
Damon (MO)
Instead of the normal AS game this year can we just have Fernandez vs Trout for 27 at bats and a 1 on 1 HR derby between Stanton and Abreu?
Jayson Stark
(12:54 PM)
I love the ASG. But if that were a reality show, or an All Star Monday event, I'd watch. That HR Derby might actually happen this year, by the way -- with several other guest stars.
Frank (NY)
Re;Polanco, better 15 games and never in it than missing the playoffs by a game or two after leaving him down. That would sting.
Jayson Stark
(12:56 PM)
I don't think either is a real good option. But if they do miss by a game or two, feel free to second-guess away. Oh, and read Jerry Crasnick's piece on him yesterday. Excellent.
Ian (St. Louis)
Hey Jayson, Is Albert back? Are we going to see the Pujols of old this season now that he is healthy? Or was that another oddity?
Jayson Stark
(12:57 PM)
You know what we've learned this year about Albert? It's hard to hit when you can hardly walk. He looks healthy to me now. And Albert-like now. He had no lower half last year, and even the year before to a lesser extent. I say he's back.
Jake (State Farm)
Fernandez or Kershaw? This year? Next 5 years? Career?
Jayson Stark
(12:59 PM)
This is impossible, Jake. Both great. Fernandez a lot younger. I guess I'd probably bet on the younger guy. But I can't believe I'm taking anybody over Kershaw. So thanks for asking that! Oh. And what are you wearing, Jake from State Farm? Khakis?
Jayson Stark
(12:59 PM)
Wow. This hour has flown by. I only have time for one more.
John (Los Angeles)
Strange but true? Mike Carp's WAR as a pitcher this year is higher than the WARs for Clay Buchholz and three other BoSox pitchers.
Jayson Stark
(1:00 PM)
That can't be true! Carp walked five in one inning. First "pitcher" in the last 90 years to do that. So WAR doesn't apply to someone like him. That's my story and I'm sticking to it.
Jayson Stark
(1:01 PM)
Thanks to everyone who checked in. Be sure to check out my "Wild Pitches" excerpt on the site today. And remember, it's now available everywhere books and e-books are sold. #moreshamelessbookhype