Chat with George Whitfield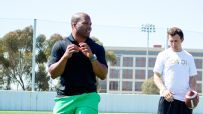 George Whitfield established his QB academy in 2007.
Welcome to SportsNation! On Wednesday, quarterback guru George Whitfield drops by to chat and share his thoughts on this year's NFL draft class.
Whitfield, @georgewhitfield, runs a QB academy, Whitfield Athletix, and has worked with many top quarterbacks, including Johnny Manziel and Aaron Murray from this year's draft class. Previous graduates of his academy also include Ben Roethlisberger, Cam Newton, Andrew Luck and EJ Manuel.
Send your questions now and join Whitfield at 1:30 p.m. ET!
More Special Guests: Previous chats | SportsNation
Buzzmaster
(1:28 PM)
George will be here in a couple of minutes!
Buzzmaster
(1:30 PM)
George is here!
Vinny (philly)
what's the first thing you look at when you are watching film on a QB?
George Whitfield
(1:32 PM)
Great question. Is he a natural thrower? That's No. 1. And what are his unique traits? That's on the film. I don't know him yet.
Aaron (CA)
what do you think is the most underrated part of a QB?
George Whitfield
(1:33 PM)
I think the most underrated part of a QB is multi-dimensional accuracy (throwing people open, touch, anticipation), often gets overlooked by measurables and strength that don't have near the effectiveness.
Tony (Richmond, CA)
Who is the most physically gifted quarterback you've ever worked with? And which impressed you the most on the chalkboard and in the film room?
George Whitfield
(1:35 PM)
Wow....Cam Newton, who has a LeBron James-esque feel to him, i.e. can do anything. And Johnny Manziel, who seems like he can get out of or overcome anything.
John (Cleveland, OH)
George, how does working with Aaron, whose recovering from major knee surgery, differ from past QBs you have coached?
George Whitfield
(1:36 PM)
Actually, worked with Aaron when he was healthy going into his senior year. But I have worked with QBs who were injured. It calls for more creativity and you focus on areas where they can work until they're 100%.
trey (bristol)
in what round would your broom be drafted?
George Whitfield
(1:36 PM)
Ha! Given the very rich talent pool of this draft, I wouldn't see the broom going before the fifth.
George Whitfield
(1:36 PM)
Which, that's a steal.
Larry (PA)
do you look at mechanics? mental approach? what kinds of things do you teach?
George Whitfield
(1:38 PM)
For the draft, it is a split between mechanics and fundamentals, they become priority. Even if you understand where to go with the football, you have to be able to get there. That training is coupled with a heavy focus of NFL curriculum in the film room, on the chalk board.
Tom (New York )
Compared to all the QBs you've worked with leading up to previous drafts how does Manziel rank in that group?
George Whitfield
(1:39 PM)
Aside from his given measurables, he ranks up there in everything. Smart, driven, instinctive, fighter. He will evolve and modify in ways that people aren't willing to imagine at this point.
Daniel (Kansas) [via mobile]
Which successful QB from recent past surprised you the most?
George Whitfield
(1:40 PM)
Probably Colin Kaepernick. You saw some of the things he did in Nevada and he's covered an awful lot of ground today to what he's doing on the big stage for the 49ers. Very impressed by him.
Peter (Boston)
How does one get to be the most sought after qb coach?
George Whitfield
(1:42 PM)
Be willing to deal with a lot of over the top little league moms and dads. And persistence. I knew early on I would be judged and solely judged by how well the athlete in front of me actually does. Therefore, your knowledge, heart and soul goes into every single guy. Their success allows you more opportunities.
Howard [via mobile]
Is quarterback the toughest position in all of sports?
George Whitfield
(1:43 PM)
I would say so, given the pressure, responsibility and wide ranging skill sets, accumen, emotional toughness, physical toughness required to play it.
George Whitfield
(1:44 PM)
I would compare playing QB not to other positions in sports, but to being a fighter pilot or a surgeon.
Larry Murphy [via mobile]
Who was the best movie quarterback?
George Whitfield
(1:45 PM)
The little kids back in San Diego think it's Jamie Foxx in Any Given Sunday. Solid form. Multi-dimensional. Play making ability.
Rick (TX)
how do guys end up contacting you? Through their school? By themselves? Agents?
George Whitfield
(1:45 PM)
College kids reach out to us directly or through their mom, sometimes their own coach.
George Whitfield
(1:46 PM)
NFL prospects, you often times hear from them or their agents.
George Whitfield
(1:46 PM)
And Texas toddlers, you hear from their preschool teachers.
Jason (Orlando) [via mobile]
What do you think of quarterback stats like QBR and passer ratings?
George Whitfield
(1:50 PM)
I like them because they tell a bigger story. Completion percentage is skewed, because of the growing amounts of balls thrown behind the line of scrimmage. And the "automatic" throws, were a QB gets the snap and throws to a guy standing there. The new metrics tell you about the overall productivity and a more well rounded calculation.
TJ [via mobile]
Why are wide receivers always the divas? Will we see a QB diva?
George Whitfield
(1:52 PM)
We've already seen QB divas and NFL QB divas. From a certain standpoint, you have to remember what WRs go through. They're these incredibly talented, playmaking athletes who are constantly trying to win one on one battles, where even if they win that battle, they are reliant on so many things to get the ball thrown to them. The best receivers only get targeted 5-7 times per game. Many times, the WR is the best athlete on their team.
George Whitfield
(1:52 PM)
As a QB and a guy who deals with QBs, I get it.
Nick, MN [via mobile]
Who is the most fundamentally sound QB you have ever worked with?
George Whitfield
(1:53 PM)
Every QB I've ever worked with has had at least a few things he's wanted to correct, adjust or build. Of all those guys, the closest to being the most consistent/complete was probably Andrew Luck.
David (Cbus)
What are your expectations for Braxton Miller this year? Do you see him progressing as a passer?
George Whitfield
(1:55 PM)
I think he'll take another big step. Being a complete passer and an effective leader from the pocket means an awful lot to him. He has one of the best QB coaches in the country in Tom Herman. Expect big things from him in 2014.
Phil (Chicago)
After an offseason working with Everett Golson, what do you envision from him this coming year?
George Whitfield
(1:58 PM)
A rejuvenated, re-tooled, enthusiastic leader who,with the addition of new QB coach Matt LaFlueur, will definitely be a spike, will definitely be a spike in Notre Dame's attack. #HeismanWatch.
Peter Latham [via mobile]
Would you be surprised if Bridgewater falls to the second round?
George Whitfield
(1:59 PM)
I really do like Teddy. Love his mindset and poise. Someone is going to get a great player and an even better young man.
Shawn (Detroit)
Are the Browns making a mistake if they pass on a QB and if so, who should they be taking?
George Whitfield
(2:01 PM)
I don't think it's a stretch to say the Browns could use a talented playmaking QB in this draft. Even with the healthy return of Brian Hoyer, they have an incredible opportunity to add a franchise-changing player tomorrow.
Neil (LA)
how often are you talking with other coaches, figuring out new ways to train athletes?
George Whitfield
(2:04 PM)
Constantly. I have to. In all actuality, I spend a third of my year teaching and training and two-thirds of my year learning and getting updated on the position. Lately, a large amount of my dialogue has been with defensive coordinators (learning how they are now attacking the position) and OL coaches (learning how they now have to block the position) and getting those two perspectives. Those two sides have given me perspective as of late, from all levels.
nick (nc)
what do you think is the part of the qb position that isn't being taught enough?
George Whitfield
(2:06 PM)
Easy. How to deal with chaos and stress. So often in football practices, the whistle blows when anyone gets close to the QB or when there is a breakdown in execution, i.e. the QB in practice is always "safe." In games, those who have instincts can naturally handle the chaos and those that do not, unfortunately, succumb to it.
George Whitfield
(2:06 PM)
There are "fire drill"-type protocols to teach QBs of all levels, which would extend their quality of life on the field.
Paul Berry [via mobile]
Are the other coaches jealous of your TV role? Do they rag you about it?
George Whitfield
(2:08 PM)
Hahaha. I have heard it all, from just about everyone. At times, I do feel like a little bit like a fish out of water. But it is an incredible opportunity to share with the football audience what goes into playing or teaching the position.
Scott Turner [via mobile]
Do you like watching NFL or college football more as a fan?
George Whitfield
(2:08 PM)
I love watching both. I get to see college football more. And most of the NFL games I get to watch are either Sunday or Monday night games or they are recorded.
Chase [via mobile]
Which QB would you take right now to start a franchise and build around, Russel Wilson or Andrew Luck?
George Whitfield
(2:11 PM)
I think they are both incredible leaders and talents. I, myself, would take Andrew Luck, he is equal parts tenacious and diligent. He can play with precision and still thrive in chaos. Andrew Luck will be one of the three best QBs in the NFL coming into this season.
George Whitfield
(2:12 PM)
I really appreciate the time and great questions. Being someone whose life is dedicated to the position of QB, I know and appreciate the time and attention this position gets. I hope I am able to add some value to the glitz and glamor around it.