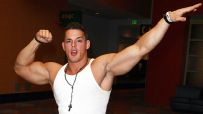 Pro wrestler Jessie Godderz serves as co-host of ESPNU's new "CAWL to Arms."
Welcome to SportsNation! On Tuesday, professional wrestler and former reality TV star Jessie Godderz stops by to chat about hosting ESPNU's new arm wrestling show "CAWL to Arms."
The new College Arm Wrestling League debuts on ESPNU Tuesday at 7 p.m. ET. In the first season, teams from Rutgers, Penn State, UConn and Syracuse compete with four-member teams (two men, two women) in a bracket-style tournament.
Godderz, @MrPEC_Tacular, appears on Spike TV's "Impact Wrestling" as Mr. PEC-Tacular. He also starred on the reality TV show "Big Brother" during seasons 10 and 11.
Send your questions now and join Godderz Tuesday at 3 p.m. ET!
More Special Guests: Previous chats | SportsNation
Buzzmaster
(2:51 PM)
Mr. PEC-Tacular himself, Jessie Godderz, will be here at the top of the hour to take your questions!
Buzzmaster
(3:01 PM)
We've got Mr. PEC-Tacular!
Damiano (Hartford)
How much of arm wrestling is technique versus strength and size. You are obviously huge, could a much smaller person beat a bigger person with better technique?
Jessie Godderz
(3:02 PM)
I would say it's 80 percent skill and technique and I would easily venture to say that someone who is smaller than me with good technique could beat me, even though I have 20-inch arms.
Jordie (New York)
Did you get to hang out with these students off camera? How was that?
Jessie Godderz
(3:03 PM)
Yes I did. They were energetic, outgoing college students. There was a lot of joking around.
Barry (Mauldin)
We see everyone from celebrities like Jimmy Fallon or politicians like Rob Ford to just regular folks arm-wrestling all the time. What do you think it is that people enjoy most about arm-wrestling? Is it a primal thing?
Jessie Godderz
(3:04 PM)
I would say it's a competition that can happen anywhere at any time. Things can be settled by just pulling up a table and duking it out with an old fashioned arm wrestling match.
Jonathan (New York)
How soon into the show do you take off your shirt?
Jessie Godderz
(3:04 PM)
I did it immediately...but do they air it? That's up to them.
Candy straight (Bloomfield)
Jessie,What surprised you the most about the students and their arm wrestling skill.
Jessie Godderz
(3:05 PM)
How quickly they actually picked up on different tips that the referee gave them. Because they are division I athletes, they are smart. They picked up on it and used it even quicker in the matches. It's a huge chess match in some of the contests.
Rob (New York)
I know that you're a Professional Bodybuilder and a Professional Wrestler. Is the training in the gym similar for those sports as it is for Arm Wrestling?
Jessie Godderz
(3:06 PM)
I don't think so. They have to do a lot more forearm and rotator cuff exercises. For me, it's just muscle building to complete my physique and keep it symmetrical.
Maree (Greenville)
Do you think it changes the team dynamic to have men and women working cooperatively on the same arm wrestling team? If so, how?
Jessie Godderz
(3:07 PM)
I think everybody played off each other very well and upped the stakes, for the guys trying to impress the girls and vise versa. They became a close knit group and as competitors. Just like any other team. But having this co-ed college sport, other than mixed doubles in tennis, I can't think of anything else that has co-ed competitors on the same team. That in itself was awesome for the sport and the show.
Dale Money (Canada)
Hey Jessie would you come back for a Big Brother All Stars 2Thanks!
Jessie Godderz
(3:08 PM)
If asked, I would definitely like to come back for All Stars 2, but right now I'm focused on my wrestling career.
Jessie Godderz
(3:08 PM)
But, yeah, I'd love to.
John (New Providence, NJ)
How would professional wrestling experience help in an arm wrestling competition?
Jessie Godderz
(3:08 PM)
I would be able to trash talk all the way up until they say grip it and rip it.
Jessie Godderz
(3:09 PM)
Then I would hope that my 20-inch arms would take care of the rest.
Jessie Godderz
(3:09 PM)
Then after that, if I don't win, I'd throw a mean knuckle sandwich.
Russ (Philadelphia)
I've seen Noah Coslov broadcast basketball games before, how was he with arm wrestling? I'd imagine it's pretty different!
Jessie Godderz
(3:09 PM)
Nothing but utmost professionalism. He did awesome. I was happy to be alongside him.
Nanny (Boston)
How do you think you would do against these college students?
Jessie Godderz
(3:10 PM)
I would beat every single one of them.
Jessie Godderz
(3:10 PM)
You meant the girls, right?
Ryan Indiana University [via mobile]
Jessie, what's the last arm wrestling match you had? Who won?
Jessie Godderz
(3:11 PM)
This is a true story. I beat a nine year old. FACT! I told him I can't lose to you.
Horace (Tampa, Florida)
What was it like working with "Tara"? She's so talented and beautiful.
Jessie Godderz
(3:12 PM)
She is just as outstanding as Noah. I had to step my game up and try to keep professional as they were, even though I'm a goofball. I know they fed off the energy the kids had. It made our jobs that much easier.
JamaBJamaica (Minnesota) [via mobile]
What in your opinion has been your biggest accomplish? ~Stay Pectacular~
Jessie Godderz
(3:14 PM)
This had to be up there. But I'm so blessed. Every project I have ever worked on just keeps getting better and better. I've worked on so many great things.
Mark Costello (Rochester NY)
How did the women arm wrestlers do?
Jessie Godderz
(3:14 PM)
I would say they were more fierce and competitive than some of the guys, hands down.
Jessie Godderz
(3:14 PM)
Not one of the girls didn't give 110 percent.
Kayla (New Jersey)
When trying to win an arm wrestling match, which is more important: strength or strategy?
Jessie Godderz
(3:15 PM)
Coming from the tips that Jim gave, you have to know your competitor, because some may go for a flash, a quick pin. You need to be able to absorb that and then counter it by dipping your shoulder. Depending on who you're going against would determine your strategy for each match.
Chris (DC)
how was it hosting versus starring?
Jessie Godderz
(3:16 PM)
Sometimes the host still stars in the show.
Jamaica (Minnesota) [via mobile]
Is there anything you don't do?? Seriously, it seems like MrPEC_Tacular does everything!!
Jessie Godderz
(3:17 PM)
Truer words have never been spoken.
Jessie Godderz
(3:17 PM)
The money is in the mail.
Jessie Godderz
(3:18 PM)
Definitely watch the show tonight. The kids are what make the show exciting. Their natural, raw competitiveness takes a normal show to the next level. Seeing the stands and the fans, give so much energy. Those are the kids that have the same amount of energy as if it were a big time college football, basketball game. It's because of the kids, that makes the show. I had such an awesome time. Everything they did in those couple of days.
Jessie Godderz
(3:21 PM)
And Noah, Tara, everyone, from top to bottom. There was no other show like it that I've done.
Buzzmaster
(3:21 PM)
Thanks for chatting Jessie!