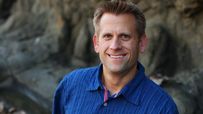 Welcome to SportsNation! On Friday, Sport Science host John Brenkus stops by to chat about his Emmy Award-winning TV show.
Sport Science uncovers sports' biggest myths and mysteries by utilizing cutting-edge technology to measure momentum, friction and the laws of gravity. In addition to his role as host of Sport Science, Brenkus, a Univeristy of Virginia graduate, is also the director and creative director of all BASE Productions programs.
Send your questions now and join Brenkus Friday at 2 p.m. ET!
More Sport Science: Chats | Index | Videos | Blog | @Sport_Science
Buzzmaster
(2:00 PM)
We've got John!
Ryan (Houston)
How different was it for you and your team to do segments on site like you did at the X Games?
John Brenkus
(2:01 PM)
We were largely doing the same thing we always do, just a lot faster. It was super exciting and went really well. I think you'll see a lot more of that in the future.
Roger (Boston)
Where did you find 500 pounds of coleslaw for that Rory McIlroy chip?
John Brenkus
(2:01 PM)
Custom order.
Karl (Denver)
mcilroy putting on glass was impressive, but i was more impressed with how fast he was able to dial it in with his putts on such a surface, and he needed only a few putts to adjust....did tha timpress you as well?
John Brenkus
(2:02 PM)
It did.
Greg (LA)
So what was more impressive by Rory McIlroy, the iron shot through the door in the dark, the chip out of coleslaw or sinking the putt on glass on just his second try?
John Brenkus
(2:03 PM)
The shot through the door actually impressed me the most. When I was standing there looking at it, it just didn't seem possible. It was REALLY dark and at a very difficult angle. The margin of error was crazy. It didn't intimidate him at all.
John Brenkus
(2:03 PM)
He is amazing.
david (san diego)
how impressed were you with the computerized car that sam schmidt drove around the track?
John Brenkus
(2:03 PM)
Incredibly impressed. Amazing technology.
Kevin (Miami)
The segments you did on the World Cup arenas were awesome. How were you able to find out all of that information?
John Brenkus
(2:04 PM)
We spoke to the people who built each stadium. It was a fascinating project.
vick (philly)
John, be honest now....did you have any idea what you were talking about when you were explaining that dogpile equation?? it was all greek to me!
John Brenkus
(2:05 PM)
Of course I understood it!
John Brenkus
(2:05 PM)
A good friend of ours helped us come up with that equation. It's actually pretty ingenious.
ryan (Boston)
do you think all indycar drivers would perform like Will power did in his tests, or do you think he is unique among his peers?
John Brenkus
(2:07 PM)
Great question! I think at the elite level, every driver would test very high, otherwise they wouldn't be elite. In the case of Will specifically, his record speaks for itself, so he is clearly able to differentiate himself from the other drivers. In that sport, it's incredible how the key to being "fast" is really being consistent. One small error that costs you one-tenth of a second could literally cost you a race.
ryan (NYC)
do you ever switch up tests you perform on athletes, or is it important to do the same tests so that you can compare the data across athletes and across sports?
John Brenkus
(2:08 PM)
Both. We like to do a lot of the same tests, but we will introduce new ones. It's important to be consistent, but also to grow and adapt.
Larry (Seattle)
How important do you think the length a guy like McIlroy gets off the tee is to his game? do you think he'd be just as good if he weren't crushing the ball?
John Brenkus
(2:10 PM)
There is very little correlation between average distance off the tee and Tour victories. Obviously, you need to hit it far to even be a pro, but very rarely will the golfer who averages the greatest distance off the tee win the tournament.
larry (denver)
how realistic were those simulators you and will power were running?
John Brenkus
(2:10 PM)
Incredibly realistic.
Kevin (FL)
Why did you guys decide to have Rory chip out of coleslaw? That was an awesome stunt.
John Brenkus
(2:11 PM)
Thanks for the kind words. We were playing on the expression "it's like hitting out of cabbage" so, logically, we needed to make a bunker made of coleslaw.
Roger (detroit)
how often do you re-think the tests you do in the lab to make sure that there isn't a better way to perform the test?
John Brenkus
(2:13 PM)
We're always interested in figuring out a better way of doing things. That's really the only way you get to a more accurate answer. We feel that over the last 7 years, we've developed some really cool tests that gives us real data that's relevant to the sports we're studying. With that being said, we're constantly refining every aspect of what we do. That will never end.
Kris (Atlanta)
so, based on what you learned with your dogpile segment, do you think there is extra danger in a dog pile, considering how much weight athletes get placed on top of them in the pile?
John Brenkus
(2:13 PM)
Honestly, they are dangerous.
Gary (TX)
How cool was it for you to be onsite for the first X Games in Austin?
John Brenkus
(2:14 PM)
The atmosphere was very electric. COTA is a magnificent complex and will be a great home for the X Games for many years to come.
John Brenkus
(2:15 PM)
The city of Austin rocks -- both literally and figuratively.
John Brenkus
(2:15 PM)
More great Sport Science segments coming your way. Thanks for your support. And Happy Father's Day!