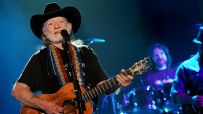 The Texas native entered the Country Music Hall of Fame in 1993.
Welcome to SportsNation! On Monday, legendary musician Willie Nelson drops by to chat about his love of sports and his latest album "Band of Brothers" which hits stores Tuesday.
Nelson, 81, is in his sixth decade in the music industry that began when he started writing songs that included hits like Patsy Cline's "Crazy."
"Band of Brothers" marks Nelson's first album of mostly new, original content since 1996, whose single "Bring It On" can be heard here.
Send your questions now and join Nelson Monday at 1:45 p.m. ET!
More Special Guests: Previous chats | SportsNation
Buzzmaster
(1:37 PM)
Willie will be here in a few minutes to take your questions!
Buzzmaster
(1:39 PM)
Willie is here!
Lenny (San Diego)
You've had a long, legendary career, but is there still any spot on the globe that you haven't played yet that you want to get to?
Willie Nelson
(1:40 PM)
Well, I want to go back to Italy and play. For a lot of different reasons. I haven't been there for a long time. I haven't toured there much. I want to go back to Amsterdam too.
Tim (DC)
What is your songwriting process like? Are you able to write anywhere or do you need to have a certain surroundings?
Willie Nelson
(1:41 PM)
I think a good songwriter should be able to write something about anything any time. Whether it's any good or not, I don't know. But if he's a good writer, he should be able to come up with some rhymes.
Kevin (Boston)
what keeps you motivated to keep on touring and putting out albums?
Willie Nelson
(1:41 PM)
I enjoy touring. I enjoy playing the music. As long as the fans keep showing up, we'll keep doing it.
Daniel (Kansas)
Anyone in particular you would like to use your black belt skills on?
Willie Nelson
(1:42 PM)
I'm making out a list!
willie wilbanks [via mobile]
What made you decide to do this new album? Are your kids on it as well?
Willie Nelson
(1:42 PM)
I hadn't had an album of a lot of original songs in a while. We got lucky writing and it just sort of happened.
Keith (Baltimore)
what do you think about the current state of country music? Anyone out there you enjoy listening to?
Willie Nelson
(1:43 PM)
I am of the old school. I haven't heard too many of the new guys. I'm sure there are some guys I should have heard about. Alison Krauss, Kacey Musgrave are great. Really some great talent out there. I hear Billy Jo is good on the new album.
Carly (Denver)
What do you do on those long bus rides when you're on tour?
Willie Nelson
(1:43 PM)
I sleep a lot.
Donna Wilbanks Tower [via mobile]
How do you keep that amazing voice? How do you keep going?
Willie Nelson
(1:44 PM)
I use it, it helps, like the old commercial says, if you don't use it, you lose it. It goes for anything.
Jason (Philly)
What was your friendship with Texas coach Darrell Royal like? Do you think we will see a relationship like that with a big-time head coach and a musician again?
Willie Nelson
(1:45 PM)
Darrell was a good friend. We hung out and jogged together. He was the biggest country music fan ever. Another coach that is a good friend of mine is Don Nelson, we play poker a lot. He's another good guy.
Ray/Indiana [via mobile]
Have you ever lost or misplaced "Trigger?" What will happen if you outlive Trigger or vice versa?
Willie Nelson
(1:46 PM)
I don't know. I've never lost him. A lot of people keep their eye on him all the time. I don't even want to think about what I'd do without him.
Mary Benedict (Maryland)
Have you ever thought about making a new Highwayman album? Maybe having the newer bad boys of Toby Keith and Trace Adkins and maybe adding Shooter Jennings and John Carter Cash to honor their Dads, so the Highwayman songs can keep on living.
Willie Nelson
(1:46 PM)
I thought about doing one with maybe me and Merle and Kris, Jamey. I haven't done it yet, but I've thought about it.
Neal (Miami)
What is one of your favorite memories of Johnny Cash?
Willie Nelson
(1:47 PM)
Johnny Cash, he called me a lot and wanted me to tell him jokes. He liked my jokes. He was another good friend.
Jenny (Chicago)
What kind of athlete are you now? What about back in your youth?
Willie Nelson
(1:47 PM)
I played all kind of sports, I wasn't great in any of them but I enjoyed them. It's still the same way. I run, walk, bike. Do martial arts. I just do enough to keep me going. I try not to overdo it. I think it's important to do something.
Victor (Monroe)
What,s It Like Being in the country music hall of fame?
Willie Nelson
(1:48 PM)
It was a great honor to be inducted into the hall of fame. It's one of the best things that's happened to me in my career.
Kevin (Miami)
How many songs do you think you've written in your life?
Willie Nelson
(1:48 PM)
I don't know. 3,000, 4,000.
Wally (KC)
What do you still remember about being on Miami Vice. Did you enjoy acting? Do you still enjoy it?
Willie Nelson
(1:49 PM)
I had fun doing that. I saw that on rerun the other day. With Don Johnson. It was pretty funny. I enjoy acting. It's a lot of fun.
Tampa Red (Parkersville)
Which late musician do you wish you done a duet with?
Willie Nelson
(1:50 PM)
I would have loved to have played with Django. I am pretty lucky, I got to sing with a lot of the people I wanted to. I've been pretty lucky.
Erika (NYC)
Did you come up with the term "Outlaw Country"? If you didn't, do you like that title?
Willie Nelson
(1:50 PM)
That was started by somebody else in Nashville. I thought it was funny. I liked it from the beginning.
Will Emery (Texas)
Willie, thank you for the years and years of great music. How is your health? 81 going on 18?
Willie Nelson
(1:51 PM)
Pretty much. I feel pretty good. I had a good show last night. Everybody showed up. Was healthy. Can't ask for much more than that.
Derrick (Chicago)
Hey Willie, I gotta ask you, does too much marijuana ever impact your singing voice? Any long term issues you've noticed?
Willie Nelson
(1:51 PM)
It makes me sound too much like Frank Sinatra. I can't tell if it's helped or hindered.
Clem Brown (Mineola, TX)
Any surprises for this year's Willie Nelson 4th of July Picnic in Ft. Worth? What's the lineup this year? Good luck with your new album, can't wait to hear it.
Willie Nelson
(1:52 PM)
I don't know. We have a lot of favorites from Texas. We have a lot of other acts booked. David Allan Coe. Ray Wylie Hubbard. If you have three names, I'll put you on the list.
TimmyJim (Metter)
Even though everything's better in Metter, which city is your favorite tour stop?
Willie Nelson
(1:52 PM)
I am from Texas. I always look forward to playing in Texas.
QABill (V town)
Besides your own songs, what is your favorite song of all time?
Willie Nelson
(1:52 PM)
My favorite all time song is "Moonlight in Vermont."
Chris (Kenova, WV)
Your favorite NFL Team?
Willie Nelson
(1:53 PM)
Dallas Cowboys.
Willie Nelson
(1:54 PM)
I'm glad the fans are still all out there. Thanks for the questions.
Willie Nelson
(2:16 PM)
And the USA has a good shot at winning in the World Cup. Good luck USA. Go get 'em!