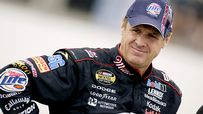 Wallace's 202 top-5 finishes is 12th all-time.
Welcome to SportsNation! On Monday, one of NASCAR's greatest drivers Rusty Wallace stops by to chat about the Brickyard 400 and the NASCAR season.
Wallace's driving career spanned 25 years, retiring in 2005 and joining ESPN's racing coverage team. He ran in over 700 Cup races in his career, winning 55, including six in his championship season of 1989. He was named one of NASCAR's 50 Greatest Drivers in 1998.
Send your questions now and join Wallace Monday at 2 p.m. ET!
More Special Guests: Previous chats | SportsNation
Buzzmaster
(1:54 PM)
Rusty will be here in a few minutes to take your questions!
Buzzmaster
(1:56 PM)
Rusty is here!
greg (tx)
Do you like the idea of eliminating drivers during the chase?
Rusty Wallace
(1:57 PM)
I do. We have tried different things as far as the point system in NASCAR. This one, I like. People get eliminated throughout the year. It's a little in line with the stick and ball sports. The drivers seem to like it.
Gary (Chicago)
I keep hearing all of the "experts" talking about how suprising Gordon has been for a guy in his early 40's. Does age really matter in racing? Doesn't Gordon have to be viewed as one of the top three favorites to win the championship now?
Rusty Wallace
(1:58 PM)
Yeah, he does. He has so much consistency. He's led the points in 13 of 14 races so far. With the big win at Indy, he has a lot of momentum on his side. He looks better than I've seen him in a long time.
Jeff (Chicago)
Who do you think still could qualify for the chase that's not in yet?
Rusty Wallace
(1:59 PM)
Tony Stewart. He has a great chance. Plus he is the one that needs it the most. He got hurt in that accident last year, but he still hasn't regained his form yet. He's getting closer.
Mike P (Greater Kc Metro)
We have seen NASCAR make changes and modify the product (cars, schedule re arranging, chase, chase format) those haven't had quite the effect NASCAR was hoping for. What big change do you think they (NASCAR) need to do next?
Rusty Wallace
(2:00 PM)
They're going to drop the horse power of the engines. The cars are going so fast that it's almost hurting the competition. They're going to drop about 200 HP out of the engines, it looks like to help put on better racing. They think that will help put the cars closer together.
Otto (CA)
Hello Rusty. Any chance you'd ever make a comeback?
Rusty Wallace
(2:01 PM)
I've thought about it. But that's all I've done. I am pretty happy doing what I'm doing now. I think every driver that quit thinks that he can come back and still win. I think I could, but it's time I spent time with the family.
James Piccarreto (Rochester, NY)
Which driver have you been impressed with so far this year?
Rusty Wallace
(2:02 PM)
I think it has to be Brad Keselowski. He has three victories. He won Las Vegas, KC and New Hampshire. That car has just been bullet fast all year. Although it was a big surprise to see how he didn't perform at Indy like I thought he would.
David
what did you liek the most yesterday?
Rusty Wallace
(2:03 PM)
All of the fuel calculations. Instead of running the car its full fuel run, the guys kept thinking about the end of the race and calculating the fuel backwards. You never do that. Fuel strategy was all over the place yesterday.
Mike P (Greater Kc Metro)
When you look out into the grand stands and at some tracks see half full or 3/4th full grandstands and viewership on tv is down or not where it once was for a Sprint Cup race; What are your thoughts?
Rusty Wallace
(2:05 PM)
I think it's about time to do something. To make changes to try and entice some new fans and the older fans to come back. There are a lot of entertainment choices right now. The tracks themselves need to make it accessible for the fans. A lot don't go to the track because they say it's hard to get in and get out. Although, when the sport was at its peak, the tracks built a ton of grandstands and it doesn't look good when you see those vacant seats. A lot of tracks are pulling those stands out. Like Daytona. They had over 150,000 seats. Now they're going back to 100,000 seats.
Joe (Troy, NY)
Is it more stressful being behind the wheel of your own car, or watching Steven racing?
Rusty Wallace
(2:06 PM)
Watching Steven race, for sure. He's doing pretty good. He has a big short track race, the Firecracker 400 weekend. And he won the race. It was a big win for him. He's just running partial races this year, trying to find sponsorship for next year.
Robbie (Columbus, OH)
Rusty, Did Kasey's seat get hotter yesterday after leading the majority of the race only to not only lose the lead but finish out of the top 5? I'm a huge KK and HMS fan but I feel like this could be the final straw that opens the door for Chase Elliot to be in the number 5 next year
Rusty Wallace
(2:07 PM)
I'd hate to be Kasey Kahne today. He had a decent restart, but he didn't get his tires cleaned off enough. He needed to have the restart of his life to get past Gordon. I knew when they went down to the corner side by side, I knew that Kasey's car would get loose. And that's what happened. Then Gordon had the outside.
James Piccarreto (Rochester, NY)
What was it like driving the Generation 6 race car for the first time and returning to the #2 Miller Lite Ford at the preseason test session at Daytona pre in January?
Rusty Wallace
(2:08 PM)
It was great. To be able to get back to my old car and have a solid test session. It was like it came right back to me. It took about 2 runs to get my mojo back. It was like a big tease.
David (FL)
What makes the Brickyard so special?
Rusty Wallace
(2:08 PM)
Just all of the history behind the track. Some of the world's greatest drivers have raced there. The Indy 500 is there. It's a great facility. It's the second biggest race of the year behind Daytona 500.
Joe (Troy, NY)
What is the most difficult aspect of your job?
Rusty Wallace
(2:09 PM)
The prep isn't that bad. The most difficult part of my job is the travel. It's always been the travel. I understand the sport of NASCAR pretty well, so it's the travel. I think everyone would say that. Being away from home all the time.
Andrew (Williamson)
Where would you rank Jeff Gordon among the all time greatest drivers?
Rusty Wallace
(2:09 PM)
He's definitely in the top 5.
James Piccarreto (Rochester, NY)
What was one of your favorite moments with Earnhardt when you two were racing?
Rusty Wallace
(2:10 PM)
The extreme battles. The friendship off the track. The battles on the track. Really hard fought victories he had over me at Bristol. And one I had over him at Michigan. But that's just a few. There were many.
James (Rochester, NY)
What do you think is the biggest difference between the old race car to the current Generation 6 race car?
Rusty Wallace
(2:14 PM)
They have a lot more power now. They're lighter. They used to be 3400 pounds, now they're 3250. They have more down force. We have fuel injection now. The old cars had carburetors. They are much much safer cars now. Those are some changes.
Cosmo (New Haven, CT)
I've always wondered, what goes through your mind when you know you're about to wreck?
Rusty Wallace
(2:14 PM)
If you know there's no hope to save it, the next thing you're doing is bracing. I always got my hands to the bottom of the wheel and braced my head down hard. I had a wreck where I flipped 23 times and walked away just fine. All drivers are pretty much steering until the last minute, but brace once you know you're going to wreck.
Rusty Wallace
(2:14 PM)
Thanks for following me for as long as you have so far. We're looking forward to Pocono. Tune into NASCAR Countdown next week.