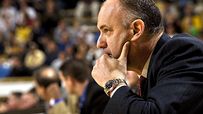 PSU set a school record for wins in the 2008-09 season.
Welcome to SportsNation! On Monday, Penn State men's basketball coach Ed DeChellis stops by to chat.
DeChellis led Penn State to a historic season for the school capturing its first basketball national championship by winning the NIT. In the process, the Nittany Lions won a school record 27 games while equaling a school record 21 wins in the regular season.
Send your questions now and join DeChellis at 3 p.m. ET Monday!
p class="more">
More Special Guests:
College Basketball index
|
SportsNation
Buzzmaster
(3:01 PM)
We've got Ed!
Douglas Kisner, Florida
Do you think winning the NIT makes Penn State more hungry next year for the NCAA Championship?
Ed DeChellis
(3:02 PM)
Yes, I think so. Our players are on campus now working extremely hard to take the next step, which would be winning the Big Ten title and advancing to the NCAA Tournament. And hopefully, once we got there to win games and one day compete for the national championship.
Larry (Charlotte,NC)
What excites u the most about your incoming freshmen class?
Ed DeChellis
(3:03 PM)
I think their overall athletic ability and speed and skill.
nags, big apple
Steady Eddie! Congrats on the NIT this year. How hard will it be to replace someone with as much heart as Jamelle Cornley? He seemed to will this team to wins the entire year?
Ed DeChellis
(3:04 PM)
I don't think you ever replace a guy with Jamelle's heart and toughness. I'm hoping that other players will step up their roles on our team in terms of their leadership, spirit, competitiveness. I don't think one guy replaces what Jamelle brought to our squad.
Travis (Philly)
Ed, how big was the win against the Spartans in East Lansing? That was the national finalist you took down on their own court.
Ed DeChellis
(3:05 PM)
It was a very exciting game for us to win. The atmosphere in East Lansing is one of the best in basketball. Our kids felt, going into the game, that they could win the game. It would take a special effort. We thought we played well enough at State College to win. We thought if we played our game in East Lansing that we could pull off the upset.
Jerrt (Wisconsin)
what is more rewarding for you, all the work raising money for cancer, or building your program from the bottom?
Ed DeChellis
(3:07 PM)
Well, I don't think I can separate the two. I think the work I've done for Coaches vs. Cancer is very special for me. I think there's nothing more rewarding then helping people in need. In the same breath, if I didn't have the stage or platform, if you will, of coaching at Penn State, then I wouldn't be as successful raising money like I have been.
J.B. (Dunmore, PA)
What was it that attracted you to Penn State?
Ed DeChellis
(3:08 PM)
What attracted me to Penn STate is a great academic institution. Great campus, tremendous facilities. And the way to do things the right way. The student-athlete model and Penn State is extremely impressive to me. It is what I thought it would be at Penn State.
Jason (Baltimore)
So how do you make a football hungry school like Penn State have an appetite for some hoops?
Ed DeChellis
(3:09 PM)
I have always embraced football. We have a great tradition. We have a hall of fame coach. that's the first thing that you have to do is embrace it. I've tried to use our success in football with our basketball team. Coach Paterno has been supportive in our endeavor to grow our basketball program. I try to talk to our recruits about the energy and atmosphere they see in the fall when they go to a football game. That we bring the same energy and excitement into the Jordan Center in the Winter months.
Devon (Long Island)
As a Penn State alum, and not as a coach, what does having a good basketball team mean to you?
Ed DeChellis
(3:10 PM)
It means a great deal to me. We've worked extremely hard to grow a quality program. We've worked from the ground up on every aspect of our program. Each aspect of our program has improved every year. We will continue to improve it. I work extremely hard every day to give our alumni and our students nad our fans the program that they all want. That is to be a Big Ten champion and NCAA Tournament team.
Roger (Maine)
Whats it like to coach at the same school as a guy like JoePa? does he really support basketball as much as it seems?
Ed DeChellis
(3:11 PM)
Coach Paterno is always available for us, in terms of recruiting. He is more than willing to talk to our potential recruits when they come on campus and their families. Whenever I have an issue that arises in coaching that I've neve dealt with, I seek him out. He's seen everything in his years of coaching and he's been a great sounding board for me.
Adam (Chicago)
How tough it is to coach in a conference that has guys like Izzo, Tubby, Crean and so on...?
Ed DeChellis
(3:13 PM)
I respect all the coaches in our league and all the universities in our league. But I hope they feel the same way about our program and our university. We've been fortunate enough to win games against the universities that you mention. And we will continue to, hopefully, be successful in our conference. Each school in our conference has a very good basketball coach and program. That's what makes our conference special.
Stephen Obeng-Agyapong (Bronx, NY)
Should we expect the same up-tempo offense this year, or will there be a drastic change?
Ed DeChellis
(3:14 PM)
Expect the same uptempo offense. Maybe even more with the balance at the guard positoin that we will have. We hope to press more than we have. I think we'll be a deeper, balanced team, especially in the back court.
Blake (Mechanicsburg, PA)
Coach, is your '09/'10 schedule complete? How do you feel about it?
Ed DeChellis
(3:15 PM)
Our 09-10 schedule is just about complete. We're looking to secure one more contract. We feel good about our schedule. We looked at he RPI of the teams that we are playing and hopefully have made good decisions about our non-conference schedule. Keep in mind, it is very difficult to anticipate how teams on your non conference schedule will play in the upcoming season. That ended up being a huge problem for us this year in not getting into the NCAA Tournament.
Greg (Rochester, N.Y.)
Ed, what can you tell the student body at Penn State to encourage them to be at the Jordan Center for every game this upcoming season? As we all witnessed this past season, big crowds were critical down the stretch.
Ed DeChellis
(3:16 PM)
Our student body is critical to our success. Our players love when they run out on the floor and the student body is surrounding the court and bring a lot of energy and emotion to the atmosphere. The success of our team will rely heavily on our students.
J.B. (Dunmore, PA)
With that NIT title, have they considered naming a flavor from The Creamery after you yet?
Ed DeChellis
(3:17 PM)
I think it's going to take more than one NIT title to get my own ice cream flavor. Hopefully if we get a Big Ten title and into the NCAA tournament that will help me get my own flavor.
Nathan (DC)
Coach, the Big Ten is going to win the Big Ten/ACC Challenge this year, right?
Ed DeChellis
(3:18 PM)
The challenge is always a competitive game. We've been fortunate, PSU, to win our last two challenges. As coaches, we love the competitive spirit of the challenge and this year will be no different.
Zug (Grotto)
Do you prefer the "White Out" or the "Code Blue." How big of a differnce has Guido D'elia made for the game day atmosphere?
Ed DeChellis
(3:19 PM)
The "White Out" because it's a better atmosphere on TV. It shows up extremely well on national TV. It can be a very intimidating presence.
Ed DeChellis
(3:21 PM)
Thanks for the questions. Enjoyed chatting. Catch up to you soon.